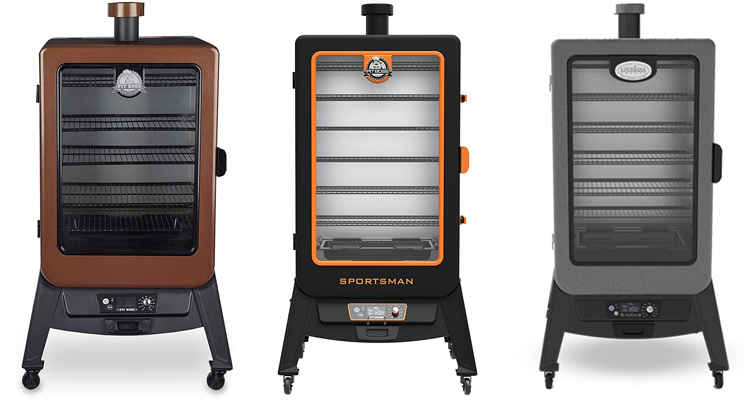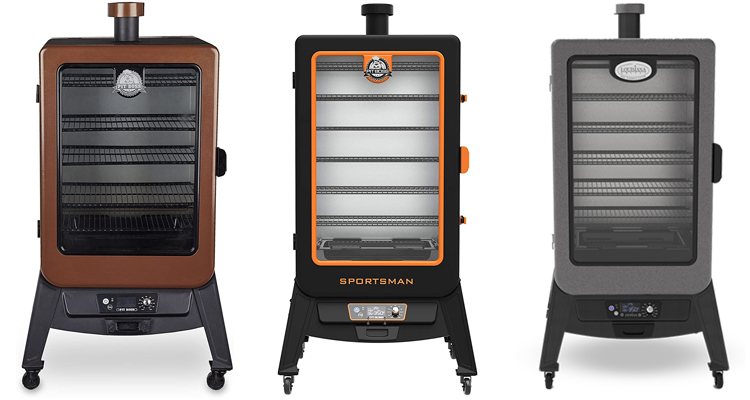 Vertical pellet smokers are a good choice for someone who is advancing in their barbecuing skills and is looking for the best smoking experience possible.
A vertical pellet smoker is different from a horizontal smoker grill combo since they are shaped in a vertical configuration, which allows the smoke to rise into the meat evenly. Unlike a smoker grill combo, they are not grills. You can only smoke with these types of devices.
What a vertical pellet smoker lacks in grilling ability, it makes up for in flavor and portability. If you want the BEST smoke flavor, a vertical pellet smoker is the best way to go.
Comparison Table of the Best Vertical Pellet Smokers
Below is a list of the best vertical pellet smokers available in the U.S., Canada, Australia, and the U.K in 2023. Click on the name to read reviews and check prices.
Best Vertical Pellet Smoker Reviews
Now that you know what to look for, here are the best vertical pellet smoker options currently on the market.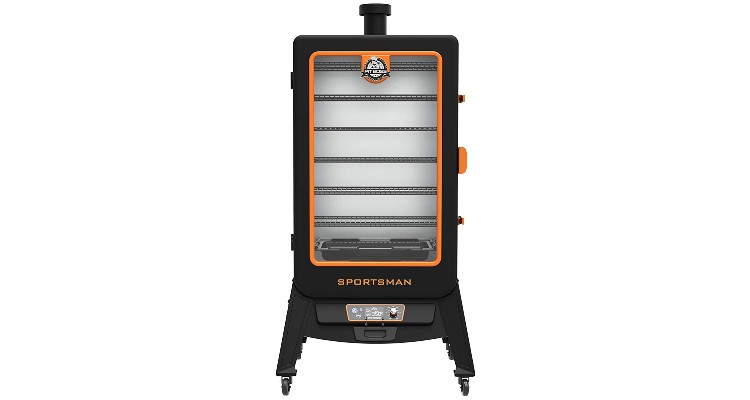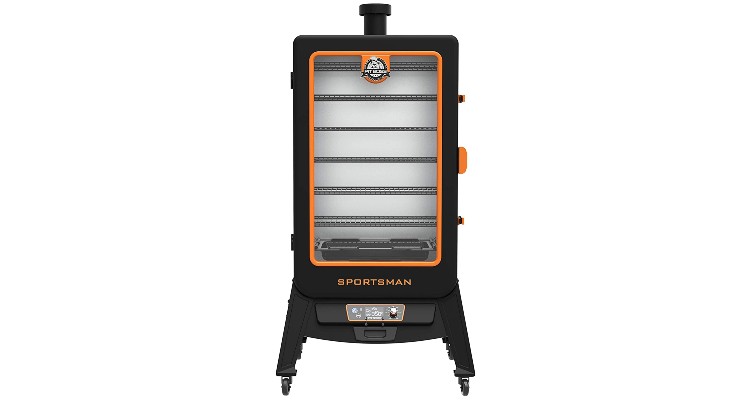 The Sportsman 7-Series is the best Pit Boss vertical pellet smoker model available on the market. Not only does it look great, but it delivers on its premium standing as well.
It's built with heavy-gauge stainless steel to lock in the heat as well as give it durability meant to outlast its 5-year warranty.
It comes with an enormous 55-pound capacity pellet hopper and can smoke meats for up to 24 hours at a time.
It includes an electronic ignition system and digital temperature control system, making it very easy to use.
Six adjustable cooking grates provide a respectable 1,815 square inches of cooking space, plenty enough room to cook for an entire large gathering.
The Pit Boss 7 Series Pellet Smoker is one of my favorite grills on the market and even rivals the Camp Chef XXL Vertical Pellet Smoker as one of the best-in-class smokers available.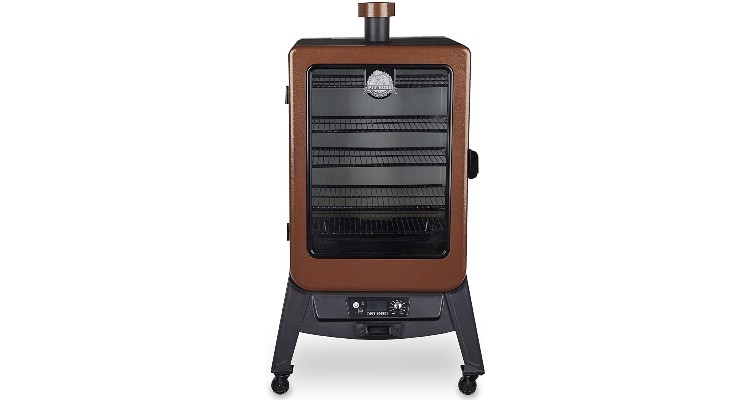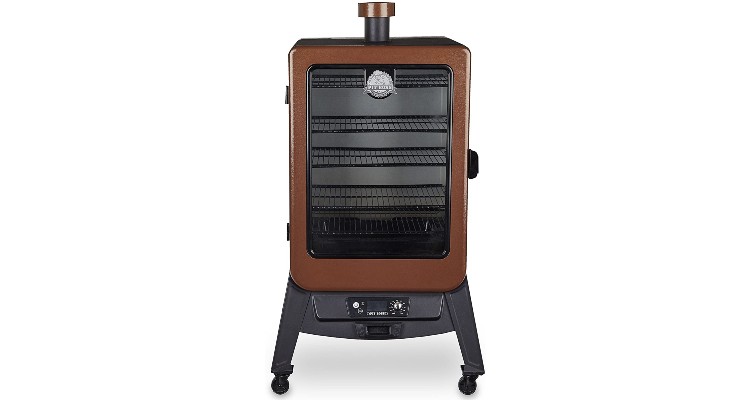 The Pit Boss Grills 77550 5.5 Pellet Smoker is a great economy-class smoker with a LOT of cooking space.
It comes with 5 porcelain-coated cooking racks that provide a total of 1,548 square inches of cooking space. This is enough to hold 15 racks of ribs or about 5 briskets.
This model comes with a digital temperature controller, which is not a PID but does a good job maintaining even heat.
They call this model a "Copperhead" thanks to the smokestack's copper-colored top.
There's a pellet hopper built into the cooker's frame that can hold up to 60 pounds of pellets. You probably don't need to use all 60 pounds at once, but it's a nice capacity if you even have to do an extra-long smoke.
If you need to remove the wood pellets during a cook, the Pit Boss has a door at the bottom for easier clean-out. This is convenient for switching out the pellet types for a different flavor mid-cook.
Overall, the construction is pretty good. Even though it's not a higher-grade smoker that can cost $1,000 or higher, it's a well-built mid-level-grade smoker with excellent construction.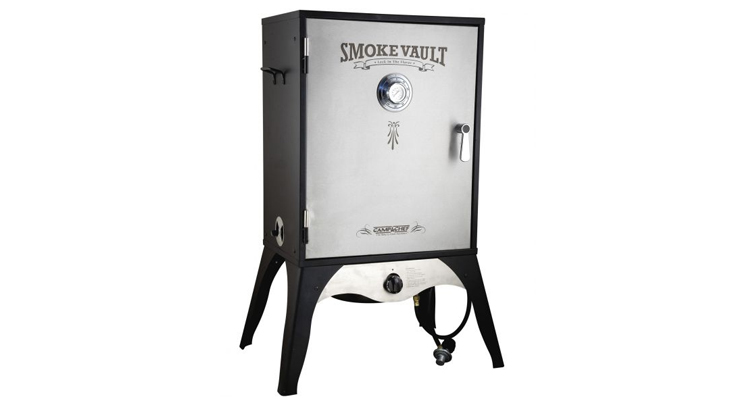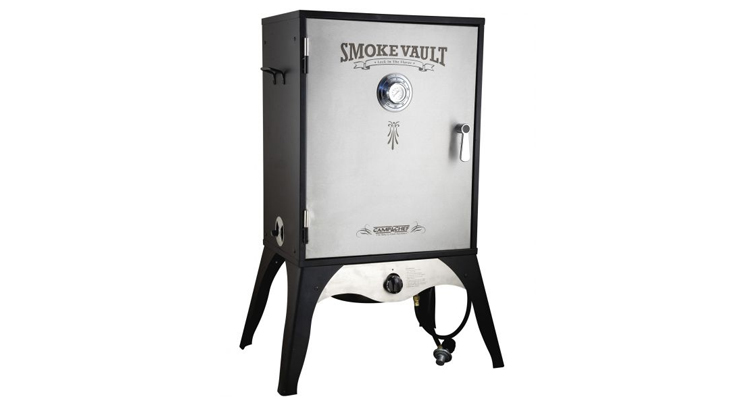 The Camp Chef Smoke Vault 18″ Vertical Smoker is another great economy-class smoker that's easy to use.
This grill comes with a WiFi PID controller. When paired with the Camp Chef Connect app, it's simple to stay on top of your cook throughout the whole process. Two included probes are inserted through two separate port holes conveniently located on the unit's sides.
It comes with two standard smoking racks allowing you to cook enough food for a whole crowd at one time.
There's even a bottle opener built right into the front, ensuring you'll always be able to open a cold brew while grilling!
As far as performance goes, this unit gets high marks for retaining heat for a long time thanks to its good construction. Even though it's single-walled, it does a great job of keeping food hot.
For an economy-class smoker, you can't go wrong with the Camp Chef Smoke Vault 18″ Vertical Smoker, thanks to its features and solid construction.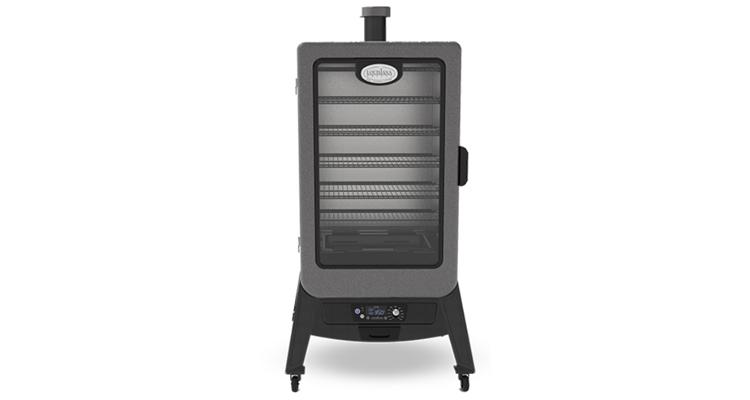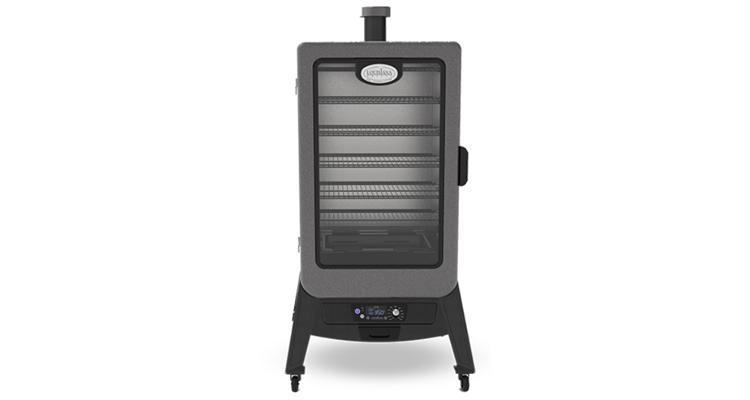 The Louisiana Grills Series 7 Pellet Smoker is a highly recommended vertical pellet smoker model for many reasons.
First off, this smoker can hold 60 pounds of pellets in its hopper, giving you about 35 hours of smoke time at 250 degrees with a full hopper.
It provides 6 cooking grates for about 2,059 inches of cooking area, making this a huge smoker for the money. It also includes a water pan that fits nicely into one of the bottom grates.
Temperature-wise, it can go from between 150 to about 450 degrees Fahrenheit. This unit comes with a "Prime" button that speeds up the auger and adds pellets into the fuel power faster to get you more smoke temporarily.
The digital control board controls the temperature fairly easily, which is ideal for long cook meats like pork shoulder or pork butts. You just hit the button, leave it, and let it smoke.
It comes with two meat probes that plug into the digital control panel. The display shows the actual internal temperature and the temperature you set it on.
An easy-to-access grease management system includes a pan that pulls out the front, allowing you to remove the grease even while it's cooking.
The Louisiana Grills Series 7 Pellet Smoker is a fantastic unit that's easy to use, has plenty of essential features, and is a great value for the money.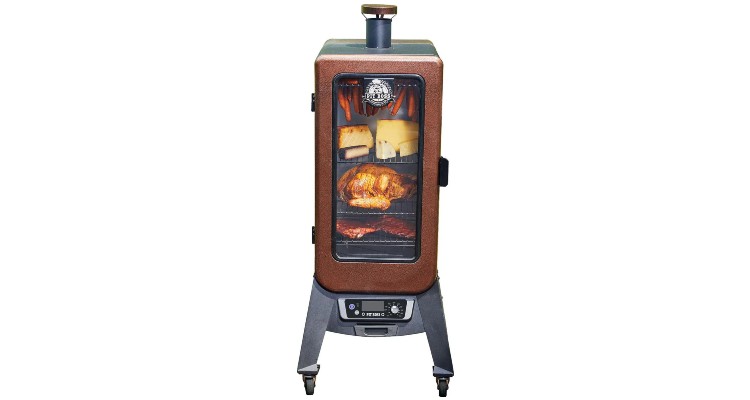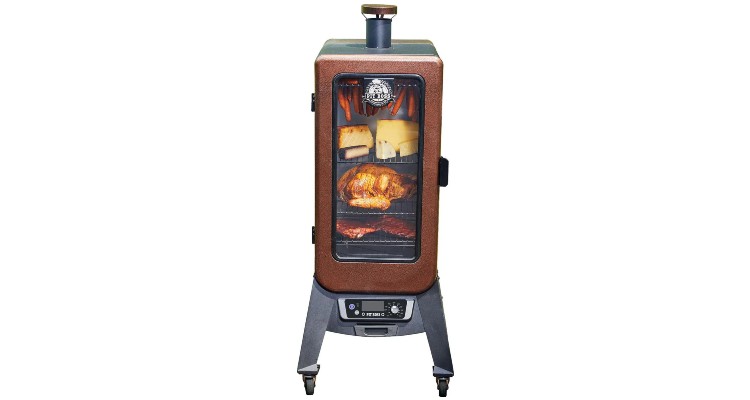 The Copperhead 3 Series pellet smoker is nearly identical to the Pit Boss Grills 77550 5.5 Pellet Smoker except in a smaller overall size. It's got plenty of innovative and easy-to-use features that allow you to get smoking quickly.
This double-walled, rolled steel unit is beautiful, with a hammertone copper finish on the cabinet. The large viewing window allows you to easily keep an eye on your food without having to open the door and release valuable heat.
It provides about 800 square inches of primary cooking space across 4 porcelain-coated adjustable cooking racks.
Ignition of the smoker pellets is easy with the automatic prime function. This Pit Boss portable pellet grill has a 300-watt igniter and fan-forced draft system.
The 35-pound capacity pellet hopper has a hinged access door for easy access and includes a side window, making it easy to check the fuel levels.
The Copperhead 3 Series pellet smoker is an excellent option for the beginning smoker who doesn't need the largest unit available but still wants many great features.
PIT BOSS PBV3P1 Vertical Pellet Smoker, Copper
Monitor internal temperatures with digital LED readout and meat probe
Four porcelain coated cooking grids, 901 sq in. Includes porcelain coated water and heat Deflector
40+ lb hopper capacity with pellet Purge. 24+ hours of use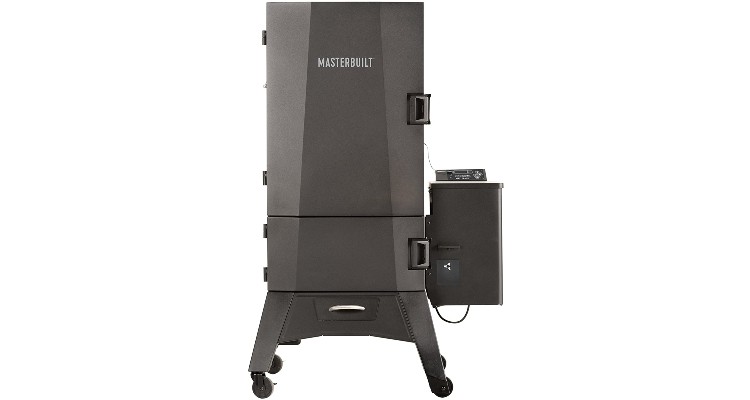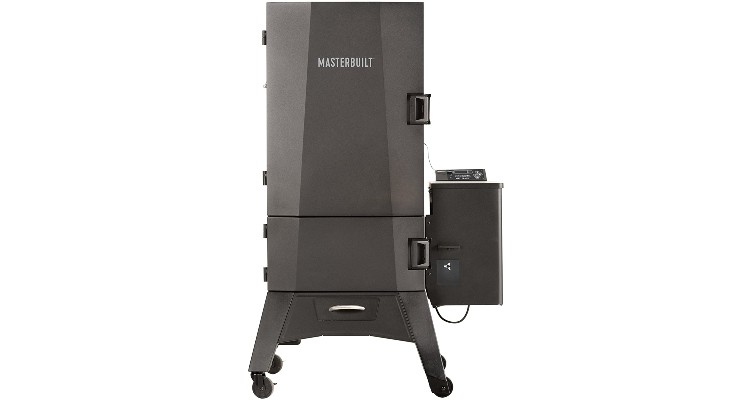 The Masterbuilt MB20250218 MWS 340B Pellet Smoker is a sturdy vertical pellet model with plenty of room and features at a good price.
It has four chrome-plated cooking racks capable of providing 977 square inches of cooking space that's easy to clean. It has enough room for about 8 pork butts, 6 turkeys, 16 chickens, or 8 racks of ribs at a time.
It comes with a digital control panel that allows you to control temperature and smoke time easily with preset smoke cycles.
The 340B can reach smoke temperatures between 180 and 350 degrees Fahrenheit.
Like most models in this category, it has an automated pellet auger system that feeds into the smoke box for easy temperature control.
It includes a water tray that sits below the racks to help prevent flare-ups and keep food juicy and moist. There's also a heat diffuser built in to distribute the heat evenly.
The Masterbuilt MB20250218 MWS 340B Pellet Smoker is a great mid-range model for anyone just getting started with smoking meats.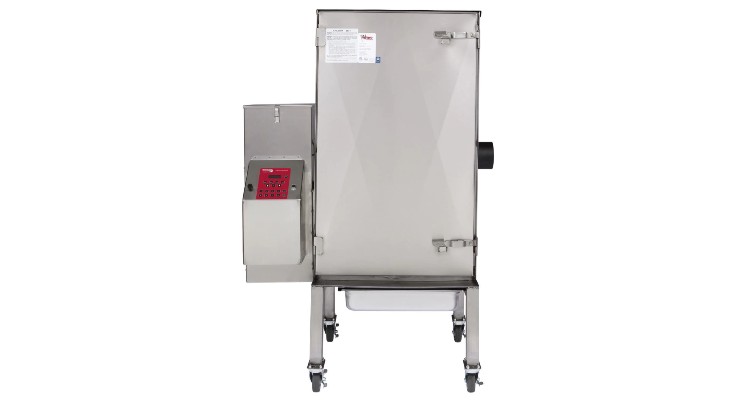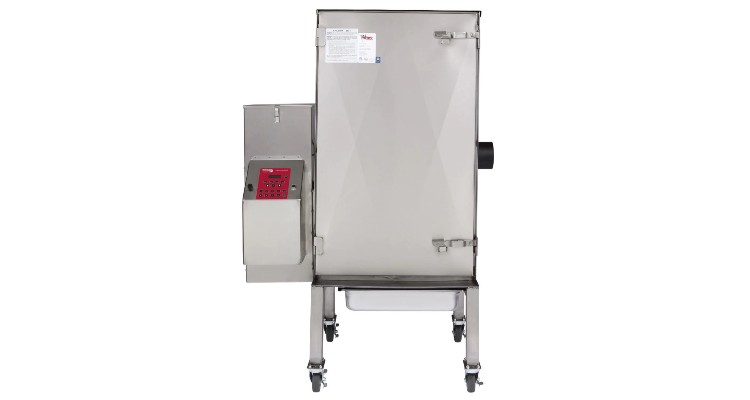 The FEC240 Pellet Smoker by Fast Eddy is a technological powerhouse thanks to its IQ5 smart controller system.
You can set cooking temperature with the controller, set cook time, set hold temperature, or set cooking by probe temperature.
It comes with a 20-pound pellet hopper, which is not as much as some of the other models on this list, but this unit is very efficient. It uses about ⅓ of a pound of pellets an hour at 250 degrees, making it very cheap to operate.
The FEC100 comes standard with 4 racks giving it an area capable of holding about 100 pounds of brisket, 120 pounds of pork butts, or two boxes of ribs at a time.
There's a drip pan included which drains out into a storage pan beneath the unit.
The fire pot operates at approximately 25,000 BTUs with a 300-watt heating element.
The FEC240 Pellet Smoker is a good unit for those that like to "set it and forget it." The advanced IQ5 Smart Control System provides lots of convenient control over temperatures.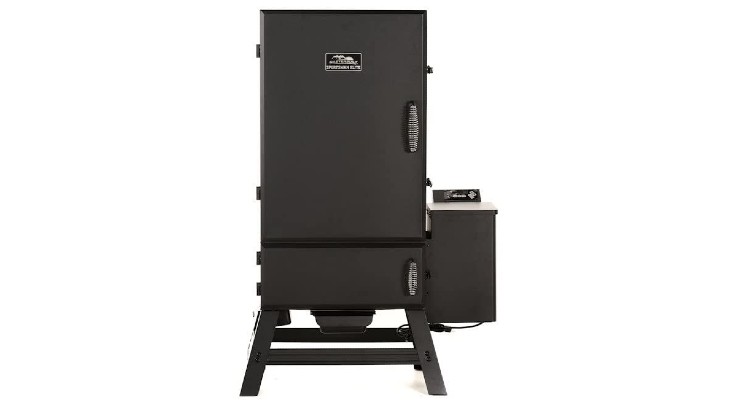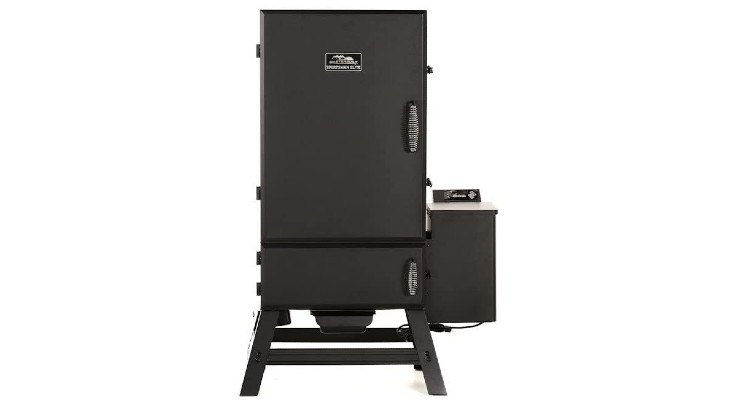 One of the first things you'll notice about the Masterbuilt Sportsman Elite Pellet Smoker is its size – this thing is huge!
According to the label on the unit, it's capable of handling: 30 chickens, 6 turkeys, 12 racks of ribs, or 24 pork butts. That is a LOT of food! This is possible thanks to its six oversized 22″ W x 15″ D (330 sq in each) slide-out racks.
It has a working temperature range of 180-350 F and uses a digital control system to maintain a +/- 5-degree variance.
This large vertical pellet smoker has a 17-pound pellet hopper, capable of providing about 10 hours of smoke time.
The thing I like most about the Masterbuilt Sportsman Elite Pellet Smoker is its striking design. Masterbuilt has done a great job of engineering this model to stand out in the looks department while still providing all the best features you need in an upright pellet smoker.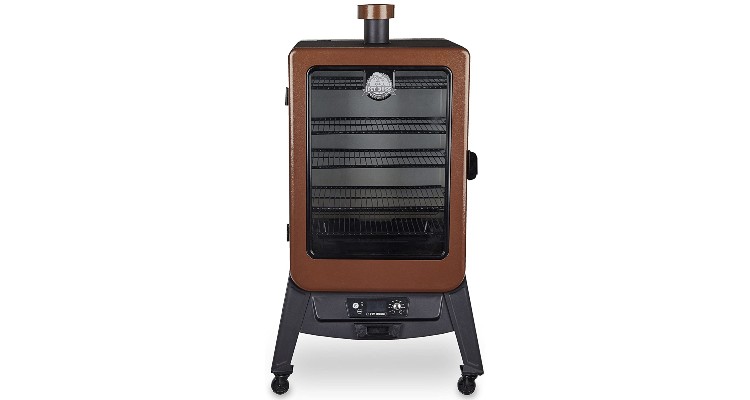 The Pit Boss 5-Series Vertical Pellet Smoker is a smaller version of the Sportsman 7-Series and is a great model for beginners or someone with limited space for a vertical pellet grill.
Even though it's a small vertical pellet smoker, its five cooking racks provide an ample 1,513 sq. inches of cooking space. The wood pellet hopper has a capacity of 55 lbs, which is pretty generous for a model of this size.
It has a digital control board with two meat probe ports that help you monitor two cuts of meat simultaneously.
It has a wide cooking temperature range of between 150-420 degrees Fahrenheit.
The Copperhead comes standard with a hopper big enough to hold enough wood chips to last for up to two days. It has a convenient pellet dump panel on the backside to change out the wood pellets mid-smoke for a greater variety of flavors.
It also comes with a large-capacity water pan and a glass front door so you can monitor your food while it cooks without opening the door.
The Pit Boss Copperhead is a great value for the features and one of my favorite pellet smoker models.
Who makes the best vertical pellet smoker?
While each of these vertical pellet smoker models has its unique benefits, our favorite has to be the Pit Boss Grills 77550 5.5 Pellet Smoker. It comes with practically every feature you need in a modern vertical pellet smoker, has a great performance record, and is an excellent value for the price.
The ultimate model you decide on should be determined by your budget, size needs, and features you want. No matter which model you choose from this list of vertical smoker reviews, you really can't go wrong.
Related content you might like:
Chris Johns
Chris Johns is the founder of Rock's Barbecue® and has been an avid barbecue fan for over 20 years. His mission is to make grilling and smoking the best food possible easy for everyone. And each year, he continues to help more people with grilling, smoking, and barbecue recipe recommendations.