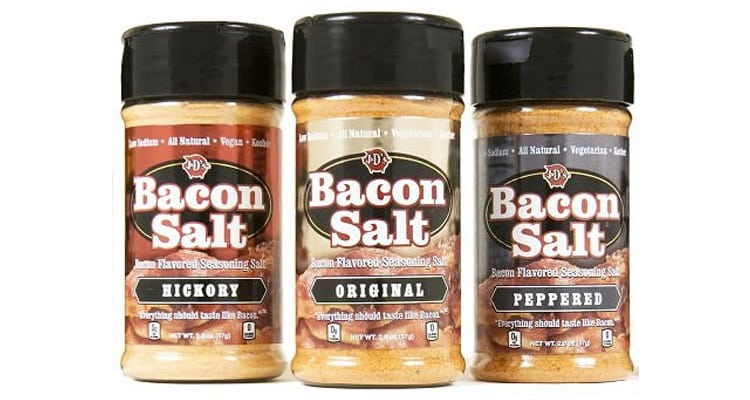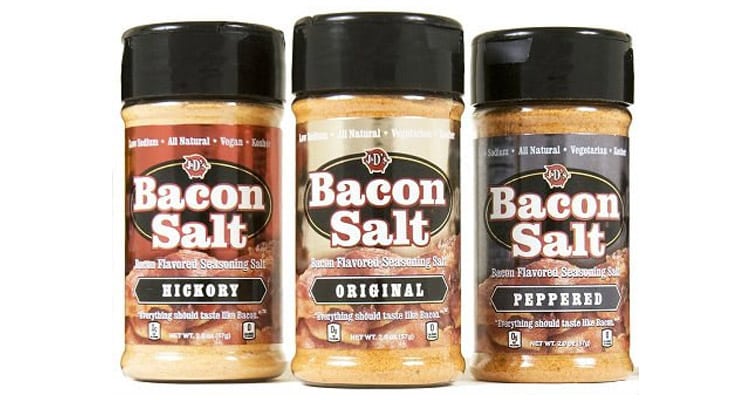 We all love the taste of bacon, and now there's an easy way to baconify just about anything.
Yes, friends, Bacon Salt is upon us and it's as delicious as it sounds.
Bacon salt, which incidentally is zero-calorie, vegetarian, and kosher, is a magic new seasoning that adds the salty, porky taste of bacon to all your favorite foods.
I recently received samples of all three varieties – hickory, peppered, and original, and have been putting them through their paces the last few days.
So far I've found it to be good stuff. I've tried it on hamburgers, spinach salad, soup, breakfast tacos, and grilled cheese sandwiches. The only thing it turns out not to be good in was coffee (not surprisingly). By far the most unexpected goodness I discovered was "bacon popcorn".
Notably interesting is that the guys behind this great invention funded the company on prize money from America's Home Videos. Only in America, I'm so proud…. (sniff).
Seriously, this is good stuff. I'm bringing some to the office, nothing makes leftovers and cheap microwave dinners palatable like a little bacon. You can buy some for yourself on Amazon.
J&D Foods Bacon Salt 3-Pack - Original, Hickory, Peppered
You will receive (3) Flavored Bacon Salts: (1) 2.5 Oz Cheddar + (1) 2 Oz Peppered + (1) 2 Oz Hickory
Original: Savory taste of bacon with only 145mg of sodium per serving
Peppered: Just the right amount of sharpness and kick for steamed veggies, grilled meats, and even popcorn. Great for Bloody...
Related content you might like:
Chris Johns
Chris Johns is the founder of Rock's Barbecue® and has been an avid barbecue fan for over 20 years. His mission is to make grilling and smoking the best food possible easy for everyone. And each year, he continues to help more people with grilling, smoking, and barbecue recipe recommendations.