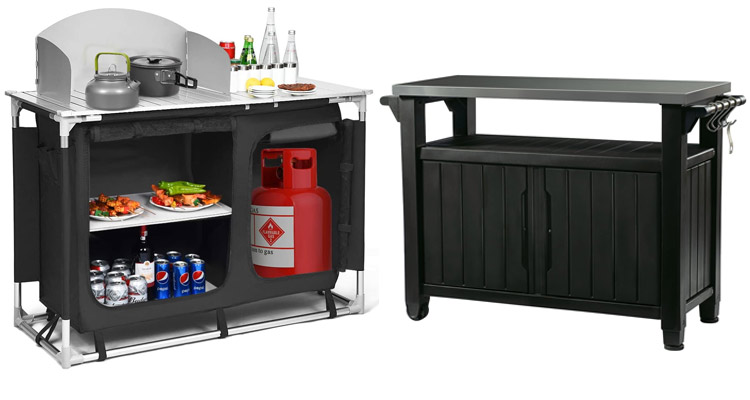 Outdoor grill prep tables make barbecuing super convenient.
Who likes having to go back and forth for supplies or prep ingredients? I know I don't; that's why I recommend buying a grill prep table if you're serious about outdoor cooking.
These grilling prep stations save you time and alleviate the hassles of walking to your kitchen for ingredients or other items. You can stay in front of your grill and enjoy the experience of cooking in the great outdoors.
Choosing the best outdoor grill prep table isn't that difficult. These grilling tables all basically do the same thing: provide you with a portable prep station and give you the option to store your barbecue accessories near your grill.
The Best Outdoor Grill Prep Tables for 2023
Here is my list of the best outdoor grill table options for the U.S., Canada, Australia, and the U.K in 2023. I'll start with the 5 best choices in terms of value, convenience, design, and cost.
Click on the name to read reviews and check prices or skip ahead to read the entire list by clicking here.
Best Grill Table Reviews
We've reviewed the top 7 choices available in the U.S., Canada, and the U.K. to make it even easier. You just need to decide how much you want to spend, which features you need, and how portable it needs to be.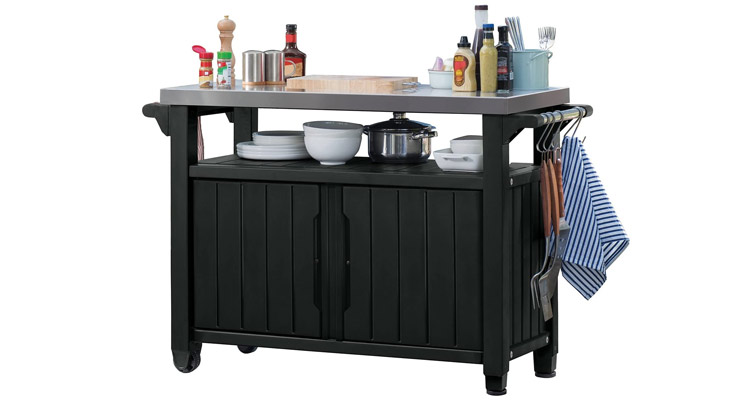 The Keter Unity XL is a pretty nice grill table and an excellent buy.
On the side, it has a paper towel holder bar along with a tray which makes a good spice rack.
It's pretty rust-resistant with a stainless-steel top and weather-resistant polypropylene construction.
On the other side, this patio prep station has a handle you can use to lift it onto its wheels, which has hooks you can use to hang things. It also comes with a bottle opener, one of my favorite little items.
The height on this patio grill table is perfect. It's roughly the same height as my grill, making it super easy to transfer food back and forth.
The storage doors open up independently and are tall enough to stick a propane tank in. The doors also have spots for putting locks on.
Assembly was straightforward. Most pieces literally snapped together with only a few bolts to tighten as well. It's important to follow the directions in order since some pieces prevent you from getting access to other pieces later, so don't get ahead of yourself and follow the directions exactly.
I would recommend the Keter Unity XL for a great addition to an outdoor kitchen. It is far and away one of the best grill tables on this list.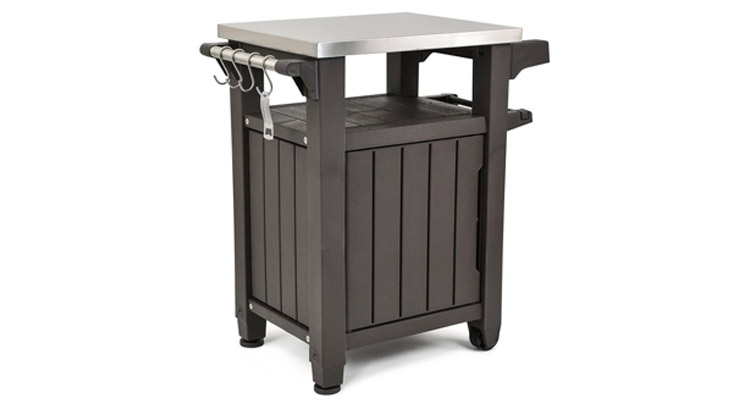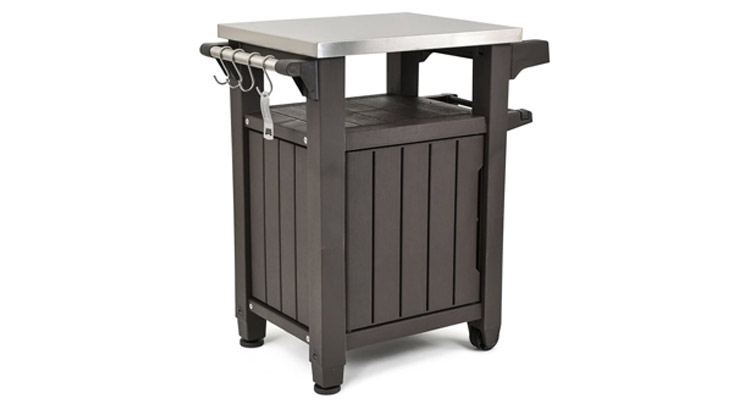 Keter is one of the best-known brands in the business when it comes to high-quality outdoor products. They have been in the business for over 70 years and have a solid reputation for building durable products.
The Unity Grill Table is an excellent example of Keter's stylish and practical design abilities. It comes in two sizes: the standard size (this model) and the XL version which is a little bit longer and more expensive.
The first thing you notice about this grill table is the materials; it's not made with wood, but a nice, solid plastic, perfect for leaving outside in the elements.
Assembly is pretty easy; it only took us about a 1/2-hour. Most of the parts just snapped right together.
The top is stainless steel, which I love. It looks great and is really easy to clean.
On the right side, it has a stainless-steel handle with hooks to hold your tools, spatula, tongs, etc. It also comes with a handy bottle opener, one of my most-used features.
It has a rack for holding spices and condiments on the left side. Below that is a bar for holding paper towels.
At the bottom of the outdoor grill station is a storage area that is fairly weatherproof and makes a great place to store your charcoal.
The cart has two wheels which makes it easy to move around. The other side's stationary legs are adjustable so you can make the outdoor cooking table nice and level.
The Keter Unity Grill Table is a really nice and well-made model. The stainless-steel top is a fantastic feature that you'll love, too.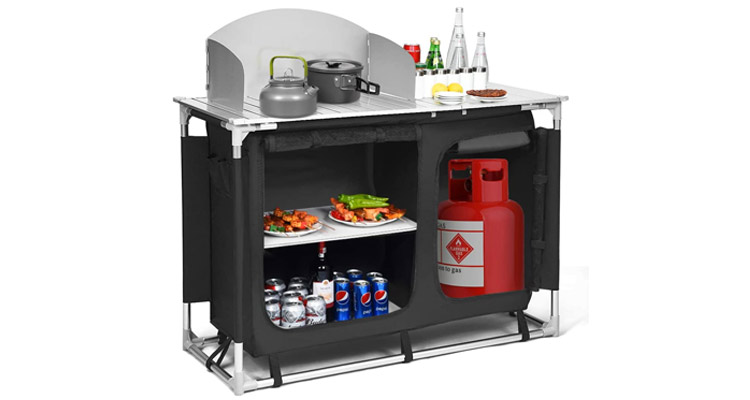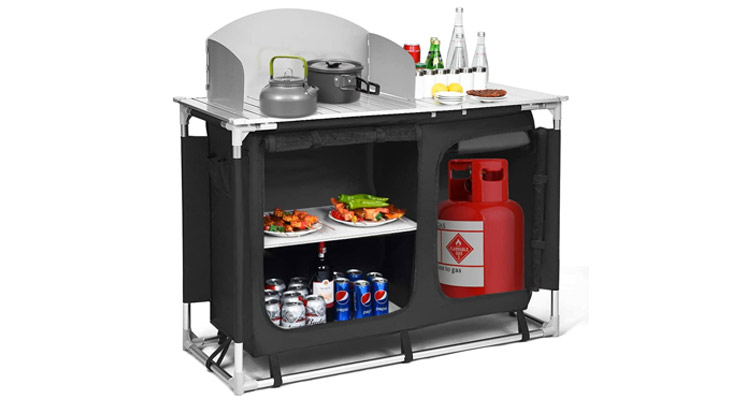 The Giantex Camping Kitchen Outdoor Grill Table is a versatile outdoor prep table with lots of great functions at a very reasonable price.
It's very sturdy, able to hold about 55 pounds on its top and side tables. A built-in windscreen adds a nice touch for protecting your prep area from getting too messy during breezy conditions.
My favorite feature about this outdoor BBQ table is all the storage areas it provides. It has an entire storage cabinet for a propane tank with a connection hole at the back. It also includes two inside storage shelves, a hanger rack, side storage pockets, and two side shelves.
For portability, this outdoor kitchen prep table is hard to beat. It weighs about 23 pounds and folds down into a 38 x 18 x 7-inch cube. It comes with a nice carrying bag for easy portability.
All in all, the Giantex Camping Kitchen Outdoor Grill Table makes a great portable grill table for camping, picnics, backyard parties, and tailgating. I highly recommend it.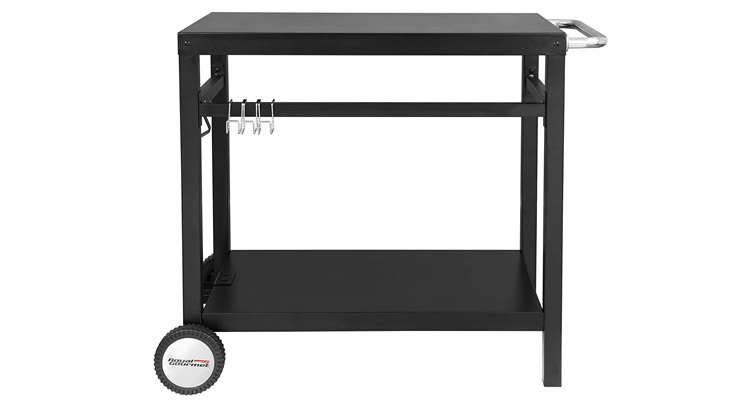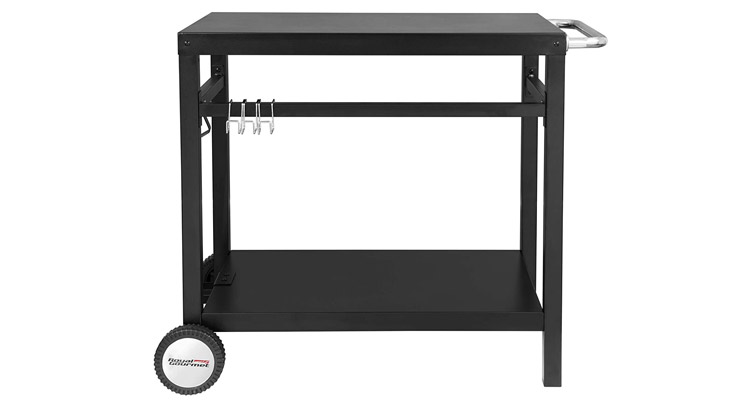 The Royal Gourmet Double-Shelf Movable Grill Table is a nice-looking, no-nonsense outdoor grill table that comes at an excellent price.
It's very sturdy and effortless to move around. It comes with three chrome-plated hangers as well as plenty of extra rails to hang just about whatever you need.
One of my favorite features is the propane tank mounting system built into the table for connecting to gas grills. It can securely hold a 20-gallon propane tank above the wheels, making it easy to cart your fuel around.
One thing that could be improved with this model is the assembly instructions – they aren't that good. The photos don't clarify which sides face in or out. Many predrilled holes never get used, making it very confusing.
But overall, if you need a good outdoor grill prep table at a very reasonable price, this is an excellent choice.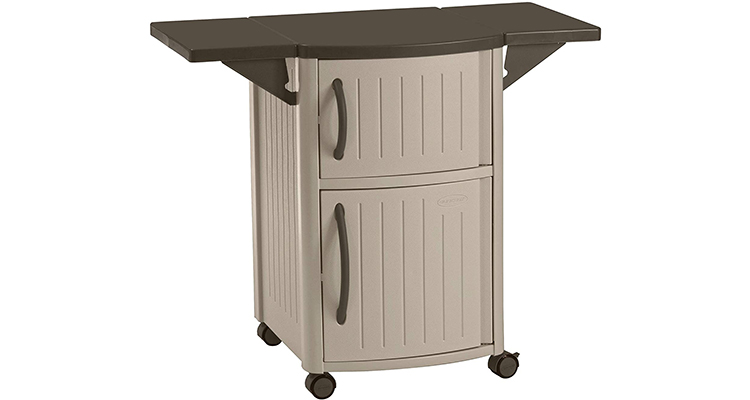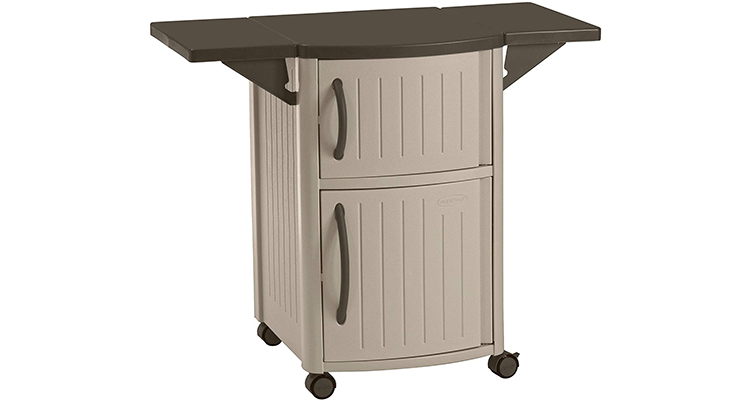 The Suncast DCP2000 Outdoor Prep Station is an excellent grill table that does exactly what it's supposed to do: provide a clean, steady surface for prepping and good storage capacity for your supplies.
The Suncast portable grill table is constructed with weather-resistant resin and is designed to last for many years.
It has two drop-leaf extensions that add an extra 17 inches of counter width when extended.
This grill cart comes with two cabinets for easy storage of your grill tools. It's easy to move around with four wheels, 2 of which can lock.
With its low price and ability to fit into small spaces, the Suncast DCP2000 Outdoor Prep Station is an excellent choice for small patios or decks. It's one of my favorite BBQ tables on this list.
Suncast Outdoor Grilling Prep Station Table with Storage, Taupe/Brown
OUTDOOR GRILL STATION: Portable prep station with 2 drop leaf extensions and a decorative design that will fit well with any...
DURABLE: Constructed of sturdy resin to withstand weather and last for years to come
STORAGE: Top cabinet is perfect for storing a serving tray, napkins, and cups, while the bottom cabinet has space for...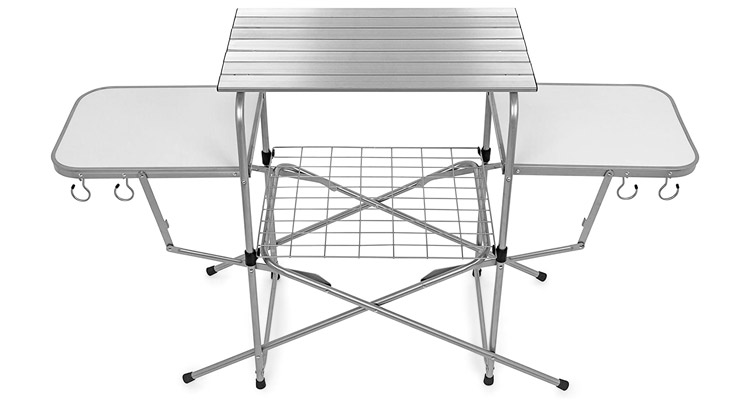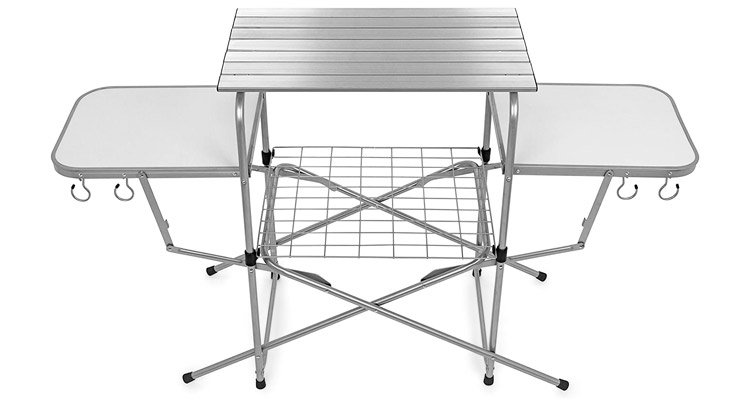 If you're looking for the ultimate in portability, the Camco Deluxe Folding Camping Grill Table wins the prize.
Setup is effortless. At a mere 6 pounds, this small grill table is super lightweight and easy to take with you just about anywhere. It folds down into a 37″ x 19″ x 6″ shape and includes a nice carrying case.
Once assembled, this outside BBQ table has plenty of tabletop space and provides ample storage areas for ingredients, cooking utensils, cleaning supplies, or other BBQ necessities.
It's very sturdy, with a steel frame and aluminum tabletop.
This portable BBQ work table is a great bargain for the features you get for the price.
On Sale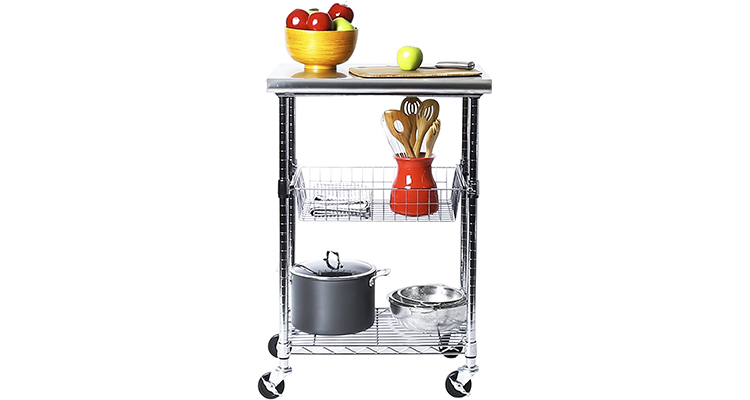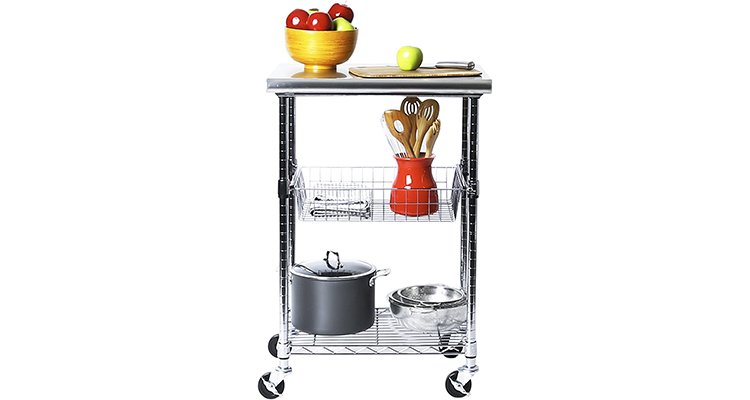 The Seville Classics Stainless Steel Kitchen Cart is a sturdy prep table that comes with 443 stainless-steel construction and a brushed finish. It also has a bullnose front and rear sides.
For interior storage, it has a pull-out grill basket and a steel wire shelf with commercial-grade sturdy stainless steel construction for ample storage space.
It's certified by the NSF to NSF/ANSI Standard 2 – Food Equipment for use in dry and heated storage environments.
Although it's designed as a kitchen cart, it can be easily used as an outdoor prep table thanks to its solid and lightweight design.
This stylish prep station is certain to motivate your inner Top Chef and will provide the extra workspace you need in your kitchen, patio, workshop, or pool deck.
What is the best outdoor grill prep table?
While these grill prep tables all come in different sizes and price points, the one that really stands out is the Keter Unity XL. It's reasonably priced, very durable, and has all of the necessary features for a good grill work table.
Whichever grill table you choose, you can't go wrong with any of these. Happy grilling!
Related content you might like:
Chris Johns
Chris Johns is the founder of Rock's Barbecue® and has been an avid barbecue fan for over 20 years. His mission is to make grilling and smoking the best food possible easy for everyone. And each year, he continues to help more people with grilling, smoking, and barbecue recipe recommendations.