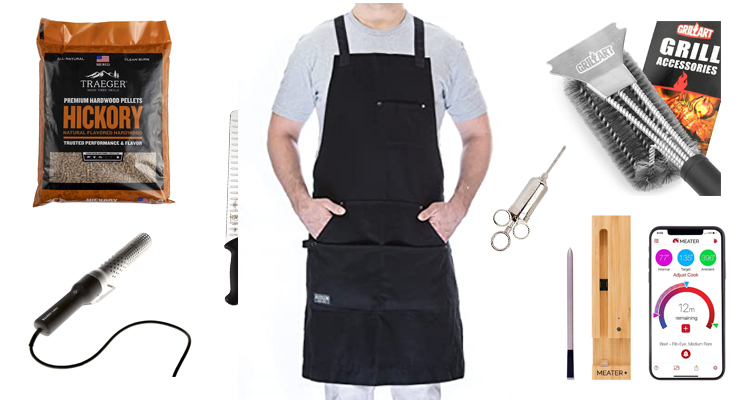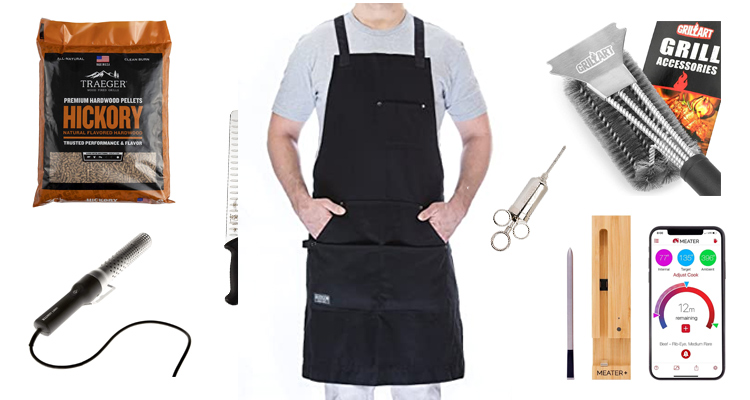 Smoker accessories help you fine-tune your smoking process, keep you safe, and ensure that you churn out the best darn brisket on the block.
There are many important accessories to add to your arsenal from wireless meat thermometers, rubs, to BBQ grilling gloves, brisket knives, even pitmaster journals and cookbooks.
For this article, I opened up my own smoker kit and selected only the most essential smoker accessories. Regardless of your needs, you're only going to find what you need here.
The Best Smoker Accessories for 2023
Here is my list of the best smoker accessory options for the U.S., Canada, Australia, and the U.K in 2023. I'll start with the five best choices in terms of value, convenience, design, and cost.
Click on the name to read reviews and check prices or skip ahead to read the entire list by clicking here.
Best Smoker Accessories Reviews
Here are the complete reviews of the 22 best smoker accessories in 2023. Keep reading after the reviews for a guide on what to look for when choosing a smoker accessory.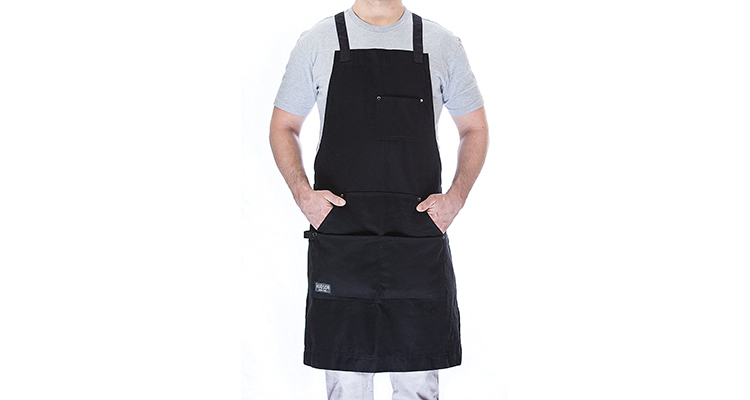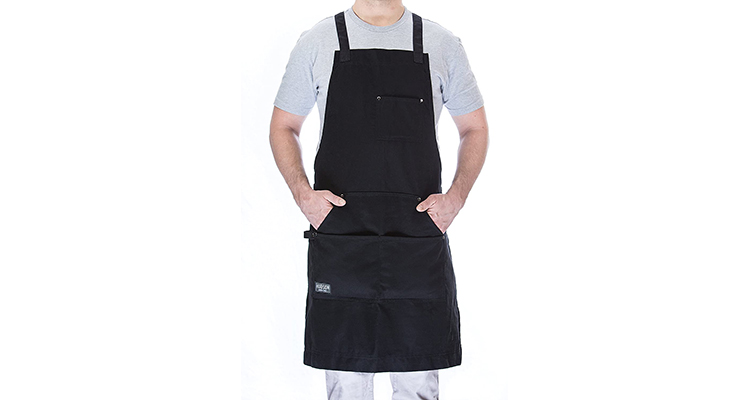 After losing one too many of my favorite shirts to grease splatters and barbecue sauce, I finally bought a Hudson Durable Goods Professional Grade BBQ Chef Apron.
This BBQ chef apron is made from thick 10-ounce cotton, but it's also breathable. I also like that it is double-stitched, comes with a towel loop, and has four spacious pockets for my smoker accessories.
The MEATER Plus Wireless Smoker Thermometer is another essential smoker accessory.
This unit allows you to monitor your cooking progress from up to 165' away using your favorite mobile device. Just insert your meat probe and pull up the MEATER app. From here, you can set timers, monitor temperatures, and customize settings.
It's also worth mentioning that this wireless smoker thermometer is rechargeable and dishwasher safe.
If you're not familiar with Aaron Franklin, he's the owner of Austin's Franklin Barbecue, author of  Franklin Barbecue: A Meat-Smoking Manifesto Cookbook, and beloved by the late Anthony Bourdain.
I could give this man a lengthier introduction – or just tell you to buy his fantastic smoked meat cookbook.
This book packs a complete meat and brisket-cooking education into 234 pages. There is a lot to learn here, even if you're a smoked meat veteran.
I consider my hands to be one of the most valuable smoker accessories in my kit, so I protect them with the RAPICCA Extra-Long Leather Grilling Gloves.
These 16" BBQ gloves protect all the way up to my forearms. Plus they're made with double-reinforced Kevlar padding on the fingers, palms, and glove backs.
This kind of protection is unrivaled. Thanks to these grilling gloves, I can safely reach across the grates, handle kabobs, even lift burning logs!
The Grill Wizard Grill Brush is one of my favorite grill grate brushes.
This 18" wire brush gives me plenty of reach, a handle that won't melt or break, and 360-degrees of scraping power.
The grill brush head is packed with three stainless steel brush rows, allowing you to destroy buildup on the grill grates with minimal effort.
What's so great about the Original Bear Paws Meat Shredder Claws? Maybe you should ask Guy Fieri or the folks at the National BBQ Association. They all stand by this set of bear claws.
These meat shredding claws are made from heat-resistant, BPA-free nylon. So they're tough, dishwasher safe, and incredibly affordable. What's not to love?
The Cuisinart Deluxe 20-Piece Grill Tool Set is one of my favorite smoker accessories.
This grill tool set comes with all the tools you'll ever need: a chef's spatula, tongs, a digital meat thermometer, a basting brush, corn holders, skewers, and a grill brush with an additional head.
I also like that each piece packs away into a sturdy aluminum carrying case. This keeps my smoker accessories organized at home and on the road.
Love charcoal flavor, but tired of messing with matches, newspaper, and caustic lighter fluid? Light up your charcoal grill with the Looft Lighter Electric Charcoal Starter.
This electric charcoal fire starter gets fires going in as little as 60 seconds. It uses electricity to churn out 1,100 degrees Fahrenheit of heat, comes with a 10' cord, and doesn't cost a fortune.
You spent 10 hours smoking that beautiful slab of brisket, so why would you hack into it with any old kitchen knife when you could reach for the Mercer Culinary 11-Inch Granton Edge Slicer Knife?
This 11" knife is one of my favorite grilling tools. It's well-balanced, comfortable in hand, and affordable. The blade is made from a single piece of Japanese steel, so it holds its edge longer than a stainless steel knife.
Plus, this brisket slicing knife features a scalloped blade to reduce friction and sticking. I also like the sturdy, textured handle, which reduces slippage and improves leverage.
Killer Hogs BBQ Rub was perfected in the best BBQ competitions in the country and has been around for more than a decade.
This rub is made from a blend of brown sugar, paprika, garlic, orange peel, and salt. And it's delicious on brisket, steaks, chicken, ham, even vegetables.
The flavor is rich, tangy, and sweet with just the right amount of kick. When I'm smoking meat, this is my go-to rub.
If you're tired of watching your veggies, sausage links, and precious seafood disappear through the grill grate, check out the Grillaholics Heavy Duty Grill Basket.
This stainless steel grill basket is made with triple-reinforced welds, so it takes the heat without warping.
To use it, just load up your grill basket and toss it on the grates. The perfectly sized holes allow flames to kiss your food without devouring it.
The Lavatools Javelin Digital Instant Read Meat Thermometer is an all-in-one, Swiss-Army knife-style meat thermometer.
To use it, unfold the meat thermometer probe like you would a pocket knife blade and insert it into your meat.
Temperatures display on the meat thermometer handle in less than three seconds. And the readings are within +/-.09 degrees Fahrenheit of accuracy. A bonus: this instant-read unit lasts for 4,000 hours on a single charge.
There are many wood chip brands on the market, but after years of experimenting, I've determined that not all wood smoking chips are created equal.
Traeger Hickory Wood Pellets are my go-to brand. Traeger hickory wood chips are made with just the right amount of moisture, so they give a clean, dependable burn. And the flavor profile is rich but not overpowering.
I've used these wood pellets to smoke everything from brisket and pork to blueberry pie and poultry.
The Weber Rapidfire Charcoal Chimney Starter is a convenient way to get your charcoal fire going quickly – and without caustic lighter fluid.
To use, just tuck a few sheets of wadded newspaper at the bottom of the charcoal chimney fire starter. Next, load up the basket with your favorite charcoal, light it, and wait a few minutes. Your coals will be white-hot in minutes.
This chimney fire starter is 13" X 7.5", so it holds plenty of fuel. It's also sturdy and extremely affordable.
The PolyScience Breville Gun Pro Smoke Infuser is one of my favorite grilling accessories – but it's not just for grilling.
This handheld tool allows you to add smoke flavor to vegetables, pastries, even cocktails.
This unit runs on batteries, so all you need to do is select your favorite wood chips or spice blend, hit the power button, and watch it produce cold, flavored smoke.
Seasoning and marinating are essential to smoking. The trouble is that rubs and marinades only flavor the outer layer of meat. That's why the Traeger Grills BBQ Grill Meat Injector Kit is one of my favorite grilling accessories.
This meat injector allows you to inject flavor deep into the tissue of your food, which keeps the meat moist and juicy from the inside out.
If you've never used one of these BBQ accessories, the Traeger Grills BBQ Grill Meat Injector Kit is a great unit to start with. It's affordable, made of top-to-bottom stainless steel, and has a large-capacity barrel.
Mastering the smoker takes practice. And, in my experience, documenting your progress is one of the best ways to improve.
I use the BBQ Pitmaster Log Book Journal to track spice blends, recipes, cook times, and final results.
What I like about this journal is that it's sleek yet tough. The "stone paper" is tear-resistant and won't bleed when you handle the pages with grease and sauce-covered hands.
The OXO Good Grips 16-Inch Locking Tongs are another one of my favorite BBQ accessories.
These tongs provide a 16" reach, perfect for reaching across a piping hot gas grill. The tongs are made of stainless steel and have scalloped edges, so they're durable and provide jaw-locking grip.
I also like that these grill tongs lock for easy storage.
The Bradley Smoker Carving Kit comes with the essential grilling tools: a butcher knife, a boning knife, a carving fork, a sharpener, and an instant-read thermometer.
What's cool about this grilling tool kit is that it comes in a magnetized carrying case so that I can store it on the fridge or the side of my grill station. They also make a great grilling gift.
There's a lot to love about these smoker accessories. I was especially impressed with the boning knife and butcher knife: both are well-balanced, comfortable in hand, and retain their edge well.
The Sonder End Grain Walnut Cutting Board is truly a showpiece cutting board made of thick walnut. It's a beautiful slab of wood, but it's also deceivingly tough.
When you cut, the knife goes between the wood fibers rather than through them. This preserves your knife edge and keeps your board looking new.
I've used this cutting board to serve charcuterie and other sides, but I've also abused it plenty – and it still looks great.
Smoking requires precision, so I like to double up on my thermometers—one for meat, another to capture ambient temperature under the hood.
The Tel-Tru BQ300 Barbecue Thermometer is my go-to built-in lid thermometer. It's made from tough, heat-resistant metal and has a large face. So it's easy to read from a distance.
Installation is also a breeze, especially if you purchase Tel-Tru's easy installation kit.
Bamboo kabob skewers char, snap, and are only good for one use. And the funny thing is that a bundle of disposable kabob skewers isn't much cheaper than Blue Donuts 24-Pack Kabob Skewers. So I made the switch.
These 12" stainless skewers are not only reusable, they're designed to lay flat for even cooking. I also like that they have a ring top handle, which holds skewered food in place and gives me a handle to move the kabob around the grates.
These kabob skewers are also dishwasher safe, so cleanup is quick and easy. I also like that this unit is backed by a two-year warranty.
What are the best smoker accessories for you?
The best smoker accessories for you depend on your budget and preferences, but if I had to narrow down my list to five standout units, here's what I'd choose.
Smoking Apron
Smoking is a messy business. You're handling raw meat, blood, grease, wood, charcoal, rubs, spices, and most destructive of all, barbeque sauce! That's where BBQ aprons come in.
Stop sacrificing your wardrobe to the smoking gods and strap into the Hudson Durable Goods Professional Grade BBQ Chef Apron. Seriously, this apron will pay for itself in one use.
This unit is thick yet breathable. It's also double-stitched and has plenty of storage pockets for your grill accessories.
Wireless Thermometer
Smoking requires patience and precision. An instant-read meat thermometer won't make you more patient, but it will give you the freedom and precision that even experienced smokers cannot achieve on their own.
If you're looking for a standout WiFi meat thermometer, check out the MEATER Plus Wireless Meat Thermometer.
This wireless thermometer allows you to monitor your smoker from up to 165' away using your favorite mobile device. Use the MEATER app to set timers and track your cooking progress. And when you're done, drop your probe in the dishwasher.
Recipe Book
You can crawl the Web for smoking tutorials and recipes – or you could just snag a copy of Franklin Barbecue: A Meat-Smoking Manifesto Cookbook and learn from the best.
This book is packed with information. Inside, you'll find out how to build or customize your smoker, find the right wood, tend to your fire, and source the best meat.
Seriously, Aaron Franklin's book is a must-have for both veteran and newbie smokers.
Meat Claws
Shredding smoked brisket by hand is messy, time-consuming, and dangerous, especially if you're using the wrong tools. But this all changes when you have a nice set of meat shredding claws.
Meat claws are explicitly designed for shredding meat. So they don't slip, break, melt, or bend. Instead, they allow you to work quickly with minimal effort.
So leave your forks and steak knives in the kitchen drawer and give the Original Bear Paws Meat Shredder Claws a shot.
Grill Brush
A clean smoker is a high-functioning smoker, right? Protect your most important investment with the Grill Wizard Grill Brush.
This is one of my favorite grill brushes. The long, 18" wire brush handle gives me plenty of reach, which is critical when working over a hot grill. Plus, it's made from rigid, heat-resistant plastic, so it won't break, melt, or warp.
This is one of the best smoker accessories because it provides 360-degrees of scraping power.
The grill brush head is packed with three stainless steel brush rows, allowing you to destroy buildup on the grill grates with minimal effort.
I hope you found my smoker accessories roundup helpful.
Happy smoking!
Related content you might like: