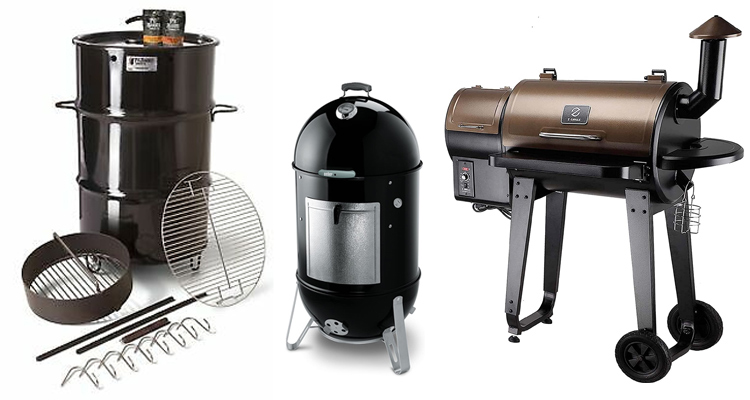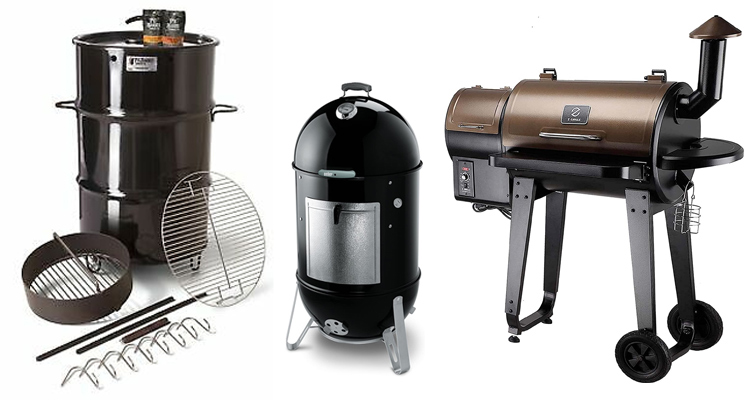 Fish smokers have been around for thousands of years in one form or another.
In the beginning, fish smoking was done for preservation, not its delicious taste. Today, however, smoking fish has become very popular for many great reasons.
First, smoked fish tastes great. Second, smoking allows you to experiment and prepare unique dishes that aren't possible when you use a traditional grill. It allows you to make fish jerky, lox, and some of the most delicious salmon fillets you've ever had.
There are many fantastic fish smokers on the market. No matter your budget, needs, and preferences, you'll find what you're looking for in this guide to the best fish smokers.
The Best Fish Smokers for 2023
Here is my list of the best fish smoker options for the U.S., Canada, Australia, and the U.K. I'll start with the 5 best choices in terms of value, convenience, design, and cost.
Click on the name to read reviews and check prices or skip ahead to read the entire list by clicking here.
Best Fish Smoker Reviews
Here are the complete reviews of the ten best fish smokers in 2023. Keep reading after the reviews for a guide on what to look for when choosing a fish smoker.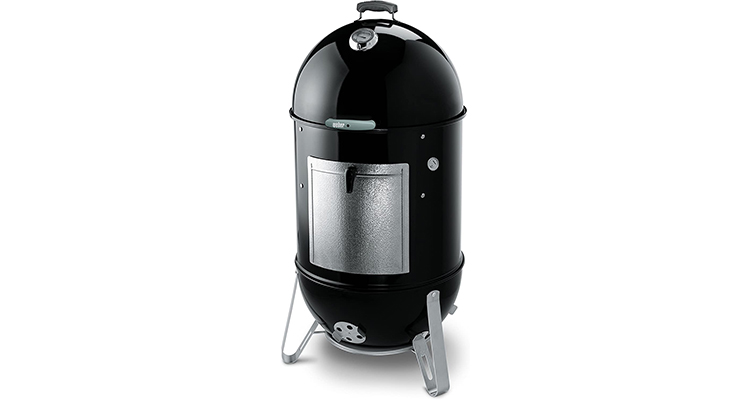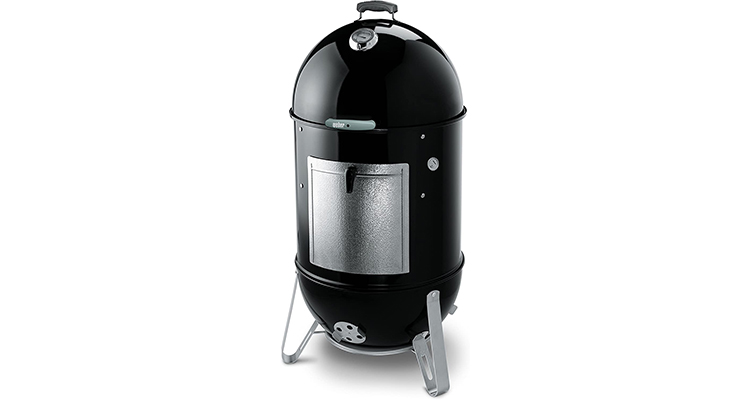 The Weber Smokey Mountain Cooker 22-Inch Charcoal Smoker lands at the top of the list thanks to its sleek pod design, compact footprint, and sturdy construction.
This fish smoker features 692 square inches of cooking space and a 360-degree nickel-plated grate, all packed into a sleek, bullet-shaped shell.
This fish smoking grill looks fantastic, but it's also intelligently designed.
Many fish smokers only give you one opportunity to load charcoal – unless you want to open the lid, pull your food, and lift the grates to access the charcoal compartment.
However, the Weber Smokey Mountain cooker comes with a front-mounted door, allowing you access to your coal chamber without ever lifting the lid or moving the grates.
There are a few more bells and whistles to help you lock in your ideal temperatures. The lid-mounted cooking temperature gauge is one. I also like having two dampers (one on top, another on bottom) to regulate airflow.
This charcoal smoker also comes with a grill cover and a set of warranties. These include 10 years of protection for the bowl, lid, and center ring, a five-year warranty protecting any plastic pieces, and a two-year warranty covering everything else.
If you're looking for a quality, mid-priced smoker that looks just as good as it cooks, check out the Weber Smokey Mountain Cooker 22-Inch Charcoal Smoker.
On Sale
Infusing rich smoky flavor into fish gets even easier when you're doing it with Z GRILLS ZPG-450A Wood Pellet Grill & Smoker. That's because this wood smoker does nearly all the work for you.
This is an eight-in-one Z Grills pellet smoker unit, so it grills, bakes, roasts, sears, braises, BBQS, char-grills, and smokes fish.
To use, just plug it in, fill the hopper with your favorite wood pellets, set your temperature, and walk away. Unlike other electric smokers, this one uses a PID controller to maintain temperature balance.
The PID controller (which stands for proportional, integral, derivative) connects to a temperature probe in the cook chamber, so the entire system receives real-time temperature readings and recalibrates when necessary.
As I said, this Z Grill does nearly everything for you and is one of the best smokers for fish on the market.
Crack the bronze-colored hood, and you'll find a 452 square-inch cooking surface. The side-mounted hopper holds 15 pounds of wood chips, and auto feeds when the PID controller demands more heat.
The Z GRILLS ZPG-450A Wood Pellet Grill & Smoker is the best smoker for fish if you love rich smoke flavor and want a unit that truly embodies the set-it-and-forget-it motto. It's shockingly affordable, easy to use, and an overall fantastic smoker for fish.
If you've ever talked to the old-timers, they swear by the classic drum-style method of cooking. I was skeptical, but that changed after a session with the 18 ½-inch Classic Pit Barrel Cooker Package.
When I say this is a "drum-style" fish smoker, I mean that literally. The main body is made from an 18.5" industrial drum, which emulates what DIY smokers have been doing for decades. The beauty is that Pitt Barrel gave the classic design a few upgrades.
These include side-mounted handles, a lid, eight hooks, two steel hanger bars, a charcoal basket, a hook remover tool, and a stand.
This hot smoking machine uses a vertical hook-and-hang design. This has a couple of advantages.
First, it maximizes space, allowing you to smoke whole fish by hanging them vertically. Second, because your smoked fish hangs vertically, it is cooked on both sides. Plus, flavor and juices fall from one piece down to other meats, so your smoking fish essentially seasons itself.
If you like simple, classic design, you can't get much more "classic" than the 18 ½-inch Classic Pit Barrel Cooker Package.
Traeger Grills Pro Series 575 Wood Pellet Grill and Smoker can bake, braise, and BBQ, but it also excels at making smoked fish.
This is an electric smoker, so it does a lot of the work for you. Just plug it in, pour your favorite wood pellets into the 18-pound hopper, choose your temperature, and watch the D2 drivetrain kick into gear.
This unit heats up quickly and locks in a stable temperature. Plus, it comes with a meat probe and pairs with the WiFIRE Traeger app, which you can monitor from your favorite mobile device. This means that you can control temperatures and monitor your smoked fish from afar.
I like the familiarity of the barrel-top design and the sturdy steel construction. The chimney is also a cool feature, but it's not just for show – it also helps circulate air and helps lock in internal temperature.
This unit puts out 36,000 BTUs of cook power, so it can climb to 500 degrees in minutes. However, it also works perfect for low and slow smoking and will lock in at 180 degrees when you smoke fish.
Extras include storage hooks for extra grill racks, a sawhorse chassis, a sturdy lift bar, and all-terrain wheels, making it easy to roll this electric smoker around the patio.
The Traeger Grills 575 Wood Smoker is one of my favorite fish smokers. It has an ample cooking surface (575 square inches), heats quickly, and allows you to monitor your cooking progress from afar.
Kamado smokers have been around for more than 3,000 years, but this ancient Asian cooker didn't end up on American patios until after World War II.
Modern Kamados (or, Acorn-style grills) like the Char-Griller 20-Inch Akorn Kamado Charcoal Grill are popular because they maintain searing hot and moderately low temperatures. Plus, they can grill, bake, and, most important, make delicious smoked fish!
This outdoor cooking machine features solid steel construction and double-lined walls manufactured from ceramic-coated steel. This design locks in temperatures and ensures even heat retention during the smoking process.
The egg-style body sits on a sturdy cart with two all-terrain wheels, two side tables, and tool hooks. What more could you ask for?
In addition to having 314 square inches for cooking food, you also get cast iron grates, a removable ash pan, and a removable centerpiece that allows you to add fuel easily.
The Char-Griller 20-Inch Akorn looks and performs a lot like the famous Green Egg. The beauty is that it costs only about ¼ as much as other fish smokers. That's a tremendous value.
Char-Griller E16620 Akorn Kamado Charcoal Grill, Graphite
KAMADO CHARCOAL GRILL - Kamado style BBQ Grill & Smoker perfect for both high heat grilling and low and slow cooking
LARGE COOKING AREA - 20 inch Cooking Diameter with 447 square inch total Cooking Area can cook up to 27 burgers at once
BEST IN CLASS FEATURES - Triple-Walled Steel Insulated Design, Cast Iron Grates, Locking Lid, 8" Locking Caster Wheels,...
The Masterbuilt MB20071117 Digital Electric Smoker is another one of my favorite units for smoking fish.
This is a vertical electric smoker, so it's ideal for tight spaces. At only 30" tall and 45 pounds, it easily integrates into the patio grill station. Plus, it's small enough to take on the road.
Crack the front door, and you'll find four levels of grates. That gives you a 20.47" X 19.88" X 33.26" area for fresh fish. And the beauty is that you can remove racks and add hangers if you want to smoke whole fish vertically.
It is worth mentioning that this electric smoker's walls are double-insulated, so it locks in heat.
Despite its compact footprint, this electric smoker is quite a performer. Just plug it in, flick the power switch, load your favorite wood chips into the base, and watch it soar to 275 degrees in minutes.
I also like the external wood chip loading system, which allows me to re-up without cracking the door and losing valuable heat and smokey flavor.
The Masterbuilt MB20071117 earns high marks for its compact footprint, crazy-low price tag, and superior heat retention.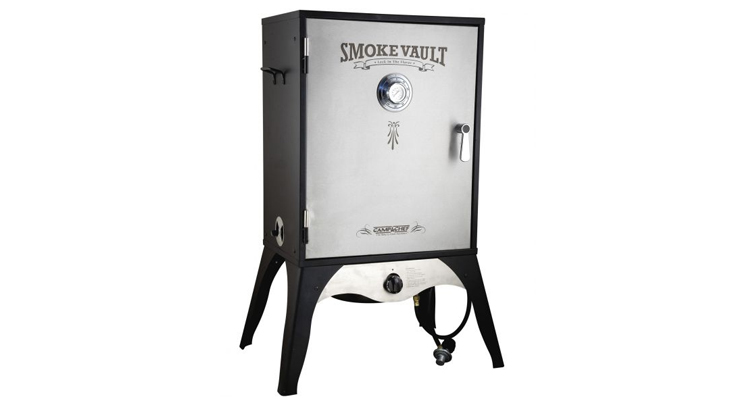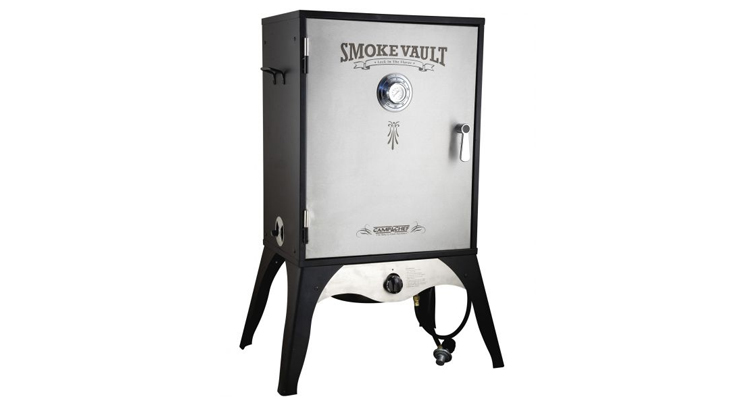 The Camp Chef Propane Smoke Vault is another favorite digital electric smoker. There's a lot to love about this unit.
To start, it's just plain simple to use. All you have to do is plug it in, add wood whips to the basket, dial in your temperature, and wait. This digital electric smoker puts out a whopping 18,000 BTUs/hr.
The beauty is that you can lock in temperatures between 160-360 degrees Fahrenheit.
This is a vertical smoker, so you have the option to smoke fish by laying it flat on the two 21.5" X 14" cooking racks. Or, you can remove one grate and use smoker hooks to cook fish vertically.
Despite its generous cooking space, this unit is also quite compact. It easily integrates into your grill station at only 30.5" X 25" X 17", even if you have limited patio space.
Extras include a heavy-gauge steel wood chip tray, a removable grease pan, three adjustable damper valves, and a front-mounted temperature gauge.
The Camp Chef Propane Smoke Vault runs on electricity, so it's ideal for those who are just learning how to smoke fish. Just plug-and-play…and then enjoy your smoked salmon, of course!
Next to Kamado-style grills, the Portable Kitchen Cast Aluminum Grill and Smoker is one of the most unique (and awesome!) looking fish smokers on the market.
To start, this smoker is made from top to bottom cast aluminum. There's a lot of silver going on here, so it has a retro-futuristic look to it. But PKGrills doesn't use aluminum just for looks.
Aluminum conducts heat four times more efficiently than steel. So heat is dispersed evenly throughout the body. Just as important, aluminum is rust-proof, so unlike other charcoal units, this one will last.
There's a lot to love about this grill. To start, it has a 21.5" x 19.5" cooking surface, so there's plenty of room for smoked fish as well as vegetables and sides.
It has a hinged lid with a handle, so I'm never searching for a clean, safe space to set my lid. I also like the four-point venting system, which allows me to set up two cooking zones: one for direct cooking, the other for indirect.
The entire package sits on a sturdy cart with a spacious bottom shelf and two all-terrain wheels.
The Portable Kitchen Cast Aluminum Grill and Smoker is a conversation starter, but it also does a heck of a job smoking fish. Plus, it's moderately-priced, rust-proof, and retains heat like the best smokers on the market.
PK Grills PKO-SCAX-X Charcoal BBQ Grill and Smoker Combo, Regular, Silver
CHARCOAL GRILL AND SMOKER COMBO - PK Grills charcoal grill with smoker packs a unique capsule shape construction and 4 vents...
CAST ALUMINUM CONSTRUCTION - Aluminum grills are rust-proof, durable, lightweight, and conduct heat 4x more efficiently than...
PORTABLE GRILL - This outdoor grill and smoker detaches easily from any of it's available stand options for transport. A...
If you love Kamado-style grills and are prepared to make an investment, Primo Grills ALl-in-One Kamado Round Grill is one of the top-shelf smokers for fish.
If you're new to Kamado-style grills, here's a quick rundown. Kamados are made of ceramic, so they lock in smoke and heat. An air draught is created at the cooker's base and a draft on top thanks to that tight seal.
So you're creating a hot air convection system, almost like a hot air fan, without electricity. So it's a great smoker for fish because it cooks evenly and locks in moisture.
Here's what you get: A solid ceramic body with heat-resistant gaskets to create a tight seal. The body rests on a powder-coated stainless steel cart with rolling casters that lock.
You also get two fold-down side shelves, a lid-mounted temperature gauge, and stainless steel cooking grates.
This All-in-One grill is one of the pricier units on the list but think about it this way: The Primo Grills ALl-in-One Kamado Round Grill will never rust out or corrode. There aren't any electrical components, so there's nothing to break either.
So you're really making a once-in-a-lifetime purchase and getting a unit that bakes, grills, BBQs, and smokes fish. In short, it does almost everything. Plus, you'll never have to upgrade.
The Big Chief Front Load Electric Smoker has been around forever. My grandfather was using one back in the 60s, and guess what? The design hasn't changed much since.
The Big Chief is very similar to the Little Chief Electric Smoker, but larger. This model is all about simplicity and consistency, and that's exactly what you get.
This unit comes with a recipe book, wood chips, a fuel pan, drip catcher, and, of course, a 17.5-pound electric smoker.
Inside the cook box, you'll find four levels of chrome-plated grates and enough space to cook 50 pounds of fresh fish at once.
The Big Chief electric smoker cooks at a steady 165-degree temperature range, making it ideal for slow-cooking thin cuts of smoked salmon, sausage, jerky, and even cheese.
To use it, fill your fuel and water pans, plug it in, and wait a few minutes before dropping your fresh fish. It's as simple as that.
The Big Chief Front Load Electric Smoker is the best smoker for fish if you're new to smoking, or just favor simple design with great tasting results.
On Sale
Benefits of smoking fish
Preservation was the original purpose of smoking. Yet smoking enthusiasts continue the tradition because smoked fish has a deep, intense flavor that is enjoyable and full of healthy omega-3 fatty acids.
Fishing enthusiasts are also hopping on the smoking train. Looking for a new way to cook all that trout and salmon you brought home from your last fishing adventure?
Try making jerky. Or how about a salmon lox spread made with cream cheese, capers, and dill, then spread over a toasted bagel?
There are infinite ways to use smoked fish, and when you do it yourself, you save money, consume fewer preservatives, and produce less waste because you're not buying pre-packaged smoked fish.
What is the difference between hot and cold smoking?
There are two ways to smoke your meat: hot and cold. While both methods use smoke and flame, they produce very different results.
Cold Smoking
Cold smoking typically takes 12 to 24 hours, is done at low temperatures between 90-100 degrees Fahrenheit, and requires indirect heat and smoke to cook. So your cold smoker needs two separate chambers, one for charcoal or wood and the other for your cold-smoked fish.
When you're cold smoking fish, you're curing meat rather than cooking it, so the meat is not only rich and flavorful, it's also preserved and can last for months without refrigeration.
Hot Smoking
Hot smoking takes as little as a few hours and is done at temperatures between 140 and 300 degrees Fahrenheit. Hot smoking utilizes direct heat but cooks at lower temperatures. So meat is simultaneously cooked and smoked.
Hot smoking does not cure or preserve food as cold smoking does, so hot smoked fish should be enjoyed right off the grill.
What features to look for in a fish smoker
There are several features to consider when looking for a fish smoker. These include style, material, temperature control, size, and the additional features listed below.
Type
There are four primary smoker styles on the market: charcoal, wood pellet, electric, and drum smokers.
Charcoal smokers
A charcoal smoker smokes food at low temperatures over a long period by using indirect heat. Charcoal smokers are different from grills in that they come with a firebox for coal and a separate compartment for food.
Most charcoal smokers provide access to the fuel compartment so you can top off your charcoal without disturbing your food or losing valuable heat and smoke. Charcoal smokers are affordable and give food a rich, smokey flavor. However, they also require consistent monitoring.
Wood pellet smokers
Wood pellet smokers essentially take the best parts of a charcoal smoker, kitchen oven, and traditional propane smoker and combines them. Because of this, wood pellet smokers can smoke, bake, braise, BBQ, and, of course, smoke fish.
Wood pellet smokers are popular because they are easy to use. Most are powered by electricity, so they have digital components that regulate temperatures and even self-feed fuel. That's why they are popular, especially amongst newbie smokers.
Electric smokers
Like charcoal smokers, electric smokers have two compartments: one for food, the other for fuel. Electric smokers have a built-in heat-sensing system that tells the auger to add more wood pellets when temperatures fluctuate.
Because electric smokers have digital components, they are much easier to use than traditional smokers. Electric smokers essentially do most of the work for you.
Drum smokers
Drum smokers have been around for ages and are the most basic, no-nonsense smokers out there. These units are made from an industrial drum. Charcoal goes on the bottom of the barrel, a rack goes near the top, and it's all topped with a lid. It's that simple.
Material
Fish smokers are most commonly manufactured from stainless steel, cast aluminum, porcelain-coated steel, and ceramic. All of these materials are durable and solid heat conductors.
Ceramic fish smokers won't rust and corrode. However, they are typically more expensive than metal smokers. If you decide on a metal fish smoker, I suggest purchasing one that has a powder-coated finish for all-weather resistance.
Temperature control
Temperature control is another important feature. When shopping, look for units that have a good damper system. I like smokers with lid and base dampers. This design allows you to regulate airflow and lock in temperatures with minimal effort.
Cooking area
There's an easy way to determine how much cooking area you need. Allot approximately 72 inches of grill space per person. Double that number for two, and so on. Also, consider the size of your patio space, the number of people you wish to feed, and your budget.
As a general rule, the larger a grill is, the more it costs.
What is the best fish smoker for you?
The best fish smoker you choose will ultimately depend on your budget, needs, and preferences. But, if I had to choose the best smoker for fish, it'd be the Weber Smokey Mountain Cooker 22-Inch Charcoal Smoker.
Lift the lid of this fish smoker, and you'll find 692 square inches of cooking space and 360-degree nickel-plated grates.
When you need to add more charcoal, just pop open the front-mounted door and drop your fuel into the coal chamber. You don't need to lift the lid or move the grates to re-up.
I also like the lid-mounted cooking temperature gauge and the two dampers, which help regulate airflow.
This charcoal smoker also comes with a grill cover and a set of warranties. These include 10 years of protection for the bowl, lid, and center ring, a five-year warranty that protects any plastic pieces, and a two-year warranty that protects everything else.
If you're looking for a sleek design with a compact footprint and an affordable price tag, check out the Weber Smokey Mountain Cooker.
I hope you found my list of the best fish smokers helpful, and that you have years of happy fish smoking in your future.
Related content you might like:
Chris Johns
Chris Johns is the founder of Rock's Barbecue® and has been an avid barbecue fan for over 20 years. His mission is to make grilling and smoking the best food possible easy for everyone. And each year, he continues to help more people with grilling, smoking, and barbecue recipe recommendations.