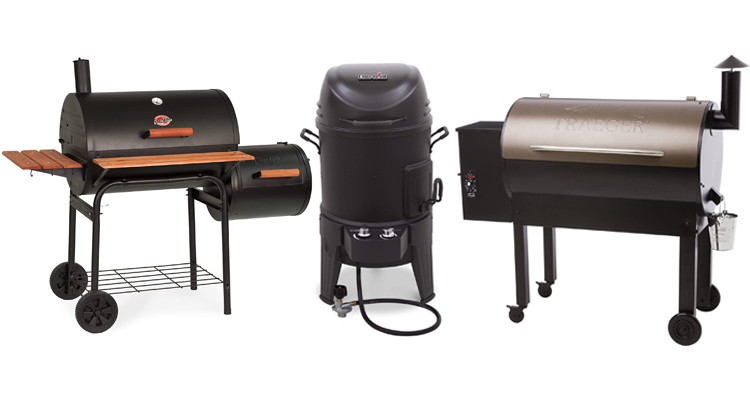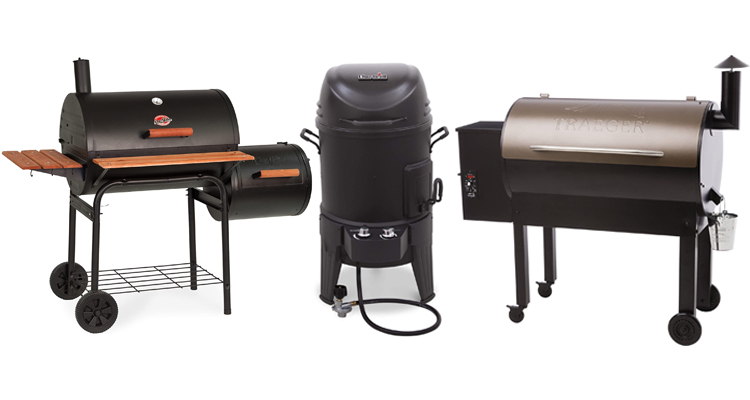 Smoker grill combo barbecues are among the best things to happen to grilling.
If you're like me, you absolutely love the taste of smoked food. I would do that all the time if I could, but unfortunately, on weekdays and other times, you don't always have the time for low and slow smoking. That's where a smoker grill combo comes in.
You've got the convenience of a gas grill and the taste of a smoker. If you need a quick and easy dinner, it's hard to beat the convenience of a smoker grill combo.
Comparison Table of the Best Smoker Grill Combos
Below is a list of the best smoker grill combo units available in the U.S., Canada, Australia, and the U.K in 2023. Click on the name to read reviews and check prices.
What Is a Smoker Grill Combo?
A smoker grill combo is a barbecue grill with a smoker box and a grill built into the same unit. Also called an offset smoker, these units burn charcoal or wood in a firebox attached to the side. They typically have shelves in the cooking chamber to handle multiple types of meats such as briskets, ribs, and pork shoulders.
Types of Smoker Grill Combos
There are a few main types of smoker grill combos. The primary difference between these grills is the grill area's fuel source; it can be either gas or charcoal. Here is a breakdown of the main types of smoker grill combos:
The type of smoker grill combo you choose will depend on your budget and desired features. In general, you can't go wrong with a classic charcoal grill smoker. They tend to be less expensive and produce incredible results.
Best Smoker Grill Combo Reviews
Now that you know what to look for, here are the best smoker grill combo options currently on the market.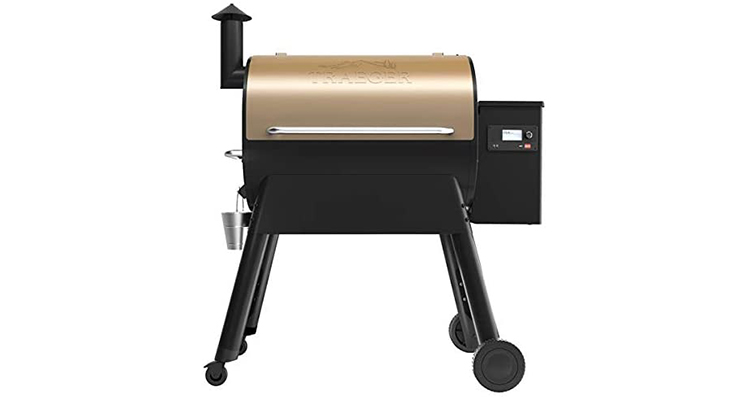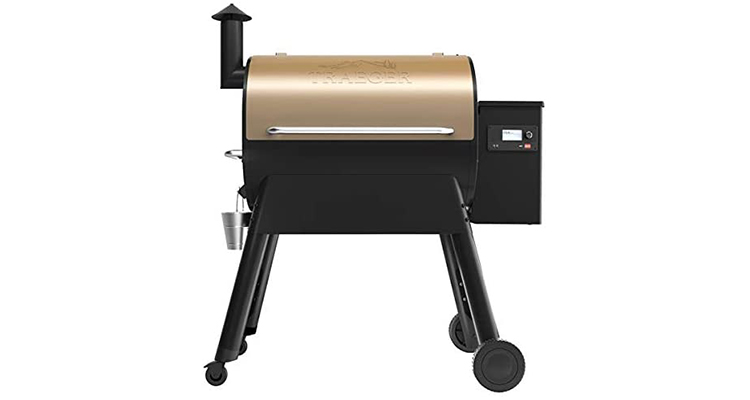 If you're reading this article, you're either probably new to smoking, or you want to step up your game and get a little bit better quality smoker unit.
I'll tell you right from the get-go, after doing months and months of research, for hours and hours, the Traeger Grills Pro Series 780 Wood Pellet Grill and Smoker is the way to go, hands down. They make the best smokers out there. They are super easy to use, they are extremely well built, and they smoke, cook, and grill better than any of the rest.
You get an exceptionally even heat, and you get a very, very even coating of smoke.
If you've never used wood pellets in a grill before, they are awesome. It's so easy to use. You can get different flavors like Hickory or Mesquite. You put the wood pellets into the hopper, set your temperature, and keeps it exactly at that temperature. When you're smoking meats, controlling the temperature accurately makes all the difference in the world. That's why these wood pellet smokers are so good. When you can control the temperature like that, it's almost like you're smoking inside an oven in the house. You get perfect results every single time, period.
The Traeger Pro 780 has exceptional build quality. This thing is built like a tank. This is the last smoker grill that you'll ever need to buy. The quality that Traeger puts into this product is unbelievable.
The hopper never jams; the steel on it will never dent. It's just exceptionally well made. And it's well thought out too. Things are very easy to clean out, even down to the small details like having extra heat shields between the digital controller and the dials and the actual cooking area inside. It's just the little things like that that make all the difference.
Another thing is you're going to get a very, very good quality grate with the Traeger. Many cheaper smokers come with an inferior quality stainless steel grate instead of a cast iron. On top of that, too, the Traeger grate has a porcelain coating on it, so it's effortless to clean.
The Traeger Pro 780 is very easy to use and set up. Basically, you pour your pellets into the hopper. This model will hold 18 pounds of pellets, which is a lot. You can slow cook for a long time, depending on the temperature. At your average temperature, 18 pounds of pellets will last you weeks of cooking time.
It comes with a completely electronic auto-start ignition, which is a really nice feature to have because a lot of the cheaper smokers, you have to set the pellets on fire. They don't have an automatic ignition, which can be a bit of a pain because these pellets can be tricky to light. With this model, you flip a switch to turn it on, set your temperature, wait for it to get up to temperature, and you're ready to smoke. Simple as that.
I'm delighted with the Traeger Grills Pro Series 780 Wood Pellet Grill and Smoker and highly recommend it.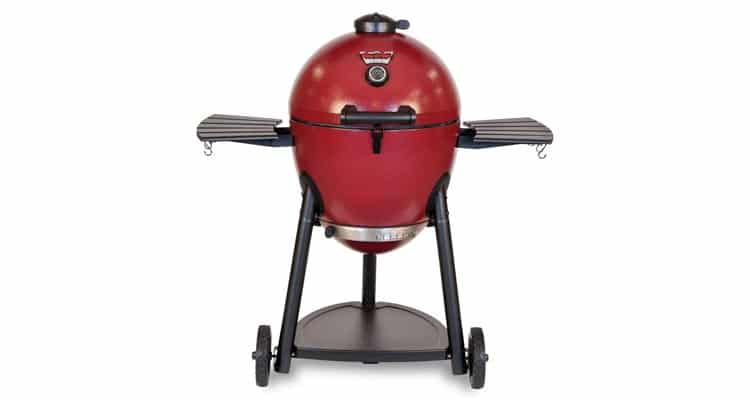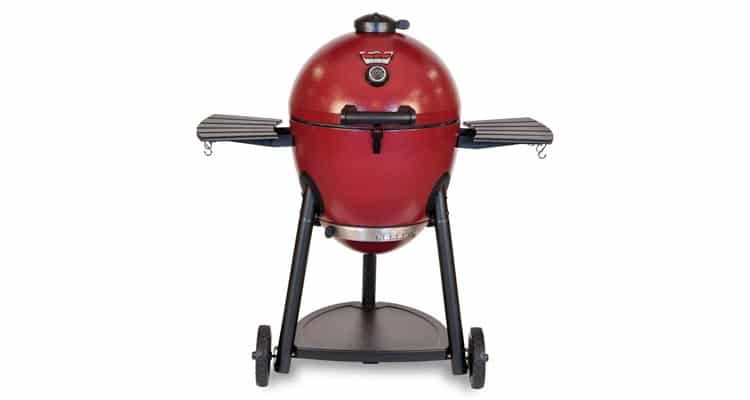 The Char-Griller Akorn Kamado Kooker is a kamado-style grill similar to the famous Green Egg, but at a much lower price. With the Akorn Kamado, you can do many things like smoke, bake, make pizzas, and lots more.
The Akorn is crafted from heavy-gauge steel to create a more durable and lighter option than traditional ceramic kamado grills. But make no mistake, this is a very heavy-duty grill. It's got a ceramic lining on the inside made of coated steel, which maintains a much higher temperature with plenty of efficiencies.
The inside features an insulated double-wall construction and is porcelain-coated for more efficient heating. It has advanced airflow dampers, which allow you to cook with low and high heat with less charcoal and airflow, resulting in juicier meats.
It has a sealed cooking chamber and can be locked from the outside with clips to ensure all the heat and flavor remain inside the cooker.
It has an ample-sized 314 square inch cooking surface that can easily hold up to 23 burgers. The cast iron grate also has a removable centerpiece so you can easily access the charcoal.
You'll find a removable ash pan at the bottom of the cooker so you can easily empty the ash after multiple uses.
The outside also has some great features, including side shelves that can hold your spices or fold down when not in use, convenient utensil hooks, and a steel bottom shelf for storing bulky items such as a bag of charcoal.
If you've ever wanted to get into kamado-style cooking but couldn't afford the price of a Green Egg, then the Char-Griller Akorn Kamado Kooker is a model to consider. It's built very well and will add lots of versatility to your outdoor grilling at an impressive price point.
Char-Griller 06620 Akorn Kamado Kooker Charcoal Barbecue Grill and Smoker, Red
Triple-walled steel construction makes this grill fuel-efficient | Large 8" Locking Caster Wheels | Features Locking Lid, 2...
Product dimensions | 45" L x 31" W x 47" H | Weight – 97 lbs. | Temperature range – 200ᵒ F to 700ᵒ F | Total...
Insulated design means more heat uses less charcoal and less airflow means insulated heat for juicy meat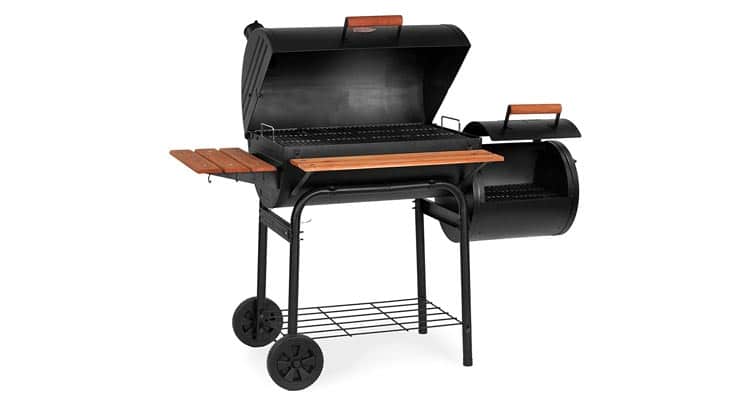 The Char-Griller Smokin' Pro Charcoal Grill and Smoker is perhaps the best charcoal smoker grills on the market for any amount of money.
To begin with, these grills are very durable. With proper care, they can last for a very long time. They are made from heavy-duty steel and powder coated for extra durability.
It gives you the ability to raise and lower the cast iron grate, which is not common for a cast iron grate model type. It's a simple design, but it's a perfect one.
The main compartment and side firebox have powder-coated steel construction. Generally, a powder-coated surface can last longer than a painted surface and resists chips and fading better.
The Char-Griller Smokin' Pro is straightforward to use.
It basically consists of a single rotary damper on the right side and a charcoal tray you can manually raise and lower. That's it. It's super simple to use. Even a newbie shouldn't have any problems using this for the first time.
This is the model to get if you need a basic smoker grill combo for everyday use. It's thoughtfully designed, has bulletproof construction, and a price that is easy on the pockets. I definitely recommend this model.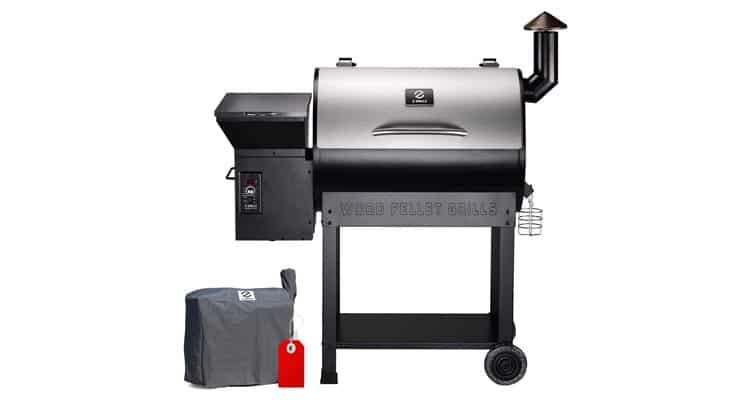 The Z Grills ZPG-7002E Wood Pellet Grill & Smoker is the premium model from Z Grills and one of the cheapest grills available. It's highly recommended for both beginners and highly experienced BBQ smokers. It is easy to operate and use.
The hopper is big enough for a full 20-pound bag of pellets so that you won't run out during your cook. The augur automatically feeds the exact amount of pellets you need, and you can set the temperature with the turn of a dial.
The porcelain-enameled grades are nonstick, and at nearly 700 square inches, there's more than enough room to cook for your family. The grease pan will catch most of the mess. You can even cover it with aluminum foil for quick cleanup.
There's a grommet installed for your favorite temperature probes on your wireless thermometer. And a storage box at the bottom to store extra pellets or smoker accessories for your first cook.
Grilling performance on the Z Grills ZPG-7002E isn't particularly amazing, but the edges get hot enough to get a good char. And that's pretty common with pellet grills, though. Everybody will still like the result.
On Sale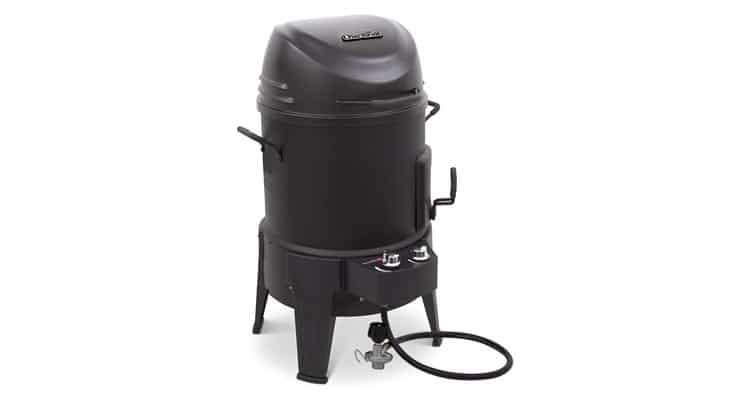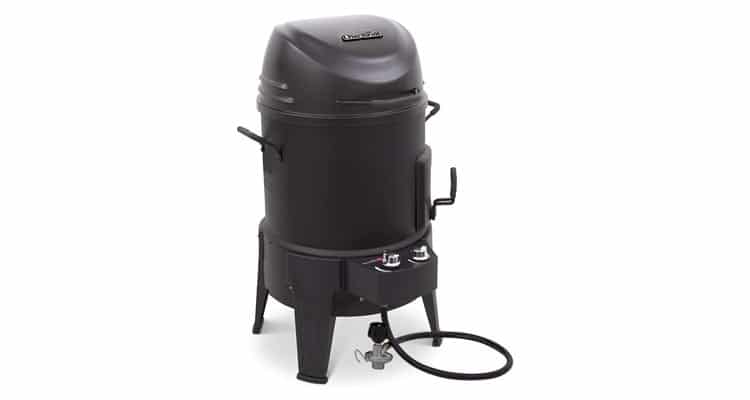 If you're a big fan of deep-fried turkey but not a fan of working with three gallons of hot oil, the Char-Broil 3-in-1 Big Easy Tru-Infrared Smoker is perfect for you.
No longer do you have to deal with the chance of creating a dangerous oil fire or properly disposing of the used oil. No oil also means it's safe to leave it alone to cook without the worry of an oil fire starting. No oil also means less fat, calories, and cholesterol, making this smoker combo a healthy cooking tool.
The Char-Broil 3-in-1 grill allows you to smoke, roast, and grill all in one package. It's heated by propane and includes a 6-foot hose connected to a 20-pound propane tank. It comes with a smoker box to which you add wood chips to.
This model will cook up to about a 25-pound turkey, or a couple of chickens, as well as vegetables all in one unit. It's super nice!
It comes with a multi-level cooking basket which you set into the unit. The different levels allow you to cook multiple types of food simultaneously, like chickens on the bottom and vegetables up top.
It includes a 180 square inch grilling area and an automatic igniter, making it easy to turn on.
One thing to remember before you use this grill for the first time, it's important to season it with vegetable oil. This will help prevent rust inside the kettle over time and is vital to its long-term durability. Spray the inside surfaces with spray canola oil and let it cook off for about 10 minutes before 1st use.
The Char-Broil 3-in-1 Big Easy Tru-Infrared Smoker is relatively inexpensive and a great value option for the best charcoal propane grill combo.
On Sale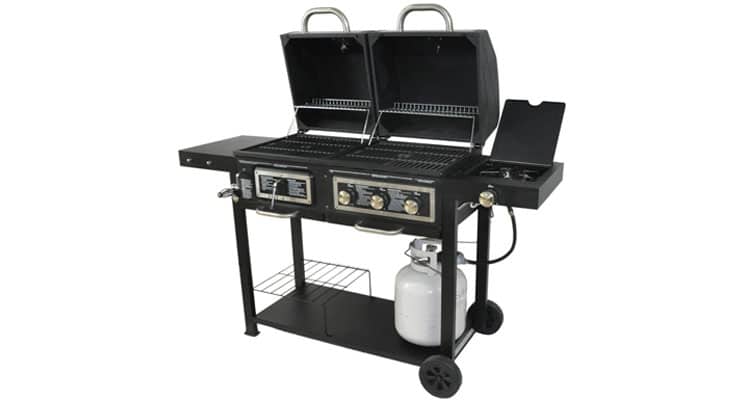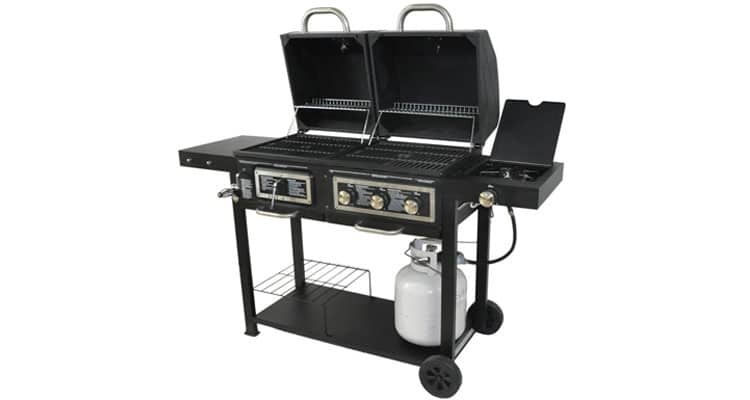 The BLOSSOMZ Dual Fuel Combination Charcoal Gas Grill is a big stand out in the smoker grill combo category thanks to its gas and charcoal fuel source options. It's an affordable alternative to the Oklahoma Joe Longhorn model.
You get the convenience of a gas grill and the taste of a smoker. Its best feature is the tremendous flexibility for the size of meals you can cook. You can use more or less cook chambers depending on your needs.
You can cook on the other parts of the grill without disturbing a brisket, Boston Butt, or other low and slow barbecue meats. This is useful when you are cooking something all day which takes a lot of time.
The gas helps get things going, even if you're just using the smoker. And the gas grill is great for searing and finishing food, which you can only really do with high heat. You can do that on a typical smoker, but it takes a very long time to get the heat up to the temperature you need.
The BLOSSOMZ Dual Fuel Combination Charcoal Gas Grill's price and convenience make it one of my favorite gas charcoal combo grills.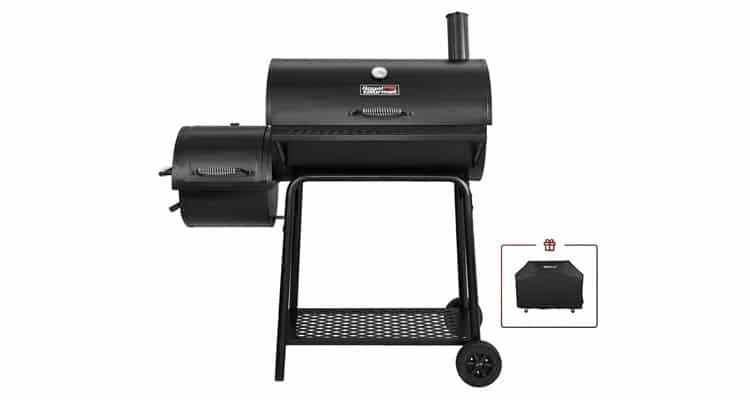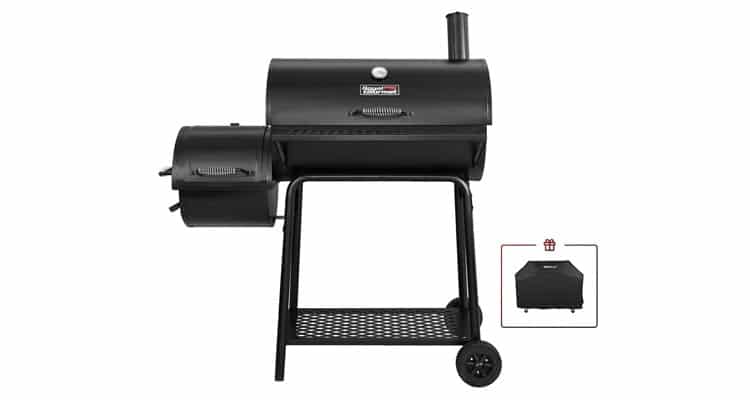 The Royal Gourmet Charcoal Grill with Offset Smoker is perhaps one of the cheapest smoker grill combo models. It makes an excellent starter model.
And by cheap, I mean it's REALLY inexpensive, like under $200. But just because it's low price doesn't mean it's low quality.
This grill is constructed of heavy-duty steel and is made to last. It has a 782 square inch cooking area to cook for up to seven or eight people.
The height-adjustable charcoal pan with lifting handles allows for easy temperature control. Cool touch spring handles to protect your hands from heat. Porcelain-enameled cooking grates hold heat well and give your food beautiful sear marks.
The steel mesh front shelf keeps all of your essentials within easy reach. The built-in thermometer allows for precision temperature control so that you can cook with confidence.
You can enjoy grilling and smoking at the same time by using the offset firebox. This is great for preparing appetizers or side dishes while using the grill.
The smoker has a built-in vent inside the door to let you easily control the temperature. Together with the offset smoker, the firebox forms an efficient heat transfer system. And a warming rack provides extra cooking space.
The Royal Gourmet Charcoal Grill with Offset Smoker is one of the best gas smokers by Royal Gourmet. While this model may not have the other smoker grill combos' premium features, it easily outperforms other models at this price point.
Royal Gourmet CC1830FC Charcoal Grill Offset Smoker (Grill + Cover), Black
Easy assembly, a total of 823 sq. in. cooking surface includes 443 sq. in. porcelain-enameled steel wire cooking grates, 191...
Seamless connection between side smoker and main chamber help to heat up quickly and keep warming; lid adopt groove...
2-level height-adjustable charcoal pan creates better heat control; Removable charcoal pan allows adding charcoal and dumping...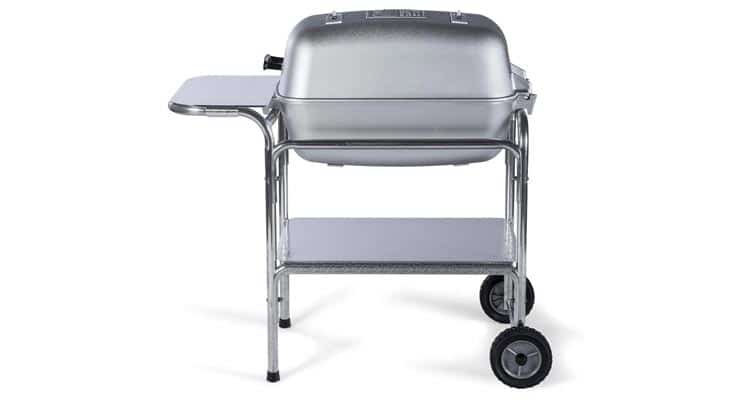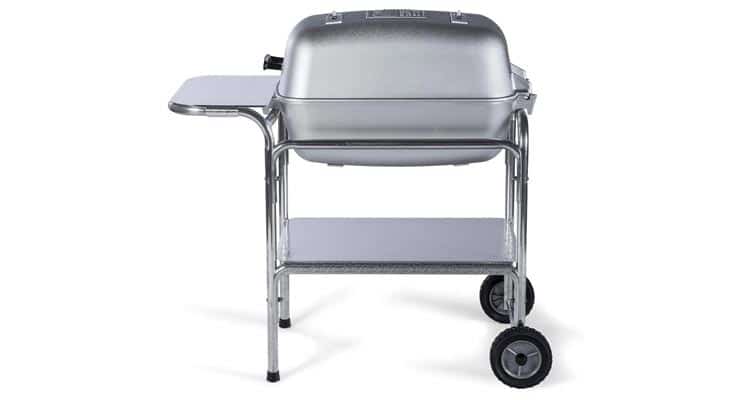 The Original PK Grill and Smoker is one of the most unique charcoal smoker grill models we've reviewed. It has a cool retro look (like an Airstream trailer) and is made of a unique cast aluminum material, very different from all the other smoker grill combos on this list.
The PK grill is simply built and extremely durable. The box is built into two solid cast parts, and even the hinges are cast into the mold. This helps prevent rust or parts from breaking easily.
Since aluminum conducts heat way more efficiently than steel, the box creates a convective effect and moves the heat around within it. So, when you're cooking meats in a PK grill, the meat gets evenly cooked from all sides.
Aluminum is also inherently rustproof. This is especially important if you plan to leave the grill outdoors and don't want it to rust or fall apart. The PK grill is built to last a lifetime.
The PK's grill box is designed with four strategically placed air vents, 2 on the top and two on the bottom. This allows you to set the grill up for hot and fast grilling for steaks or hotdogs or low and slow barbecuing like pork slabs or ribs.
The PK grill is also extremely portable. The aluminum box lifts off its cart without any attachments and can be easily transported. This makes it a great option for camping or tailgating without sacrificing food quality.
If you're looking for a well-built smoker grill combo that will last you a lifetime, the Original PK Grill and Smoker is an excellent choice.
PK Grills PKO-SCAX-X Charcoal BBQ Grill and Smoker Combo, Regular, Silver
CHARCOAL GRILL AND SMOKER COMBO - PK Grills charcoal grill with smoker packs a unique capsule shape construction and 4 vents...
CAST ALUMINUM CONSTRUCTION - Aluminum grills are rust-proof, durable, lightweight, and conduct heat 4x more efficiently than...
PORTABLE GRILL - This outdoor grill and smoker detaches easily from any of it's available stand options for transport. A...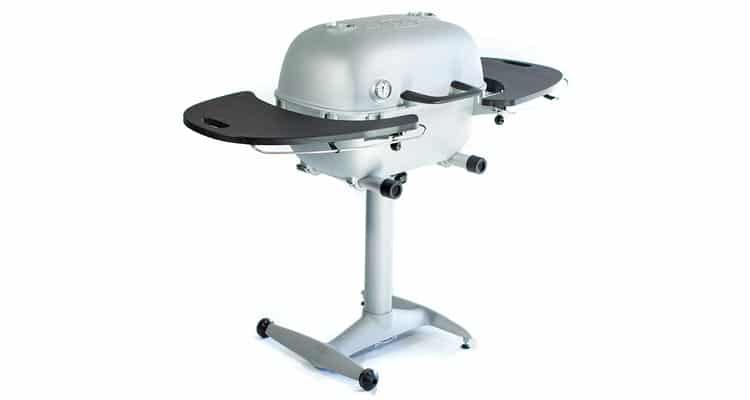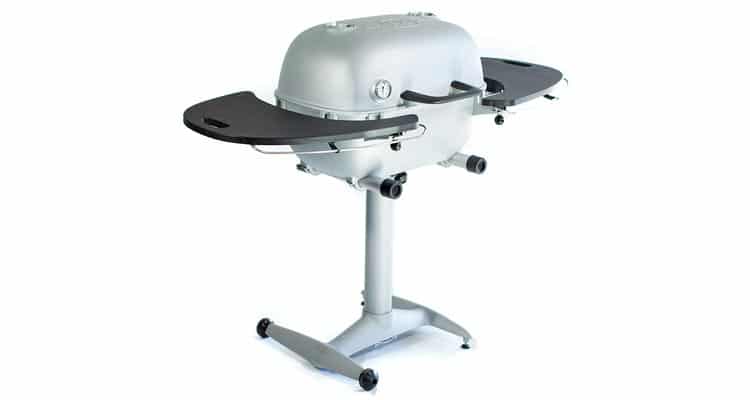 The PK Grills PK360 Grill and Smoker Combination is a magnificent product. They're hand-cast and hand-fit in Arkansas out of thick aluminum and can hold and conduct a lot of heat very well. Because they are made by hand, the pieces fit and seal together very nicely. Even the handle, base, and riser are made of cast aluminum. It's awesome!
It has two lower 3-hole air vents that easily control airflow with the turn of an aluminum tube.
It has stainless steel grates that are cleverly designed to be used for grilling and smoking. The grates have a section that can be flipped up, allowing you to add more coals to your hot zone easily.
It comes with a high-quality temp gauge made by Tel-Tru Manufacturing for PK. Tel-Tru is a best-in-class thermometer accurate to within plus or minus 1%.
The PK 360 comes with two detachable side table trays made of plastic, but they have a rubbery texture surface molded into the top, which gives it more gripping power. There are even stainless steel bars beneath the side table, making it really convenient to hang your towels or cooking utensils.
It comes in two finishes: silver or graphite (black). The silver model is the classic raw-aluminum look and my favorite style. It will look good for many years to come.
Assembly is straightforward, and the included instructions from PK are very well done and very simple to understand. All you need is a Phillips head screwdriver to assemble this thing.
This model works especially well with Grill Grates. They are modular interlocking plates that sit above the barbecue grates and give you amazing grill marks.
Even though the PK360 Grill and Smoker Combination is a little more on the expensive side, you get what you pay for. I always encourage people to spend the maximum amount their budget will allow for a new grill, and the quality and design of the PK 360 make this a great investment for years of barbecuing pleasure.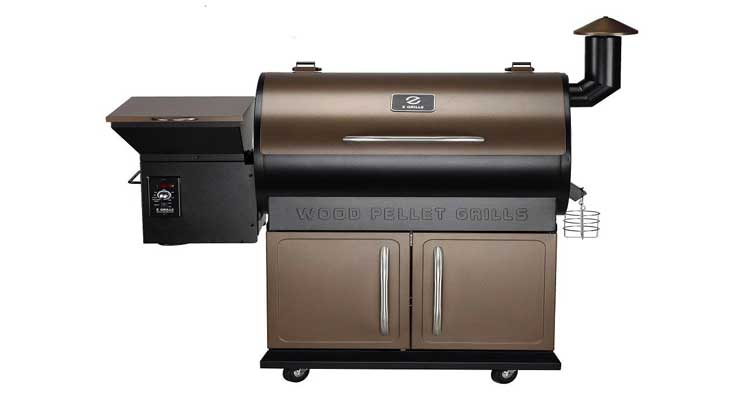 The Z Grills Wood Pellet Grill & Smoker is our top choice for the best BBQ grill and smoker combo. It's essentially just like a Traeger model, but a couple of hundred bucks cheaper. It works great, is extremely accurate, and you get excellent results with it.
If you're new to wood pellet grills, they take all the guesswork out of smoking. The temperature can be controlled by a computer inside automatically. You're always maintaining + / – 5 degrees of an exact temperature inside the grill/smoker.
When you can control the temperature accurately, you always get perfect, consistent results.
It comes with a nice-sized 513 square inch grilling area, and the wood pellet hopper will hold about 20 pounds of wood pellets. You can get different wood pellets based on what kind of flavor you want, like mesquite, hickory, all sorts of different ones.
The Z Grills is fairly efficient and doesn't consume pellets very quickly.
It comes with an outstanding quality porcelain-coated cast iron cooking grate. I was really impressed with the build quality; it's just a great grill.
In my opinion, this is just like the Traeger but just a couple hundred dollars cheaper. Save yourself some money and get the Z Grills Wood Pellet Grill & Smoker. You'll make the best kind of meat you've ever smoked in your life.
On Sale
Z GRILLS Wood Pellet Grill Smoker with PID Control, Rain Cover, 700 sq. in Cooking Area for Outdoor BBQ, Smoke, Bake and Roast, 700D
BUILT TO LAST - Sturdy steel construction with a high-temperature powder coating finish makes the pellet grill long-lasting,...
HUGE COOKING SPACE - 700 sq. In grilling space that can accommodate 30 burgers, 6 rib racks, or 5 chickens effortlessly....
EXTRA STORAGE - Z GRILLS' uniquely designed bottom cabinet provides ample space for barbecue tools, seasonings, pellets, and...
What is the best smoker grill on the market?
All of these smoker grill combo barbecues are fantastic, but the one that really stood out is the Traeger Grills Pro Series 780. With a very reasonable price point of around $1000, you get a beautifully designed smoker grill combo with most of the higher-end offset grill features.
Whichever one you choose, you can't go wrong. Happy grilling!
Related content you might like:
Chris Johns
Chris Johns is the founder of Rock's Barbecue® and has been an avid barbecue fan for over 20 years. His mission is to make grilling and smoking the best food possible easy for everyone. And each year, he continues to help more people with grilling, smoking, and barbecue recipe recommendations.