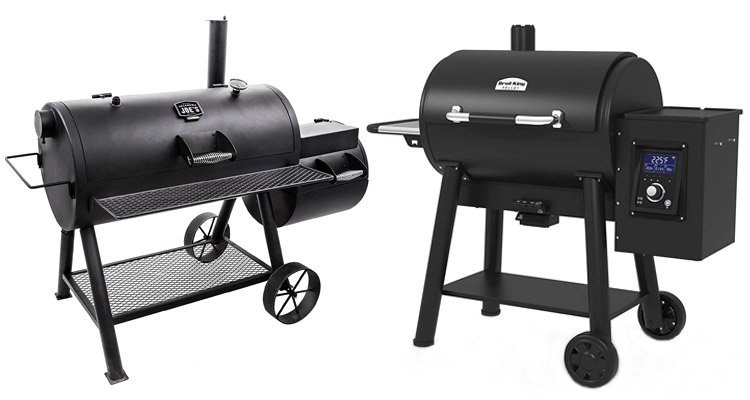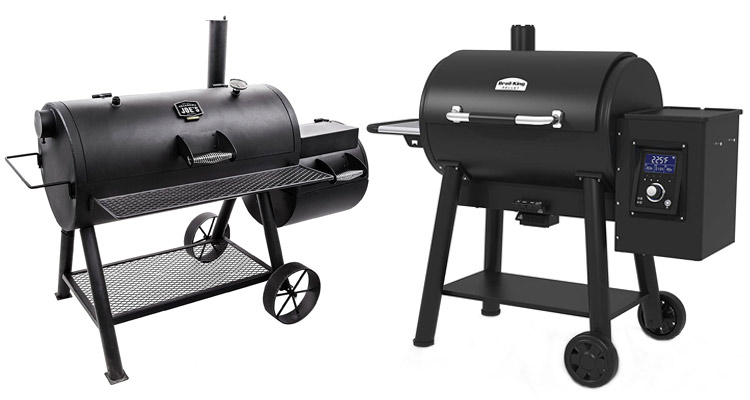 An offset smoker can produce some of the best-tasting food you've ever had in your life. There's nothing like true low-and-slow barbecue made on a traditional offset smoker.
And if you're looking for the best offset smoker under $1000 in 2023, count yourself very lucky.
There are many great models to choose from under this price point. It may not even be necessary to spend that amount, but having this budget level practically guarantees you'll find one you love.
Because an offset smoker could last you decades, I recommend you spend as much as your budget allows. This ensures that you get the best quality that's sure to last and maximum enjoyment for years of smoking bliss to come.
The Best Offset Smokers for 2023
Below is a list of the five best offset smokers in the U.S., Canada, Australia, and the U.K in 2023. Click on the name to read reviews and check prices.
Best Offset Smoker Reviews
Here are the full offset smoker reviews currently available on the market.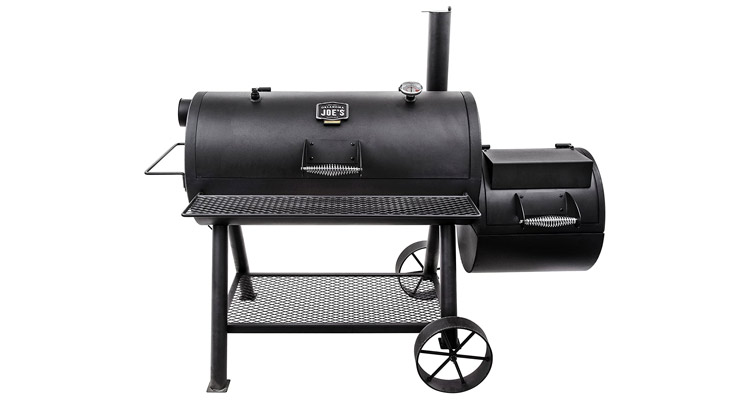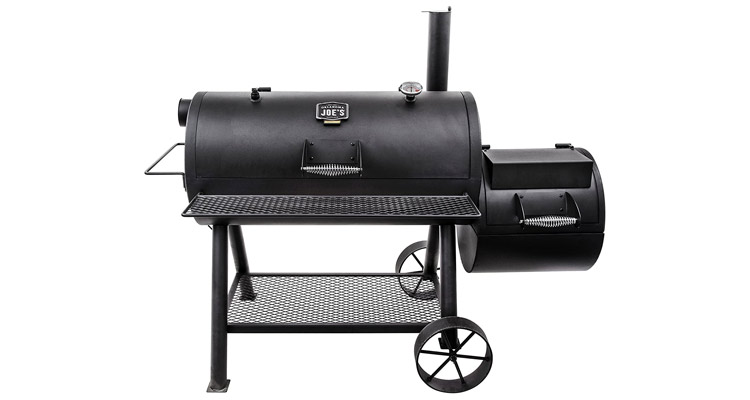 The Oklahoma Joe's Longhorn Reverse Flow Smoker is the best offset smoker on our list for many excellent reasons.
First, you're getting the quality of the Oklahoma Joe's brand. They're known for building very high-quality products that can last a lifetime. Not only do they build great products, but they're easy on the wallet and a great value.
It comes with heavy gauge steel construction that's built nice and solid. This is no cheap or flimsy offset smoker!
Even though it's a smaller-sized reverse-flow smoker, it has 1,061 square inches of cooking space between the main grate and the firebox. That amount provides ample space for cooking several large quantities of meat simultaneously. It includes four grates that allow you to different types of meat simultaneously.
It includes a lid-mounted temperature gauge for excellent temperature control in the cooking chamber.
The porcelain-coated grates make this model very easy to clean and maintain. The baffles beneath the cooking grates are easy to remove and allow you to convert it from a reverse flow to a traditional offset smoker.
For the quality you get at a reasonable price, the Oklahoma Joe's Longhorn Reverse Flow Offset Smoker wins the top spot as the best smoker under $1000 on our list.
Oklahoma Joe's Longhorn Reverse Flow Offset Smoker - 17202053
TYPE: The Longhorn Reverse Flow Offset Smoker provides the best for you outdoor cooking needs. With optional smokestack...
FUEL: Charcoal fuel allows you to grill with high heat or cook low and slow.
SIZE: 751-square-inches of primary cooking space; 309-square-inches of secondary cooking space.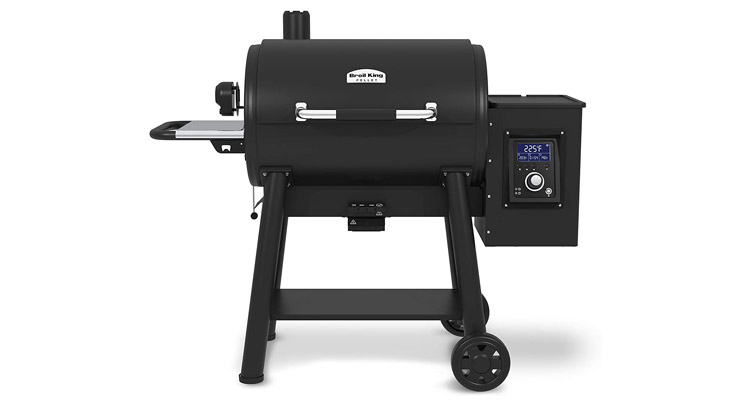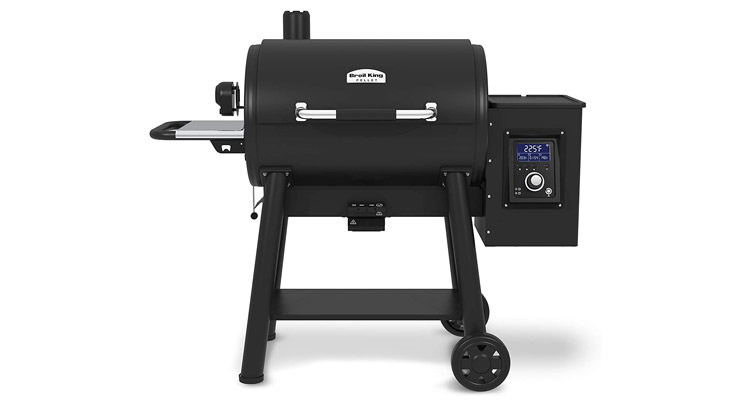 The Broil King Regal 500 Pellet Smoker is the top-of-the-line model pellet smoker available from Broil King. The Regal is their largest size. They also have the Baron, which is their base-grade model. Although this smoker costs more than $1000, it was just such a great model I had to include it anyway.
This is a really awesome smoker. There's a lot to like about it.
It's a fairly low-key, clean-line type grill. It has a nice powder-coat finish which is available only in black. Overall, this grill smoker combo has nice clean lines with nothing fancy going on.
It has a standard bottom shelf and two wheels with pretty heavy-duty casters. It also includes leg-levelers, a nice feature if you're putting in an area that is not level.
The Regal also includes a side shelf, an upgrade from the base model.
It has an adjustable chimney stack that allows you to choke the air off. I'm not sure how much of a difference that actually makes, but it's a neat feature to have.
It has a pretty unique control panel. I actually really like it because the dials are big, clear, easy to use, and very intuitive. It does have a WiFi app control function, which I liked a lot. But even though it has WiFi control, the control panel is still easy to use and doesn't rely too heavily on app control.
There are three cool shortcut buttons on the control panel for smoke, roast, and grill. In smoke mode, it sets it to 225 automatically. A roast takes it up to 350, and grill sets all the way up to 600. The dial manually controls the heat settings as well.
It does come with two probes to connect to your meat and plug into the control panel. With the included timer, you have full controllability of both timing and temperature. You're not sacrificing anything either way you choose.
It includes a convenient hopper clean-out on the back of the grill if you want to change your pellets' flavor.
The hood is really, really heavy duty. It's double-lined and insulated, with a full gasket material all the way around the hood. That's really important, especially in colder climates. It holds its heat and smoke really well.
The Broil King Regal 500 Pellet Smoker's unique feature includes a rotisserie kit, which the base model doesn't come with.
It has cast-iron reversible cooking grates, which you don't see that often with smokers. Cast iron is better at retaining heat, which allows you to use this a lot more like a grill while minimizing flare-ups.
One really cool feature I like is the ash clean-out box on the burn pot's bottom. It allows you to clean out the ashes without disassembling the whole grill conveniently. There's nothing more annoying than your burn pot filling up and getting dirty if you're in the middle of a long cook.
With a system like this, if you're in the middle of a 10-hour brisket, you can go over with your tool and clean out your burn pot without having to wait for it to cool down.
The Broil King Regal 500 Pellet Smoker is a well-thought-out, well-designed product. It has many fun bells and whistles, but the two things that really make this grill stand out from the rest are: 1) Cast iron cooking grates and 2) The ability to clean out a burn pot easily from the outside of the grill. Those two things are gonna really make your cooking experience better.
On Sale
Broil King 496051 Regal 500 Pellet Grill, Black
Designed for Total Performance - the Regal Pellet 500 is designed to be the ultimate grilling machine, from low-and-slow...
Ultimate Control at Your Fingertips - digital control and display lets you easily set your cooking temperature - smoke at...
Loaded with Extra Features - the grill is Wifi and Bluetooth enabled allowing you to control the pellet grill from your...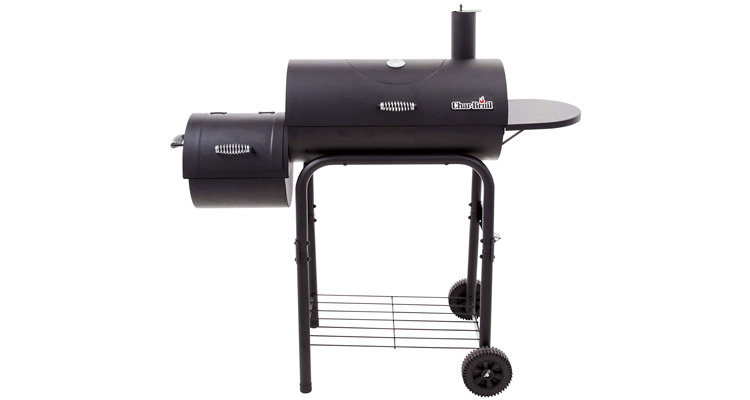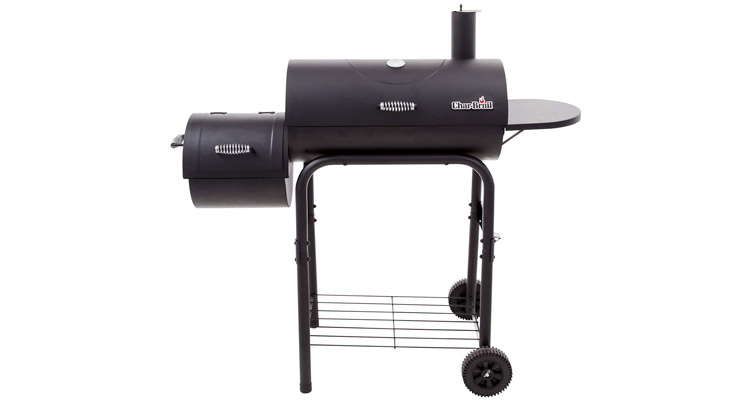 If you're getting into smoking meats for the first time, you may be hesitant to invest $500 or more for your first offset smoker. Maybe you want to do a "toe touch" and see if you like it first before committing to buying a higher-end model.
The Char-Broil American Gourmet Offset Smoker Grill is a great offset smoker for beginners. It's a simple, no-nonsense smoker that comes at an unbelievably low price.
Between the main cooking surface and the firebox, it provides 430 square inches of cooking space, which is enough for about 18 burgers. This is plenty of room to cook a meal for a family or gathering of friends.
Because you can cook on either the main cooking area or the firebox, this beginner offset smoker is very versatile.
It comes with a sufficient amount of vents and a temperature gauge built into the lid.
Inside, it has built-in trays to hold your wood chips and water, giving you easy control over the moisture and smoke amounts.
There's nothing fancy about the Char-Broil American Gourmet Offset Smoker Grill, but if you're looking for a good entry-level offset smoker, this is a great choice.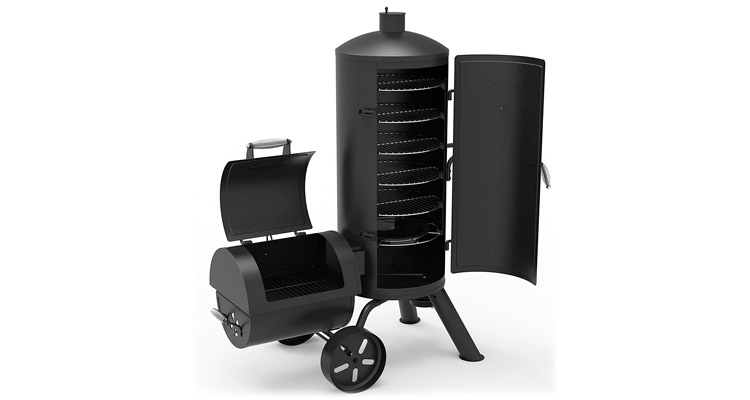 The Dyna-Glo Signature Series Vertical Smoker is a heavy-duty barrel grill that is vertical. It has an offset smoker. It comes in at about 124 pounds.
Dyna-Glo is part of a larger company called the GHP Group. They produce things like fireplaces, fireplace glass doors, fire logs, and forced air heaters, and now they're into the grilling market.
Barrel smokers are not typically used for steak searing because you start getting into damaging your unit around 550-600 degrees (Fahrenheit). This particular product boasts that it has two different cooking surface styles, which gives you the ability to sear on it or smoke on it.
It comes with 5 chrome-plated grates providing 1300 square inches of cooking surface. This is very impressive for a smoker. The gates are a little close together, so you'd need to pull a few grates out for something like a Boston Butt or a brisket.
I really liked this model because the firebox has a tray you can pull out to dump the ashes conveniently.
This model has a pretty decent temperature consistency. For a 4-hour smoking session, it stayed a pretty level 275 degrees with an outside ambient temperature at my house of 65 degrees.
This Dyna-Glo grill also comes with latches on the lid's side to help prevent smoke and temperature loss. This was a good feature, but I found a higher than usual amount of smoke loss, which could be improved or fixed with an aftermarket seal.
The grill and smoker features of the Dyna-Glo Signature Series Vertical Smoker make this a pretty good choice for someone looking for an offset smoker that can cook many different types of meat.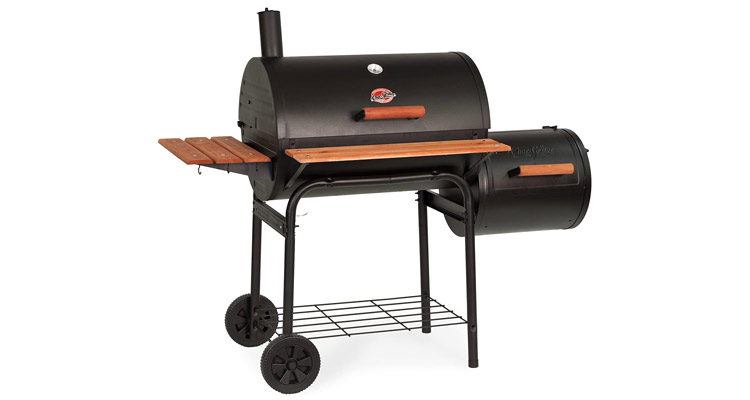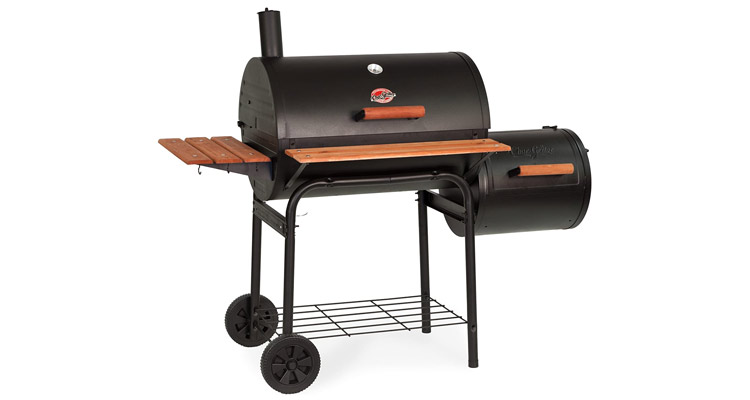 The Char-Griller Smokin' Pro is the best BBQ smoker under $1000 when it comes to appearances, in my opinion, thanks to its clean lines, powder coat finish, and wooden handles and shelves. But since "looks aren't everything," I'll tell you about the other features that make this a great offset smoker.
It comes with cast iron cooking grates, which help retain heat better and provides an even and consistent cooking experience.
It has multiple dampers for adjusting airflow, which gives you plenty of control over the heat and temperature within the cooking chamber.
The Smokin' Pro also comes with several convenient features such as a removable, double-bottomed clean-out drawer and side shelf. It has two large wheels that make it easy to move around your backyard or patio deck.
With its fantastic looks, ample features, and low price, the Char-Griller Smokin' Pro rounds out the list of best offset smokers under $1000 very nicely. We think you'll love it.
What Is An Offset Smoker?
An offset smoker is a type of smoker that burns wood or charcoal in a firebox 'set off' to the side or below the main cooking chamber. When the fuel is burned, the smoke and heat it produces is drawn across the food in the cooking chamber and exits a chimney at the unit's top.
The two main types of offset smokers are charcoal smokers and pellet smokers.
What Are The Benefits Of An Offset Smoker?
There are a lot of advantages to using an offset smoker. Besides being very easy to use, they give you the ability to simultaneously cook a lot of food. Other important benefits include:
There is no direct heat on the meat. The fire is contained in the firebox, in a separate chamber. This allows you to maintain a low heat for perfect "low and slow" cooking.
They provide great smoke coverage. Because the meat is suspended on racks in the main chamber away from the heat, the smoke is pulled around the meat, ensuring great smoke infusion in the food.
They require no electricity to operate. Some models have digital control panels and require an electricity source; most require no power.
It's easy to add more fuel. To increase the heat, all you have to do is open the smoker box and add it in—no need to pull apart the grates while cooking.
What To Look For In A Good Offset Smoker
When choosing which offset smoker grill model you need, here are a few things to consider:
Metal thickness. The metal gauge makes a huge difference in how much heat the unit retains. The thicker, the better. ¼ inch is considered the ideal thickness for the best offset smoker.
Stability. You want the unit to be as stable as possible, so it doesn't shimmy when you're using it. Generally, the more expensive units provide the most sturdiness.
Seals and dampers. When you're smoking, you shouldn't see a bunch of smoke escaping from the edges of the lid of other seals. Although you can fortify the seals using an aftermarket seal product, it's best to spend a little more to get a unit that keeps smoke in without having to add any extra mods.
Temperature gauge. You definitely need a temperature gauge to be included in whatever model you choose. It's critical for maintaining even heat. Every model in this list has one already standard, but if you choose a different one, make sure the temperature gauge is included.
Warranty length. If you're going to be investing hundreds of dollars in an offset smoker, you expect it to last a very long time. Be sure to choose a model that has at least a 2-year warranty included, although, in reality, most models will last much longer than that.
What is the best offset smoker to buy under $1000?
Choosing the best offset smoker under $1000 shouldn't be too difficult, especially if you choose one from this list. With that budget amount, there are many great models to pick from. If you're still undecided, I recommend the Oklahoma Joe's Longhorn Reverse Flow Smoker or the Broil King Regal 500 Pellet Smoker. Both of them are fantastic models with all the features you need and will last a very long time. Happy grilling!
Related content you might like:
Chris Johns
Chris Johns is the founder of Rock's Barbecue® and has been an avid barbecue fan for over 20 years. His mission is to make grilling and smoking the best food possible easy for everyone. And each year, he continues to help more people with grilling, smoking, and barbecue recipe recommendations.