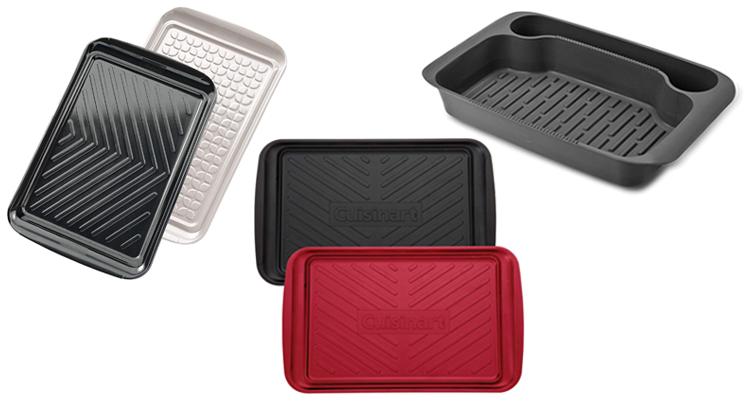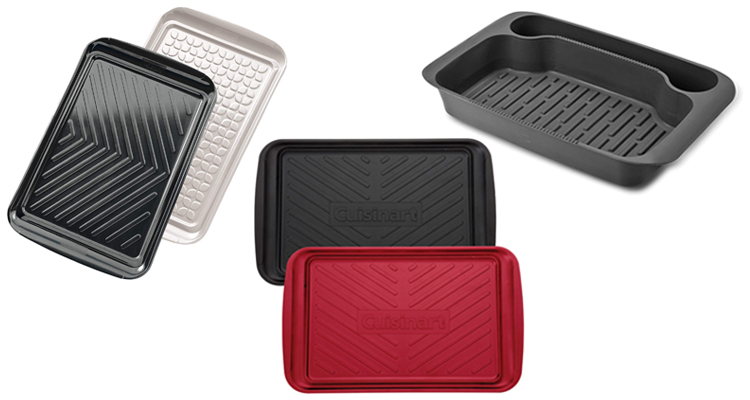 A BBQ grill prep tray is a convenient grill tool that can make your grilling life easier and safer. Not only do they provide an easy-to-carry serving tray, but they help you to prevent cross-contamination between raw and cooked meat.
On several models, this is done by color-coding the trays, so you easily know which one had the raw food on it. The juices are contained on their own tray and kept safely away from the cooked meat.
They're also very inexpensive, making them a great grilling gift idea or a useful BBQ tool for yourself.
The Top 5 BBQ Grill Prep Trays for 2023
Choosing the best barbecue grill tray isn't that difficult. They all basically do the same thing: provide you with a convenient grill platter for transporting raw and cooked meat from the kitchen to the grill and back.
However, a couple of interesting barbecue trays provide some neat features, like a marinating tray, juice/grease drains, sauce holders, and even a cutting board!
We've reviewed the top 5 BBQ grill tray choices available in the U.S., Canada, Australia, and the U.K in 2023.
You only need to decide which features you want and how much you want to spend.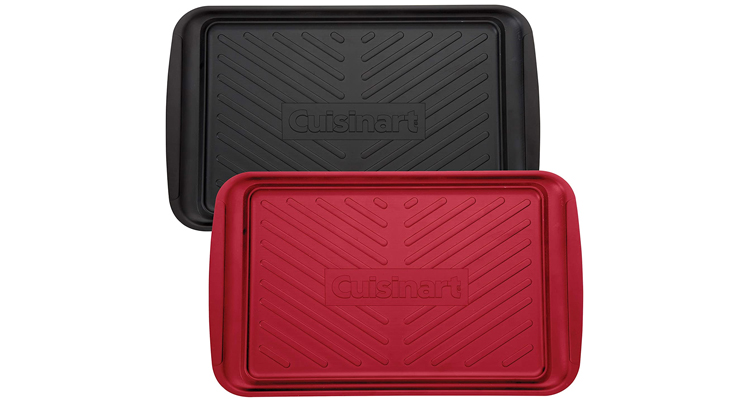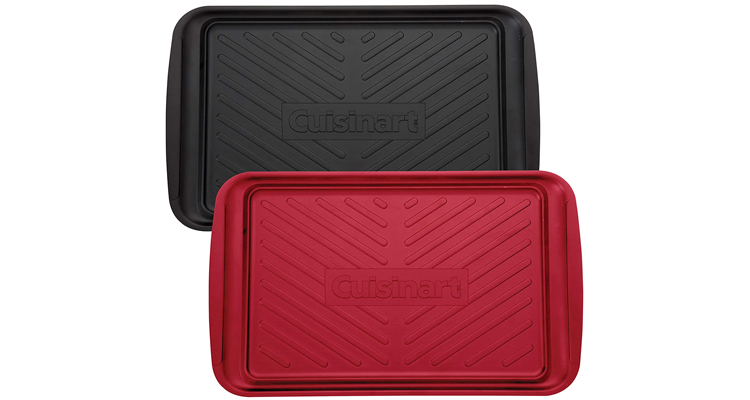 The Cuisinart CPK-200 Grilling Prep Trays are my top grill tray choice for a few reasons:
They're lightweight (won't add a lot of weight)
They're sturdy (can carry a lot of food)
They get the job done (well!)
These BBQ trays have a clever design that allows the trays to nest on each other, which serves two purposes: It makes them easy to store and, by double stacking them, helps insulate your hands from hot meats.
The lip on the trays works well for collecting and holding the juices, preventing you from spilling hot or raw liquids during transport.
Since they're dishwasher safe, cleanup is easy.
Cuisinart always makes great grilling products, and the Cuisinart CPK-200 Grilling Prep Trays are no exception. It's one of those grill cookware items you didn't know you needed until you have it, and you'll love them, too.
On Sale
Cuisinart CPK-200 Grilling Prep and Serve Trays, Black and Red Large 17 x 10. 5
FOOD PREPARATION: Use the red tray for prepping your raw meat and transporting it to the grill. Once fully cooked, place your...
TRAYS NEST TOGETHER: Prepping and finishing together in one; the two interchanging trays nest together so you can easily go...
DURABLE CONSTRUCTION: Large 17 x 10. 5 durable shatter-resistant melamine trays. They won't get hot to touch when you place...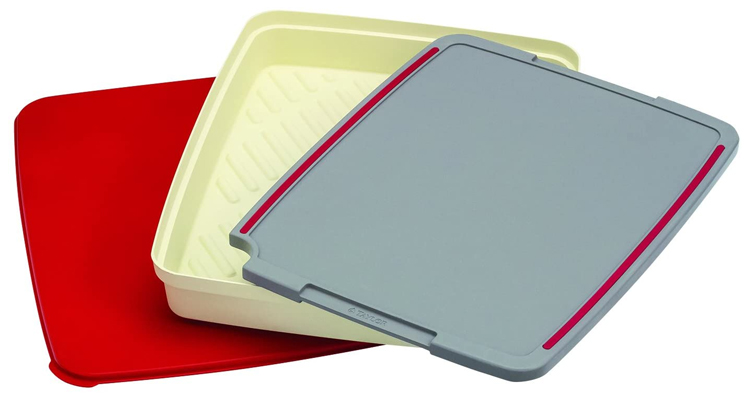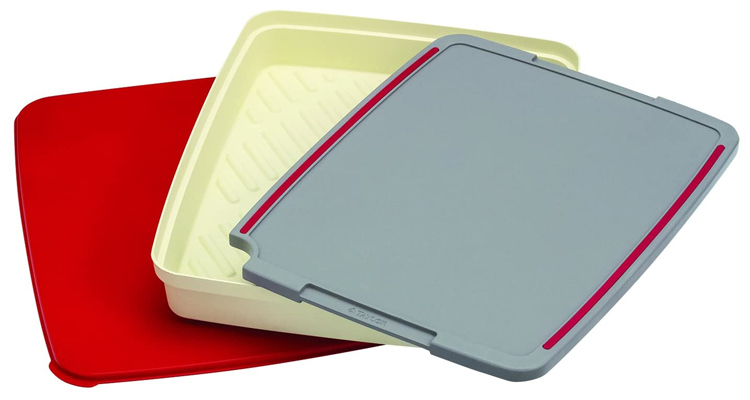 The Taylor Grill Prep & Serve Set is a handy multi-function grill tray that serves four functions:
Serving tray
Marinating tray
Cutting board
Storage container
The unit comes with a prep/serve cutting board, a marinating tray, and a storage lid that all conveniently nest into each other for easy storage.
The "universal board" serves as the cutting board, serving tray, and prep board. It has gripping feet on the bottom, which prevents it from slipping around while you're cutting food.
The marinating tray has extra-deep channels in the base, which allow juices to flow freely around the meat. It also serves as a storage container (after you wash it, of course).
Finally, the lid fits snugly over the marinating tray, allowing you to safely do overnight marinades or convert the marinating tray into a storage container.
The utility of the Taylor Grill Prep & Serve Set makes this one of my favorite choices for a BBQ grill prep tray.
Taylor Precision Products 819GW Grill Prep & Serve Set, Grey
Nesting 3 piece set includes: marinating tray, prep/serve cutting board and storage lid
Multi-function set promotes food safety by separating raw and cooked foods
Grooved base tray allows marinade to freely flow around food for maximum flavor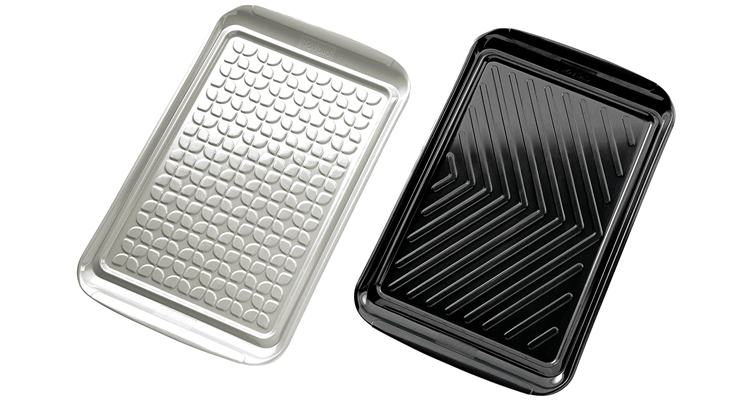 The Tovolo Prep and Serve BBQ Trays are another fantastic color-coded BBQ tray option that does exactly what it's supposed to do: Carry your meat easily and safely.
Just like the Cuisinart CPK-200 Grilling Prep Trays, the Tovolo grill trays have a nested design for easy storage and also allow you to conveniently place the contaminated tray under the clean tray when carrying the cooked food back to the kitchen.
The grooved pan bottoms and lipped sides help hold juices, so you don't spill any while transporting the food back and forth from the kitchen to the grill.
They're made of a very tough, durable, and dishwasher-safe plastic that doesn't get very hot, allowing you to carry hot food without the need for gloves.
At 11 x 16 ½ inches, The Tovolos are pretty large, making them great for a family or small gathering.
If you're looking for a low-cost, high-quality set of grill trays that get the job done, the Tovolo Prep and Serve BBQ Trays are a great option.
Tovolo 81-2500 Prep & Serve, Large
PREP & SERVE: Use both trays for your cook-out; use one to carry your cuts to the grill, then serve on the other! Set of 2...
PREVENT CROSS-CONTAMINATION: Color-coded trays make it easy: apply your marinade on one tray, carry it out to the grill,...
TEXTURED TRAYS RETAIN JUICES: Ridges and grooves collect excess marinade, so you can brush extra seasoning onto your...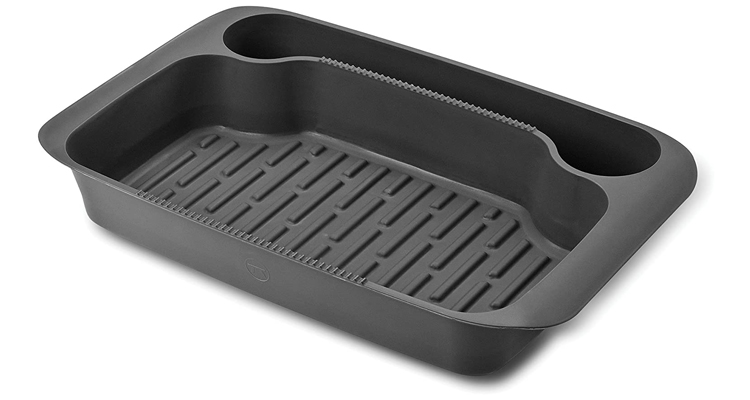 If you're looking for an easy-to-carry BBQ tray with lots of convenient features, the Outset Grill Prep Station may be the best choice for you.
It's a lightweight grill prep station (about 1 pound) intended to be carried with one hand. No longer do you have to choose between carrying your food or your beer/wine; now you can do both at the same time! 🙂
It's made with dishwasher-safe polypropylene and is virtually indestructible. If you accidentally drop it, you don't have to worry that the tray will shatter.
One of the neatest features this grilling tray has is the small notches on top to hold bamboo or metal skewers. They prevent your kabobs from rolling around and falling off while being transported from the kitchen.
It also has a convenient side compartment that will easily hold your spices, sauces, beverages, or tools.
Although it doesn't have a way to separate your raw food from cooked food, the portability and versatility of this little BBQ tray make it perfect for someone who cooks on a small gas grill and doesn't need a large grill tray.
Outset Grill Prep Station, 18 inch by 11 inch
SINGLE-HANDED STRENGTH: Designed to carry with only one hand from kitchen to grill. That's right, you don't need to leave...
CONVENIENT NOTCHES are ideal for holding both bamboo and metal skewers for kabobs in place.
SAVE YOUR SAUCE: This prep station includes a useful side compartment, the perfect place for your spices, sauces, tools,...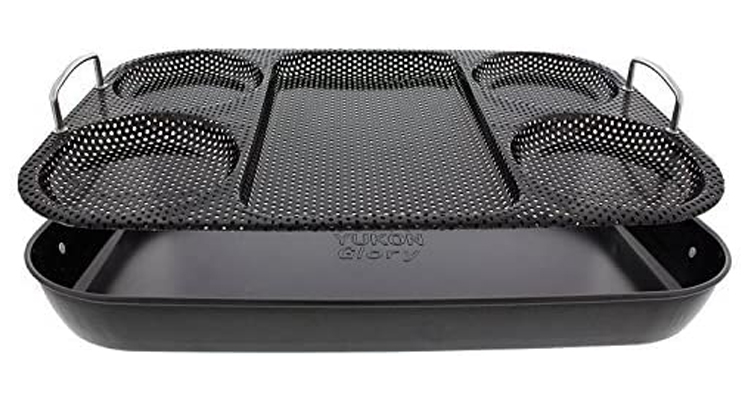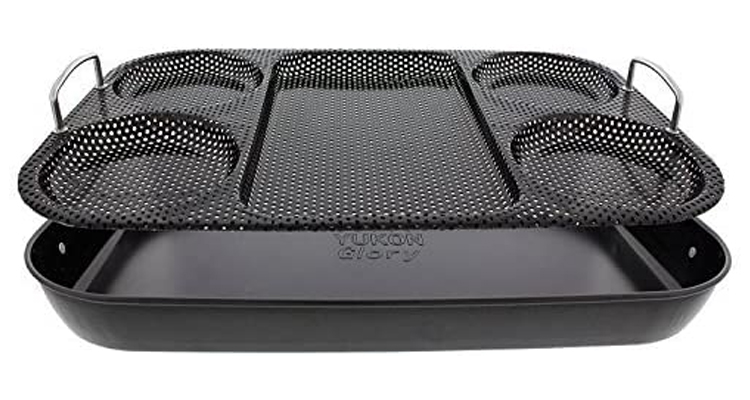 The Yukon Glory Premium BBQ Grill Serving Tray is a uniquely designed BBQ tray that not only acts as a serving tray but has a few other nice features as well.
It comes with a perforated top tray that allows grease to drip off the meat into a lower tray below, allowing you to eat healthier.
The non-stick stainless steel bottom tray can be used as a baking or warming tray in the oven, making this model a convenient multi-purpose grilling tool.
The Yukon Glory Premium BBQ Grill Serving Tray's utility makes it a fantastic grill prep tray option with many uses.
What is the best BBQ grill prep tray for you?
There's plenty of grill tray options to choose from, but which one is right for you?
If you're looking for a reliable, no-frills model that does its job well, the Cuisinart CPK-200 Grilling Prep Trays are a great choice. They're sturdy, inexpensive, and well-designed.
If you want a multi-function model that can serve several useful purposes, the Taylor Grill Prep & Serve Set or Yukon Glory Premium BBQ Grill Serving Tray are a good choice.
If you need something lightweight and portable, go with the Outset Grill Prep Station.
No matter which BBQ grill prep tray you choose from this list, you'll probably be delighted with it and wonder why you didn't buy one before.
Happy grilling!
Related content you might like:
Chris Johns
Chris Johns is the founder of Rock's Barbecue® and has been an avid barbecue fan for over 20 years. His mission is to make grilling and smoking the best food possible easy for everyone. And each year, he continues to help more people with grilling, smoking, and barbecue recipe recommendations.