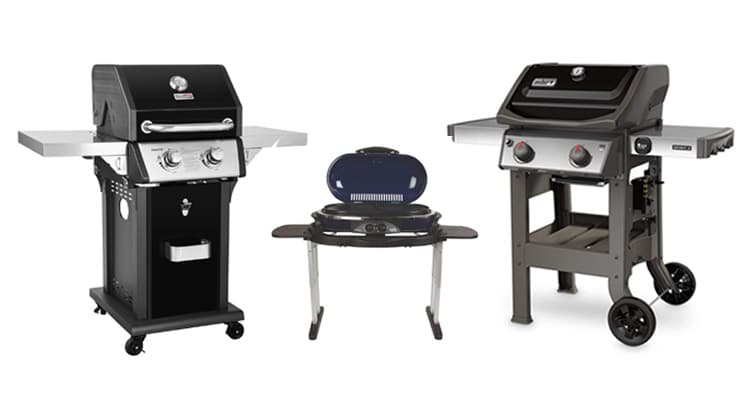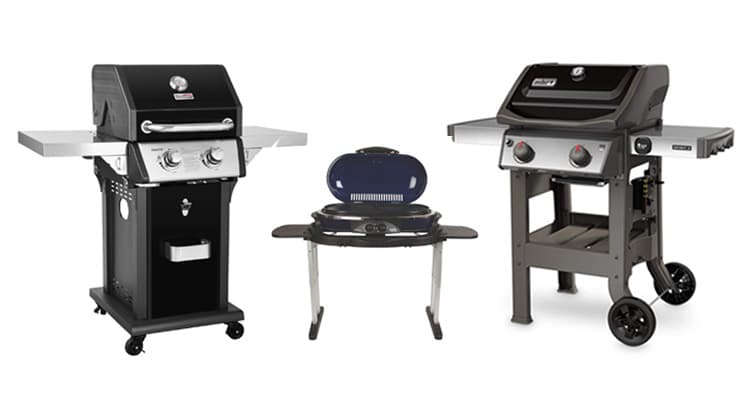 If you're looking for the best small gas grill available, you've come to the right place. Small gas grills provide the amazing features of a propane grill with a small grill's convenience.
It's a reality that living spaces are getting smaller and smaller in today's world. According to the United States Census, 20% of Americans live in apartment communities (1).
For those who like outdoor cooking but don't have a large backyard or spacious patio available, a small gas grill is a great option.
The Top 21 Best Small Gas Grills Available in 2023
Here is our list of the best small gas grills available in 2023. We start with the top 5 best overall choices in the U.S., Canada, Australia, and the U.K., then go into the best small grill reviews and options for different needs.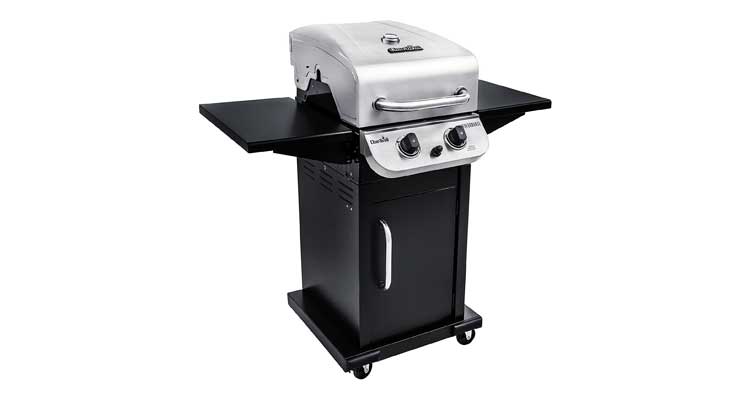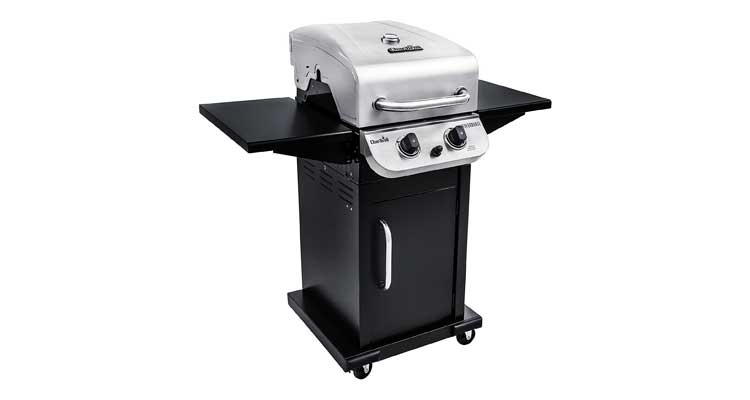 The Char-Broil Performance 300 has a lot going for it. It has 300 square inches of cooking space, a storage cabinet, and two burners. It has the capacity to cook about 16 burners on its cast-iron grills.
It has two metal side shelves for plenty of extra prep space, and the storage cabinet below the unit has four caster wheels that make this compact grill easy to move this grill around in small spaces.
The Performance 300 has a lid-mounted temperature gauge for consistent temperature control and even includes a convenient electronic push button ignition system for quick startup.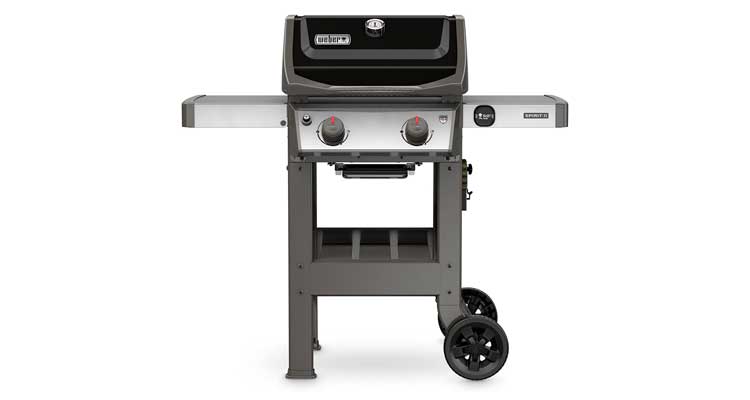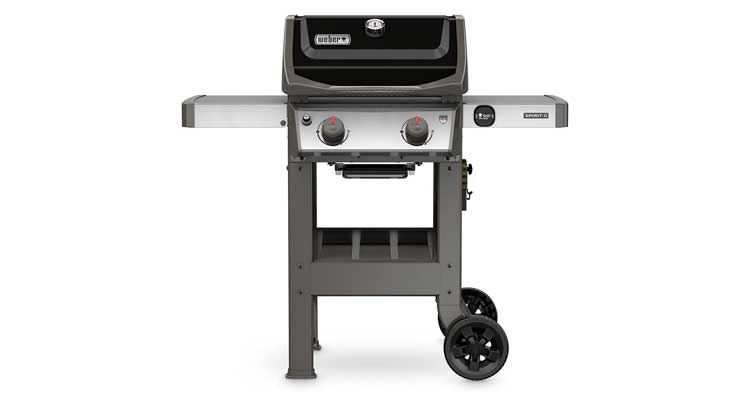 The Weber Spirit II E-210 is the epitome of a small gas barbecue grill with a larger model's features. It comes with a whopping 450 square inches of cooking space, burns at a nice, hot 26,500 BTUs, has reversible porcelain-enameled cast-iron cooking grates (to switch between large or small grill grates widths), and includes the Weber GS4 Grilling System.
One of my favorite features of this Weber grill is the folding side tables, which help them fit into a compact space when not in use. It even comes with a set of side hooks to hold your cooking utensils in a convenient, reachable place.
All in all, this gas grill is just a fantastic little unit that can fit in a smaller space while providing you with all the features you need in a propane gas grill.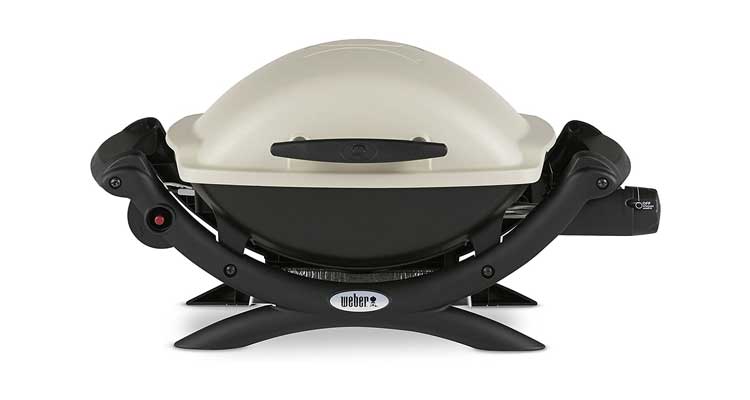 The Weber Q1000 is an excellent small portable gas grill option perfect for small patios or balconies. It comes with a fairly powerful burner and includes push-button ignition for easy starts.
It's built with cast aluminum and reinforced nylon, making it pretty durable and able to withstand a beating. This gas grill is good if it's going to be transported around to outdoor spaces like picnics and beaches.
It runs off the small portable propane bottles, but you can connect it to a 20-gallon propane tank using an optional LP adapter hose.
This is one of the best portable gas grills on the market. Weber is known for building products that can stand the test of time, and the Q1000 is another example of quality craftsmanship.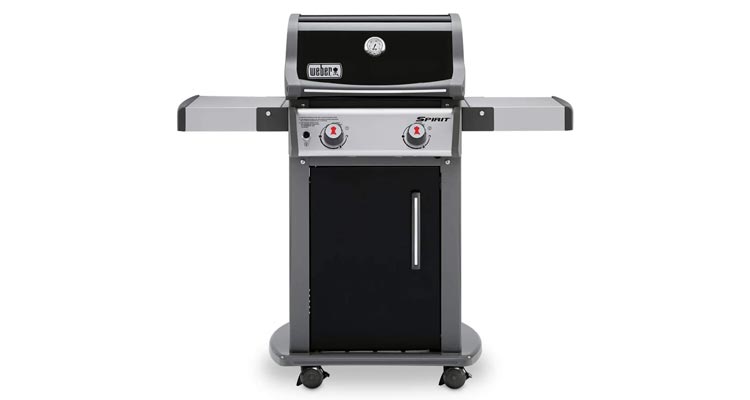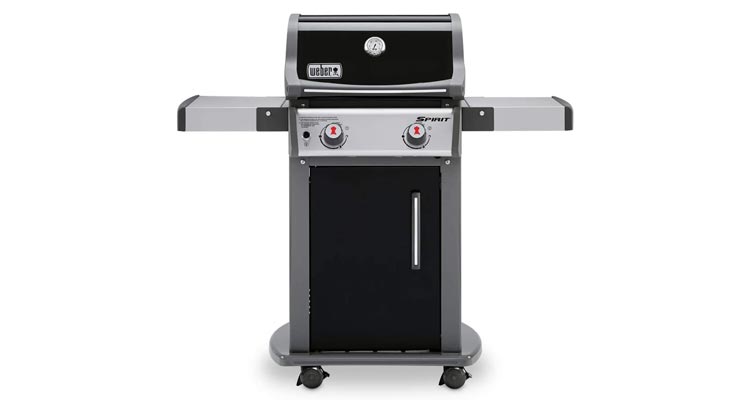 The Weber Spirit E-210 is one of the best gas grill models available on the market. It's practically purpose-built for small patios and apartment balconies.
It features 26,000 BTUs of heating power (a lot for a small propane grill), porcelain-enameled cast-iron grates, fold-down tables for plenty of prep space, and a warming rack with hooks to hang your cooking utensils.
This liquid propane gas grill is lightweight and portable, built with aluminum and steel for extra durability in an outdoor setting.
It's also easy to move around on its two caster wheels and two larger wheels.
The E-210 makes a great starter grill for the beginning barbecue enthusiast or the person who often cooks for 1-2 people that's not ready to invest in a more expensive model. Even though it's inexpensive, it has the same durability that made Weber one of the grilling business's best brands.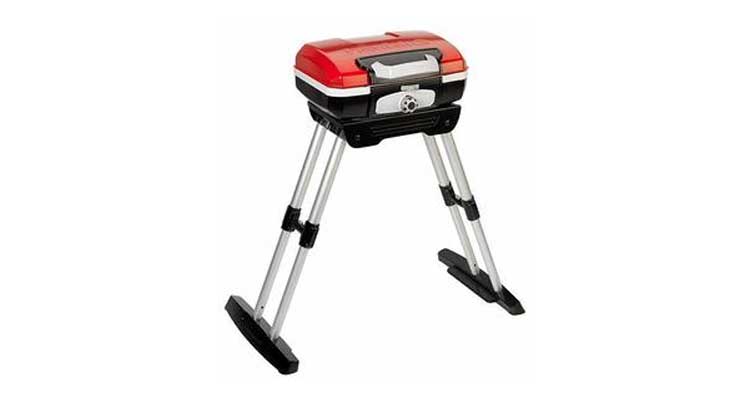 The Cuisinart Petit Gourmet grill is a cool little compact barbecue that folds up like a suitcase that you can take with you practically anywhere. It comes with extendable legs that allow you to easily set it up on its own or fold them in to set it up on a table or other surface.
This small propane grill has a single burner that produces about 5,500 BTUs of heat across 160 square inches of cooking space, which is enough cooking room for about four to six people at a time.
It has a twist-to-start ignition system that makes it really easy to turn on or off. It also has a built-in temperature gauge that makes it easy to control the cooking temperatures.
At 17 pounds of weight, this compact gas grill is easily one of the most portable small gas grills on the market and should be considered for anyone who likes to camp, tailgate, or picnic.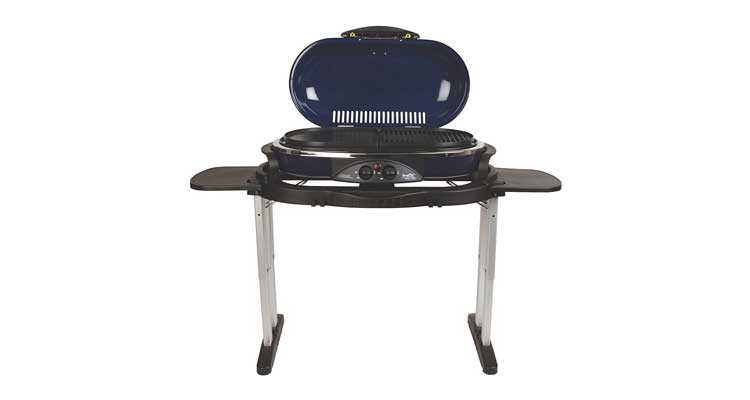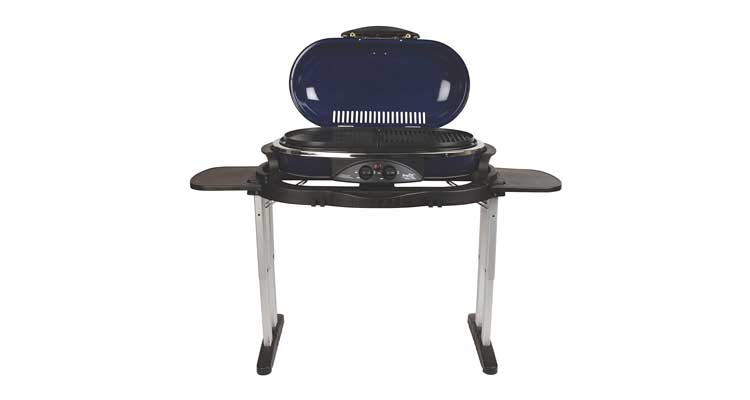 If you like to grill in "exotic" locations, like parks, beaches, sporting events, or concert parking lots, the Coleman Roadtrip LX Propane Grill is THE small gas grill to own.
Not only is it small and "fairly" portable gas grill (it weighs 50 pounds, so you might need a helper), it packs a TON of cool features that rivals a full-scale propane gas grill model.
First off, it burns a respectable 20,000 BTUs of heat (a lot for a small model), with two independent burners, which you can adjust individually. Next, it has a really generous cooking area at 285 square inches. That's plenty of space to cover everyone at a tailgate party.
My favorite feature is the Swaptop grill grates which allow you to switch out the grills for a griddle top or stovetop (both sold separately).
Combine all this with the included side table and tool hooks, and you've got yourself one of the best small outdoor gas grill models available.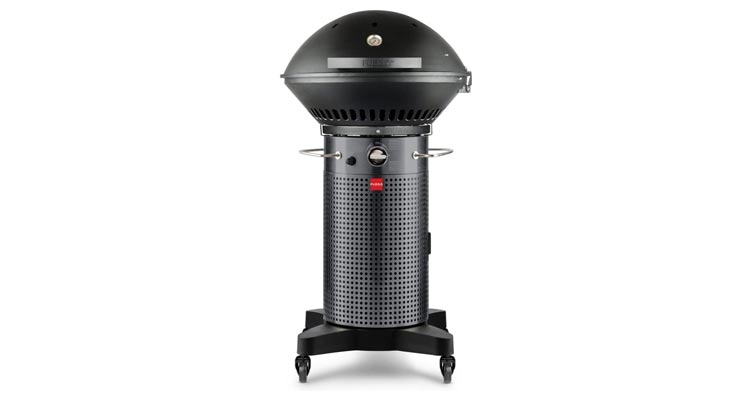 If you're looking for a really unique small gas grill that provides amazing performance, then look no further than the Fuego Element F24C Carbon Steel Gas Grill.
It was created by a former designer at Apple (the iPad people) and is revolutionary with its circular design.
One of the best features of this liquid propane gas grill is that it heats up REALLY fast, all the way up to 500-700 degrees in just 5 minutes!
It has a dual-zone heating system with two circular burner rings, allowing you to cook at different temperatures simultaneously. The inner ring gets very hot, while the outer ring provides lower temperatures.
The innovative design makes excellent use of its relatively small cooking space with no hotspots or uneven zones.
The Fuego Element F24C Carbon Steel Gas Grill is one of the best small gas grill models available and makes the perfect grilling gift for the tech-minded person who loves to barbecue.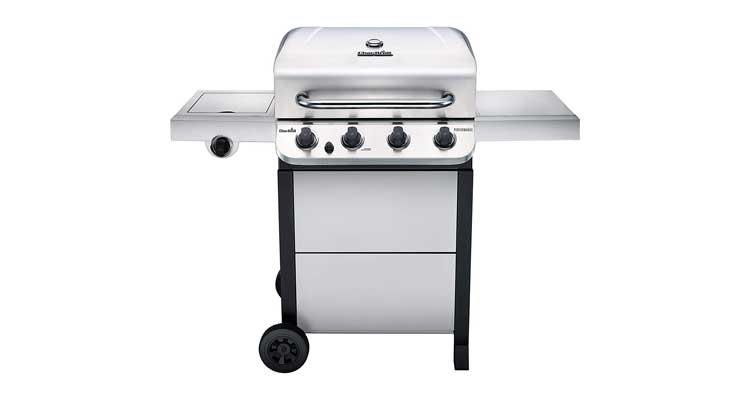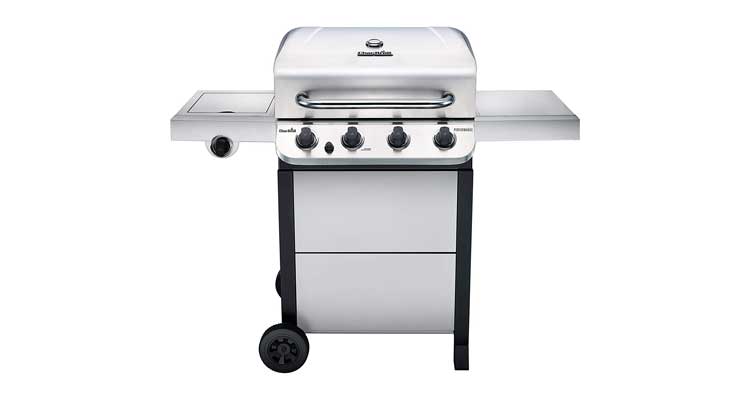 The Char-Broil Performance Stainless Steel 4-Burner Gas Grill is one of the largest models reviewed, but at around $300 and free shipping (at the time of publication, subject to change), you're getting a lot of barbecue for the buck.
It features 4 gas burners putting out a whopping 32,000 BTUs of heat across a 425 square inch cooking surface. It has porcelain-coated cast-iron grates, which are rust-resistant, help prevent food from sticking, and are easy to clean.
It also includes a 10,000 BTU side burner with a cover that folds down flush when not in use.
The coolest thing about this propane grill is the aesthetics – it's stainless steel all over and looks like a retro spaceship.
If I didn't already have a great grill for your outdoor cooking, this is the one I'd probably buy next.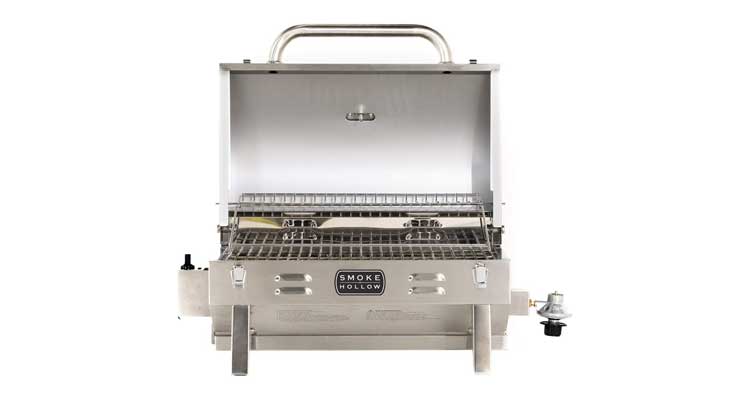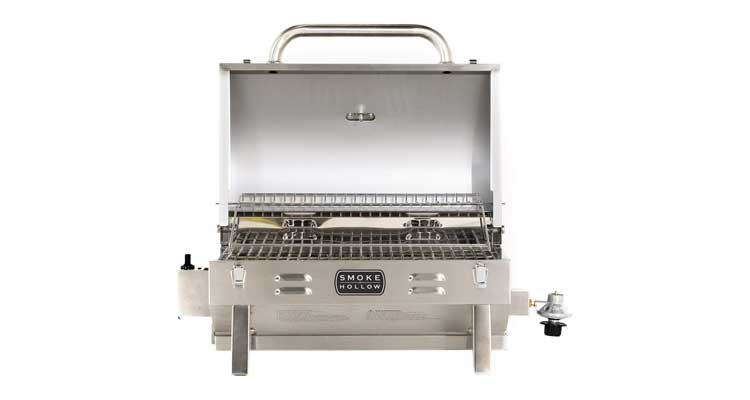 If the space you have to cook is minimal, the Masterbuilt Smoke Hollow Tabletop Propane Grill is an excellent portable gas grill choice.
This propane grill packs a lot into its tiny design, like 205 square inches of cooking space, 10,000 BTUs of heat, foldable stainless steel legs, and a stainless steel drip tray.
The coolest feature about this tabletop grill is its stainless steel design, which gives it a classic retro look.
All in all, this is a great little stainless steel BBQ grill that's a good value for the money.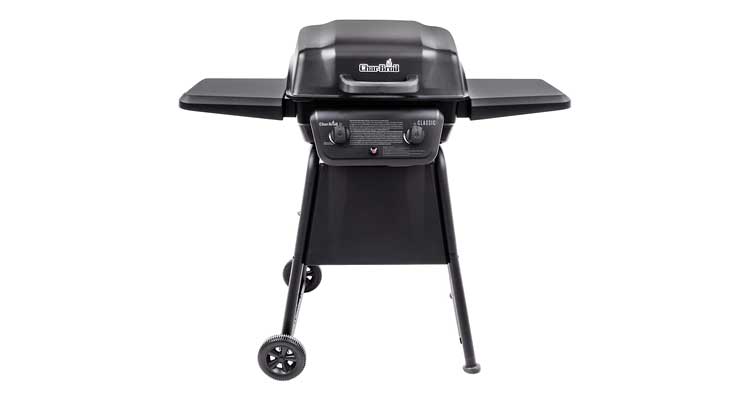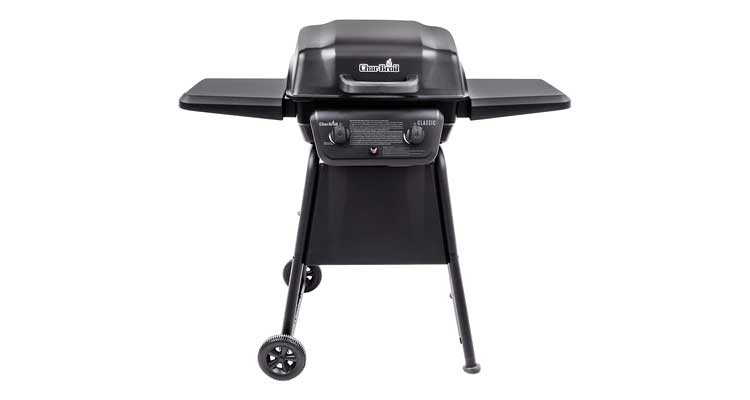 The Char-Broil Classic 280 2-Burner Grill is indeed a classic and the best patio grill I've found. When I first moved into an apartment a few years ago, a friend brought one of these over as a welcome gift, and it still works like a CHAMP.
It's a small, no-frills gas barbecue that does exactly what it's supposed to do without any bells or whistles. But just because it doesn't have many extra features doesn't mean it doesn't do a great job. It's one of the best small propane grill models available.
It has 2 burners producing 20,000 BTUs of heat, 280 square inches of cooking area, and two side tables. It's not fancy, but it's cheap and a great apartment patio grill that I highly recommend.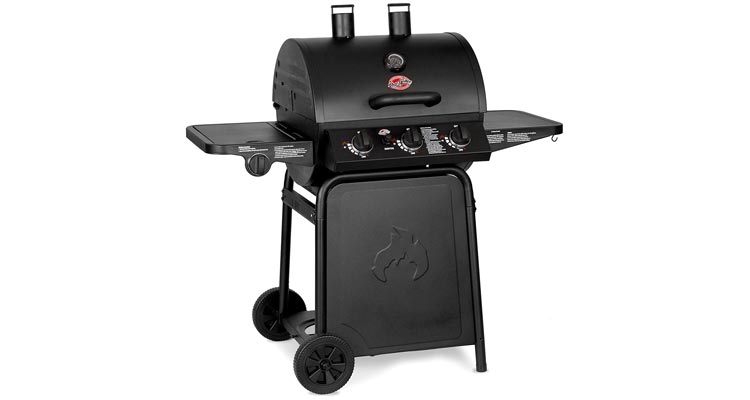 The Char-Griller is a great little grill that comes in at a very reasonable price, around $250.
It's got 3 powerful burners that produce about 40,000 BTUs of heat across a respectable 438 square inches of primary cooking space. It also includes a warming rack for an additional 200 square inches of space.
Porcelain-coated grates make cleanup easy on this model, and the 12,000 BTU side burner provides additional space for cooking prep.
Throw in the easy-to-use electronic ignition system, and this little propane grill is an overall great deal that I recommend for beginner barbecuers.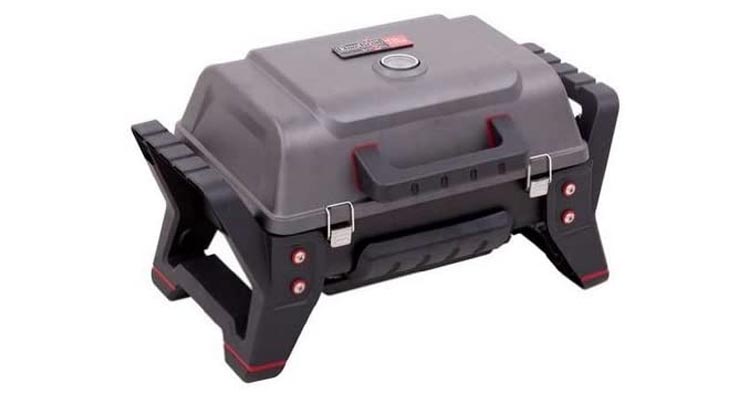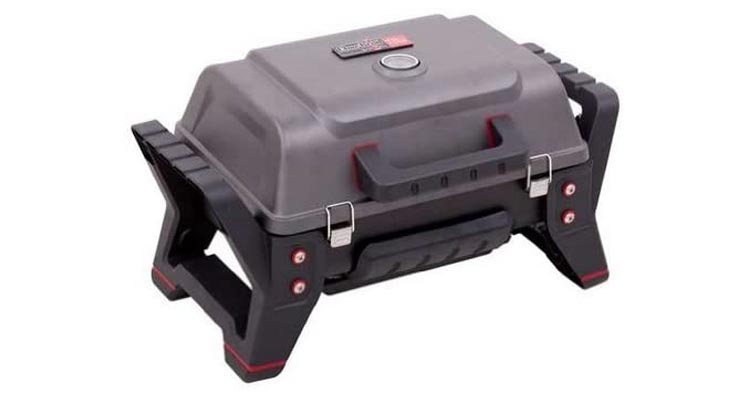 I love the rugged and portable design of the Grill2Go. It's lightweight, built like a military-grade ammo box, and includes a super-convenient carrying handle on the front.
This durable grill is purpose-built for tailgating, camping, and barbecuing on the go.
The Grill2Go offers a cast-aluminum firebox, a high-impact frame, 200 square inches of primary cooking space, and a stainless steel temperature gauge mounted on the hood. It even includes the TRU-infrared cooking system, designed to eliminate flare-ups.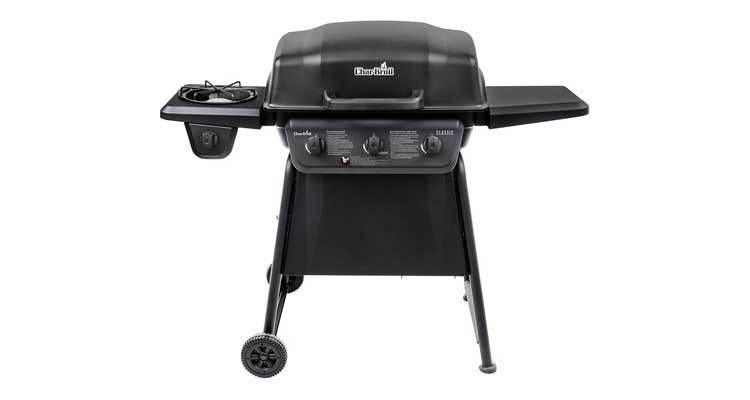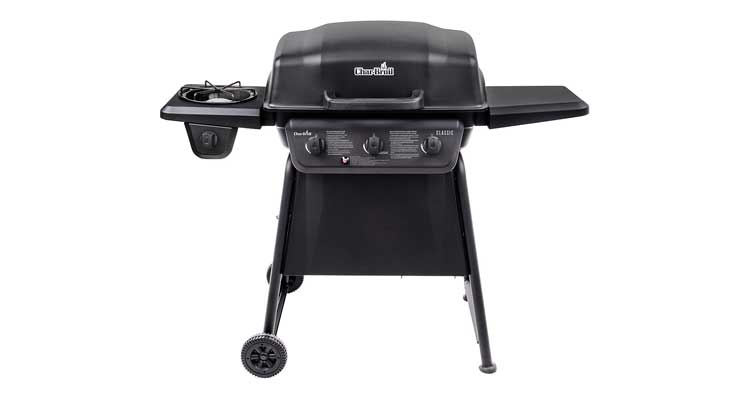 Having a side burner is a nice option for a propane gas grill. It allows you to prepare sauces and sides right there at the barbecue without having to run back and forth to your kitchen.
The Char-Broil Classic 360 3-Burner Gas Grill is a nice propane grill model that is built on the same framework as the Char-Broil Classic 280 2-Burner Grill. It's one of the best small BBQ grill models I've used for years, and I highly recommend it.
This model features 3 burners which produce a whopping 30,000 BTUs of heat and includes a 170 square inch porcelain-coated swing-a-way warming rack.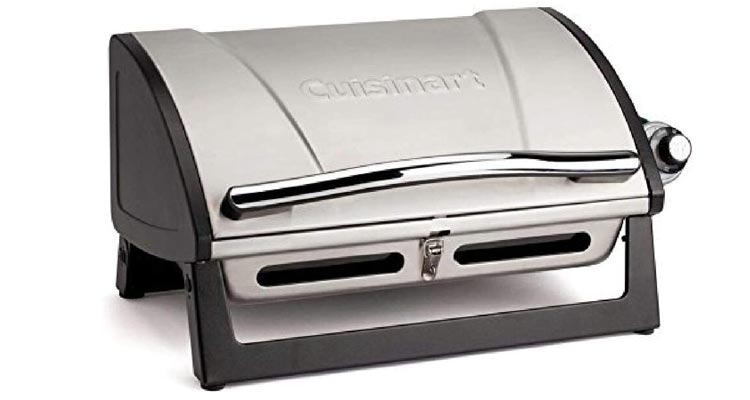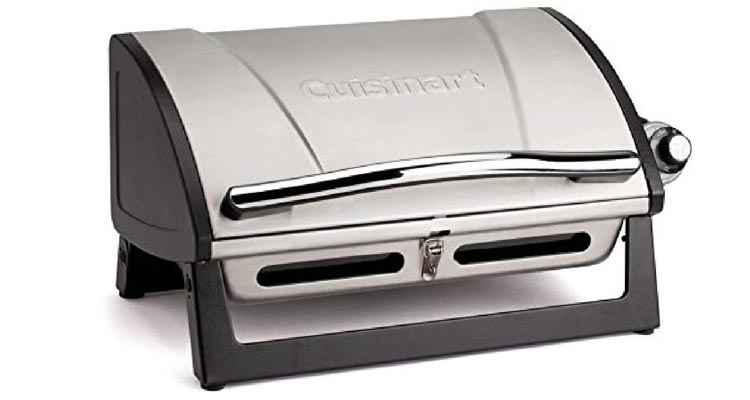 Coming in at only 10 pounds, the Cuisinart CGG-059 Grillster is one of the smallest gas grills available on this list. But don't let its small size fool you – this is a powerful, durable, and easy-to-use propane gas grill that will give you years of enjoyment.
It has a large carrying handle and foldable legs, making it super easy to transport around. Its small profile also makes it easy to tuck away in a cabinet or storage shelf when not in use.
It has easy-to-use push-button ignition, allowing you to start it easily and cook in about 10 minutes flat.
The lid folds back, allowing you easy access to your cooking area.
If you're looking for an inexpensive, lightweight grill that you can take with you practically anywhere, the Cuisinart CGG-059 Grillster is an excellent choice.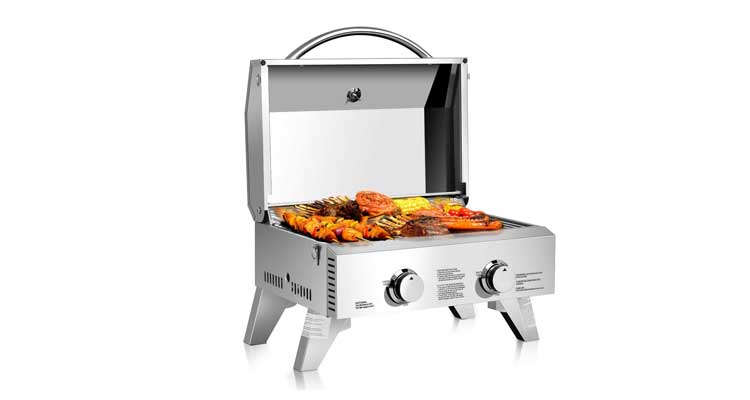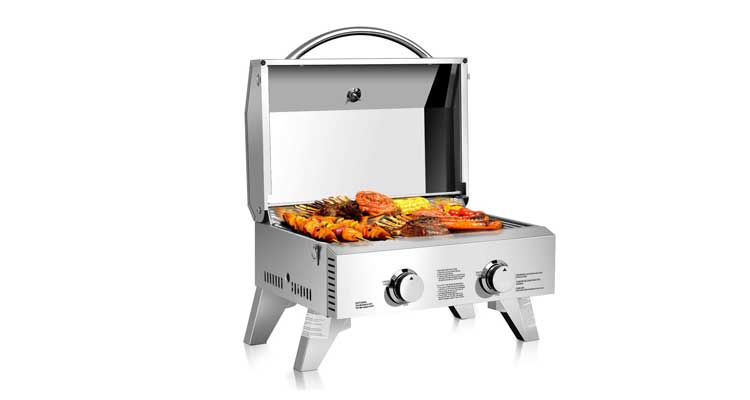 The Giantex Tabletop Gas Grill is a great choice for anyone looking for a small gas grill for tailgating, picnicking, or camping. It weighs a mere 26 pounds and is built with durable stainless steel that's easy to clean and maintain.
It has a locking lid with foldable legs that make it very sturdy on any flat surface.
The two independently-controlled burners provide a combined 20,000 BTUs of heat, allowing for direct or indirect cooking methods simultaneously.
This tabletop grill has a built-in thermometer and a grease collector, which tucks away in the bottom section providing the features you need without taking up extra space.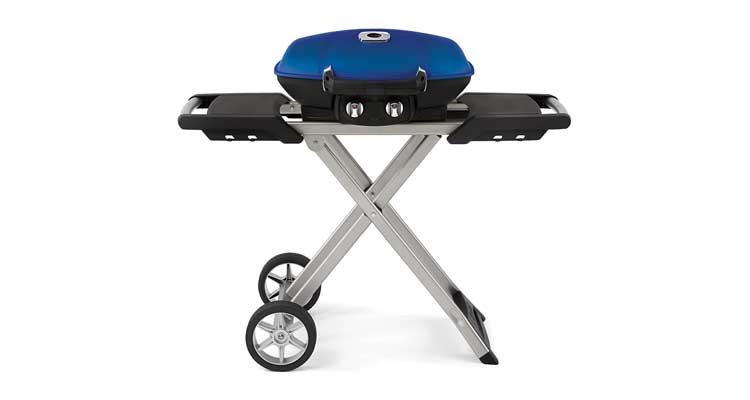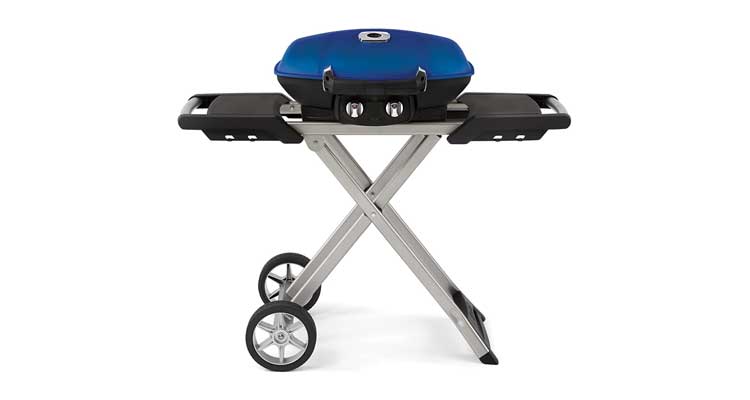 The Napoleon Portable Grill is one of our favorite propane grills for camping, tailgating, and picnicking, thanks to its amazing portability. It's a free-standing small gas grill with foldable legs that allows you to roll it around like luggage.
Its two burners provide about 12,000 BTUs of heat across 285 square inches of cooking space. It has a wind-resistant design that keeps the burners lit even in the nastiest of conditions.
This propane grill comes with a temperature gauge built right into the lid that displays consistently accurate readings.
It has "porcelain zed cast iron wave cooking grids" for even and consistent cooking temperatures.
Finally, it has side shelves for an extra preparation area making this a pretty well-rounded two-burner gas grill.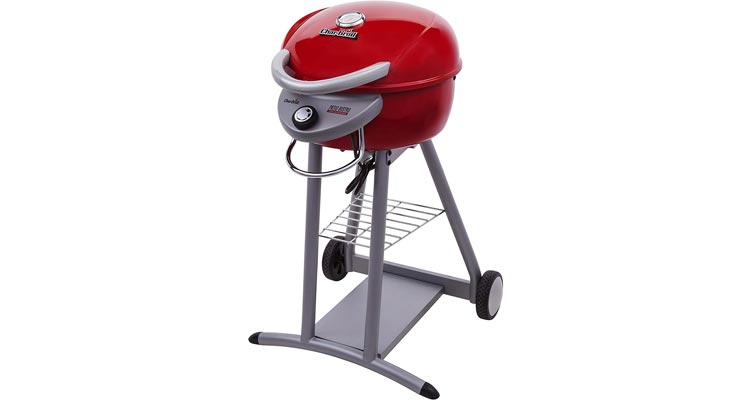 If you live in an apartment complex or somewhere that doesn't allow you to have a propane or natural gas grill, then an electric barbecue may be the perfect choice for you.
The Char-Broil Patio Bistro TRU-Infrared Electric Grill is a great small grill that looks (and performs) like a real gas barbecue but runs on electricity, so you don't run afoul of your apartment lease. It's the top-of-the-line electric barbecue from Char-Broil, which has one of the best reputations for quality in the barbecue industry.
This small electric grill includes a hinged lid, built-in thermometer, and top rack for indirect cooking or warming. It even includes a pull-out grease tray for easy cleanup.
The porcelain-coated cast iron grate provides 240 square inches of cooking area (not including the upper rack), which is enough room for about a dozen burgers.
It's powered by a single infrared heating element that gets to cooking temperature fairly rapidly and evenly.
The Char-Broil Patio Bistro TRU-Infrared Electric Grill is one of the best choices in the electric grill category and perfect for anyone who loves to grill but can't use propane or charcoal grills.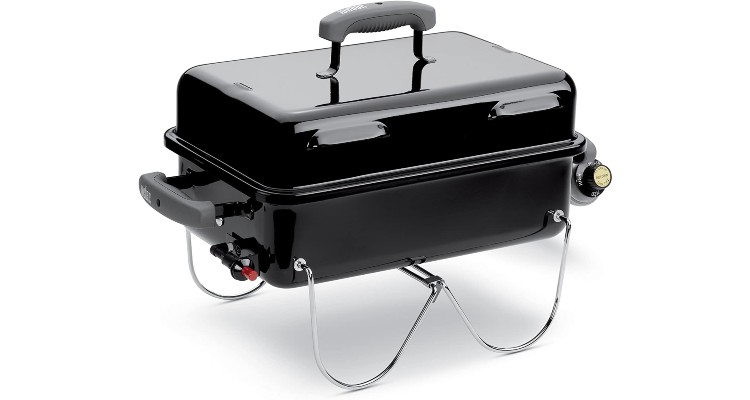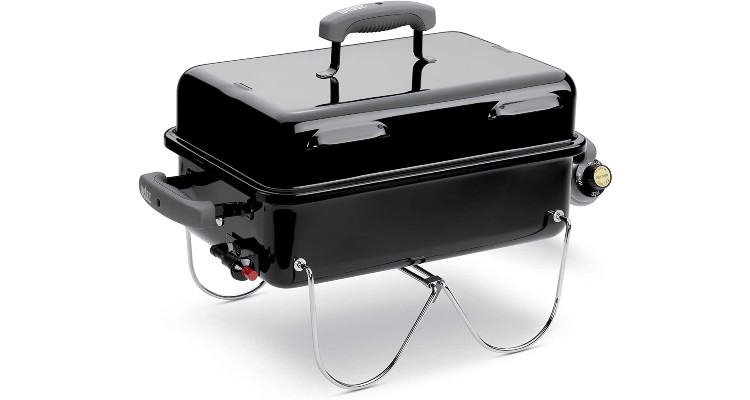 When it comes to camping, size is definitely an issue. After packing up tents, sleeping bags, clothes, toys, firewood, food, and everything else under the sun, you don't need a huge barbecue taking up a bunch of space.
That's where the Weber Go-Anywhere Gas Grill comes in handy. It's a little model, weighing only 13 ½ pounds and only 21 inches wide, and it's the best small propane grill for use in the great outdoors.
It uses small propane bottles or can buy an adapter to connect it to a 20-pound tank if needed.
It has 160 square inches of cooking space and has one burner that burns at 6,500 BTUs of heat.
This propane grill is not exactly a steakhouse grill, but it gets the portable grilling job done while taking up minimum space.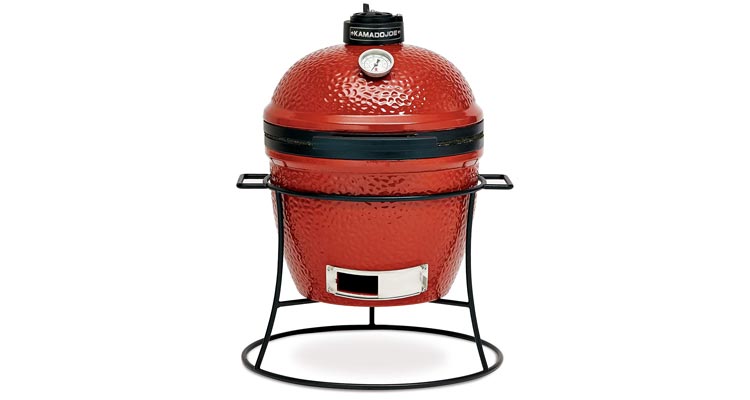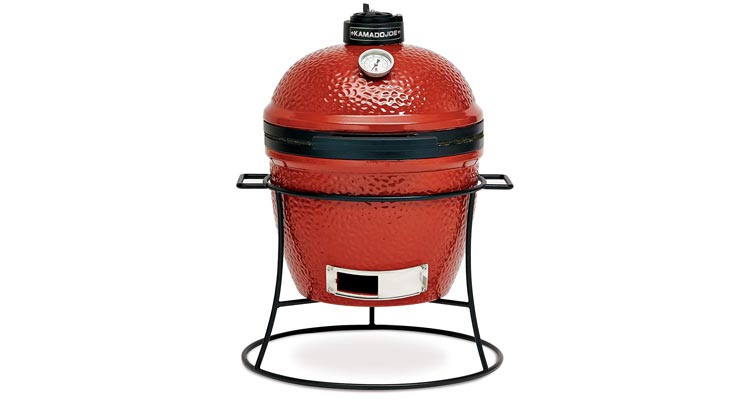 The Kamado Joe Kj13rh Joe Jr Charcoal Grill is a charcoal grill that I thought needed to be included for consideration in this list, thanks to its unique qualities. It really stands out on this list thanks to its egg-shaped design and bright, bold colors.
But it's not just the looks that make this charcoal grill stand out; it also has a lot of very cool features for a small grill in this price category.
The fiberglass case-wire mesh exterior is extremely durable, and the airtight lid provides even cooking temperatures no matter what kind of environment you're cooking in. It also includes a cast-iron stand to keep it firmly in place on any surface you put it on.
This charcoal grill also has the ability to cook several different types of food simultaneously, thanks to special heat deflectors. You can do both direct and indirect cooking styles simultaneously with this charcoal grills model.
It comes fully assembled and is fairly easy to transport anywhere, although, at 68 pounds, you might need a friend to help you carry it.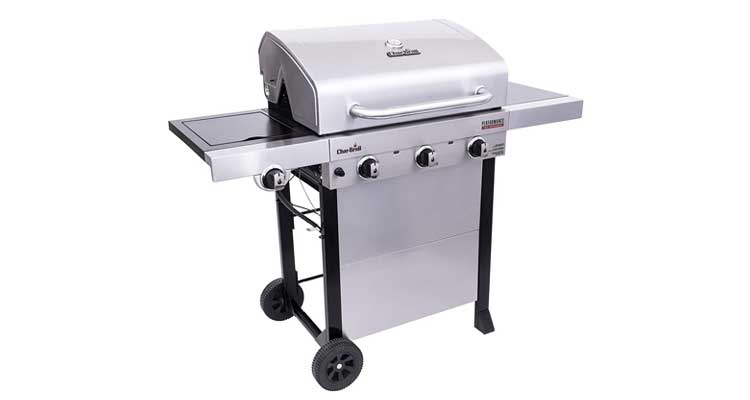 The Char-Broil Performance TRU-Infrared 3-Burner Cart Style Gas Grill is slightly larger than the previous two gas grills, but it features something really cool – infrared technology.
Infrared grills provide a more intense, evenly distributed high heat signature that warms up quickly and sears food faster than ordinary gas grills. It's the grill of choice for most steakhouses and professional chefs.
This model provides 24,000 BTUs of heat on a 450-inch cooking area. It also includes a stovetop burner for heating sauces or side items.
My favorite feature about this grill is its stainless steel design. It reminds me of the classical elegance of an Airstream travel trailer and will be a visually impressive addition to your patio or balcony.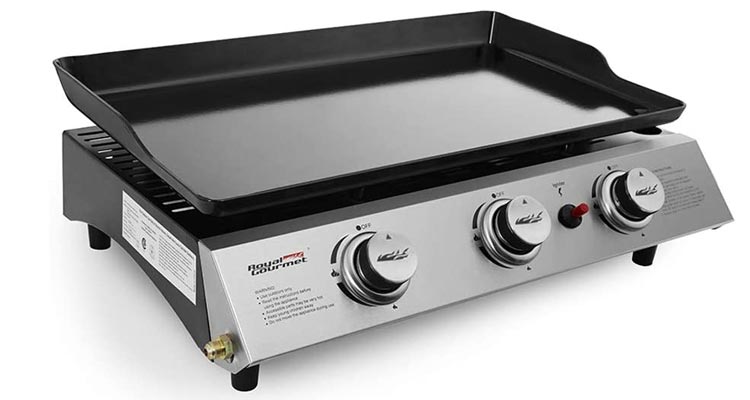 The last small gas grill on our list is a flat-top model that makes outdoor cooking convenient and fun.
The Royal Gourmet 22-Inch Small Tabletop Gas Grill is perfect for someone who likes to camp while having the ability to cook practically any type of food like pancakes, hamburgers, or fajitas.
It has two burners that provide about 17,000 BTUs of heat on a non-stick, porcelain-coated flat cooking area.
It comes with a grease cup that catches any unused cooking oil or grease and makes it really easy to clean up.
Advantages of a Small Gas Grill
The main advantage of a small gas grill is pretty obvious, its small size. They can be placed in a smaller, confined area where a traditional larger gas grill would be too big.
Another advantage is their portability. Small gas grills are often small enough that they're easy to carry and can be brought along on family outings like camping, to the park, or a beach.
A third advantage is their price. Expect to pay a lot less for a small gas grill compared to their traditional larger counterparts. This makes them a good choice for students or someone on a budget.
A final benefit of a small gas grill is that they consume less fuel than a traditional gas grill. Thanks to their smaller cooking surface, you can expect that you'll be using a lot less gas for cooking your food than a big grill.
Gas Vs. Electric Small Grill, Which is Better?
If you live in a home that doesn't allow for a barbecue that uses live fire, an electric grill may be a good alternative.
Electric grills use electricity to heat elements that cook the meat. They can be used both outdoors and indoors and can sometimes be small enough to fit on a kitchen countertop.
The main downside of an electric grill is the taste difference compared to a gas grill or charcoal grill. Since you don't get the smoky flavor, you would with meat cooked on an open flame, you might notice a difference. But if you want to barbecue and have no other allowable alternatives, an electric grill can be a fine choice.
What to Look For in a Small Gas Grill
Before you purchase a small grill, you'll need to consider a few important points.
1. How much space will you have?
Patios and balconies come in many different sizes, as do gas grills. It's important to take measurements of the space you'll have to set up your grill and read the specs on the grill you're considering buying first to make sure it will fit. Don't forget to include the propane tank in that calculation.
2. What type of fuel can you use?
If you live in a place that doesn't allow you to use a liquid propane gas grill, then you'll need to consider an electric grill.
3. How portable do you want it to be?
If you're only planning on using the grill on your deck or patio and don't plan on taking it anywhere, a larger-sized one will work well. But if you think you might want to take it to an outing, you'll need a smaller unit.
4. How many people will you be cooking for?
If you are cooking for yourself and maybe one other person, a smaller-sized gas grill will work fine. But if you have a larger family or plan to have guests over for a barbecue, you'll need to consider a grill with the most primary cooking space available.
Be Sure to Check The Rules
Many cities and counties have laws limiting what types of barbecues are allowed on balconies or near a structure. Additionally, many landlords have rules in their rental contracts or leases that might prohibit using a barbecue. If there is an accident and you have a balcony fire where you weren't supposed to be grilling, your renter's insurance may not cover the damages.
So before you purchase a barbecue for your patio or balcony, it's always best to check with the local laws and even speak to your landlord or property manager to confirm it's OK to grill on your property.
The most important thing is that you are barbecuing safely. Home fires can start easily and spread quickly, so you have to be very careful when grilling. According to the National Fire Protection Association, over 10,000 home fires are started by grills every year (2).
This guide from the Fairfax County Government provides several helpful tips on grilling safety.
What is the best small gas grill to buy?
While all of these grills are great for their own unique reasons, the overall winner, in my opinion, is the Weber Spirit II E-210.
It meets all of the important criteria for the best small gas BBQ grill I need:
Plenty of heat (26,500 BTUs)
A TON of cooking space (450 cubic inches)
It's a compact gas grill with folding side tables
It comes with reversible cooking grates (a super-cool feature)
I hope you enjoyed this article and found it useful. If you have any questions or feedback, please drop me a line.
Happy grilling!
Related content you might like:
Chris Johns
Chris Johns is the founder of Rock's Barbecue® and has been an avid barbecue fan for over 20 years. His mission is to make grilling and smoking the best food possible easy for everyone. And each year, he continues to help more people with grilling, smoking, and barbecue recipe recommendations.