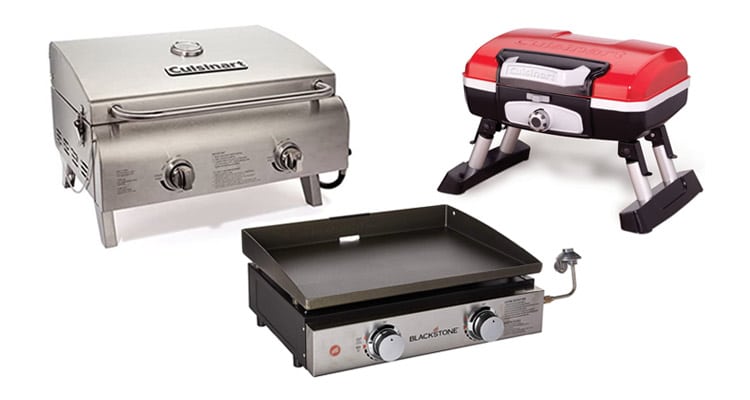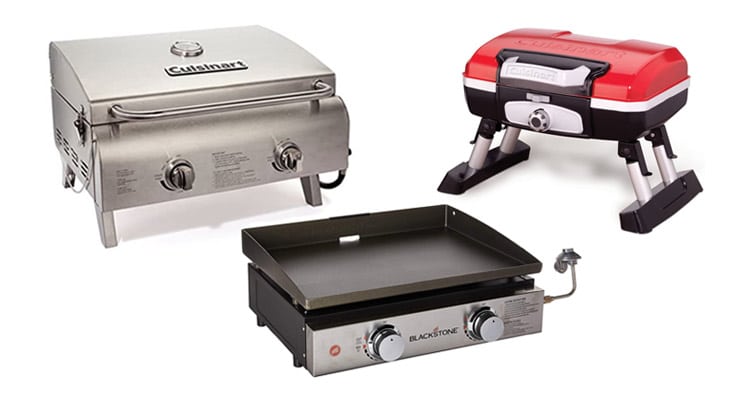 Tabletop grills are an often-overlooked category of barbecue style. The best tabletop grills have the same great features as a larger grill, just in a smaller package.
These portable gas grills are perfect for someone who doesn't have a ton of space for a traditional barbecue, like on a small patio, balcony, or RV. They're also very convenient for someone who likes to barbecue on the road.
In this guide, I'll show you the best tabletop grills available for almost any kind of need. I'll also detail what you need to look for in a tabletop grill.
Comparison Table of the Best Tabletop Grills
Below is a list of the best tabletop gas grills available in the U.S., Canada, Australia, and the U.K for 2023. Click on the name to read reviews and check prices.
Best Tabletop Grill Reviews
Here are the complete reviews of the top 15 tabletop grills in 2023. Keep reading after the reviews for a guide on what to look for when choosing a tabletop grill.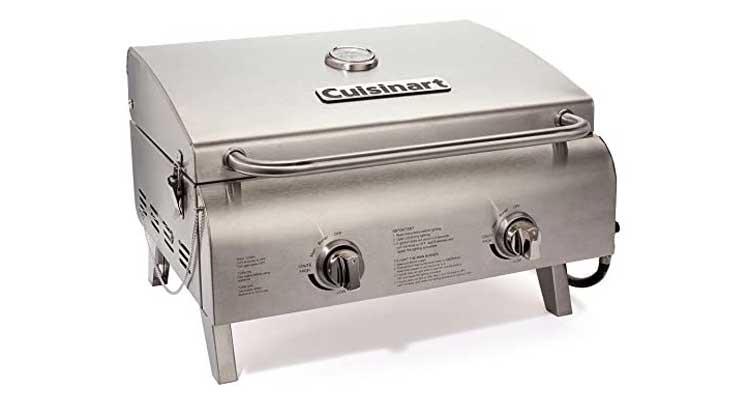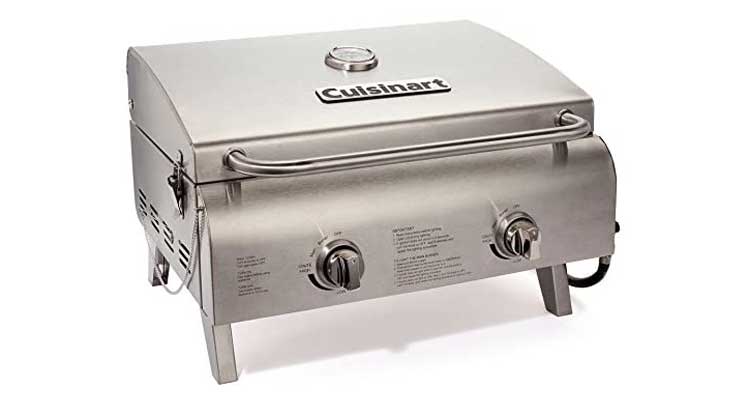 The beautifully designed Cuisinart Chef's Style Stainless Tabletop Grill takes a spot on our list for one important reason – it's a professional-grade tabletop grill that gets the job done and doesn't cost a lot.
It has 2 burners that produce 20,000 BTUs of heat across 276 square inches of primary cooking area. It gets hot very fast with so much heat power and can provide a perfect sear on steaks quickly.
This stainless steel tabletop gas grill weighs in at 22 pounds, not exactly the lightest tabletop model on the list, but portable enough to transport relatively easily.
It has twist start ignition, folding table legs, and adjustable temperature control knobs that provide excellent heat control.
What I like best about this model is its quality. Cuisinart is known for producing top-of-the-line kitchen equipment, and the Cuisinart Chef's Style Stainless Tabletop Grill definitely lives up to its brand's reputation.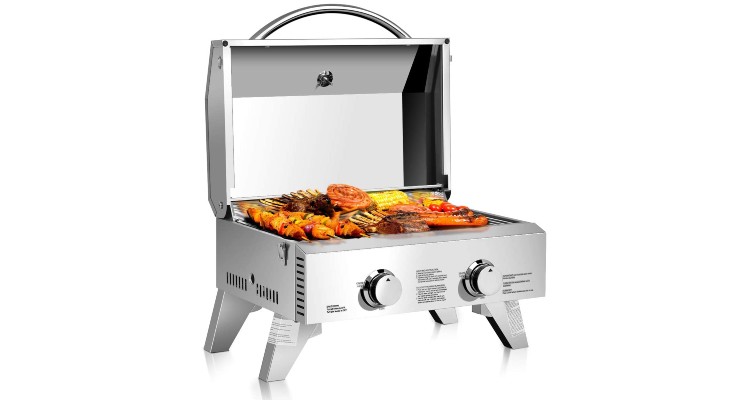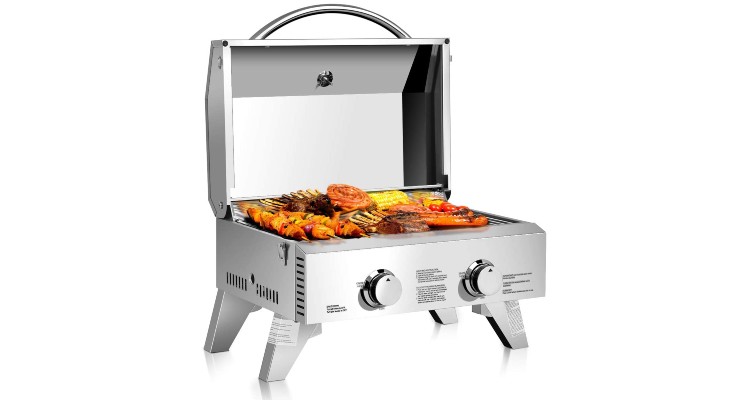 If you're looking for a great tabletop grill with a lot of capacity, the Giantex Propane Tabletop Gas Grill Stainless Steel Two-Burner is the one you want.
With 266 inches of cooking area, this stainless steel BBQ grill offers a lot of room to cook.
Its 20,000 BTUs of heat are powered by two stainless-steel U-shaped burners, which is pretty unique for a propane tabletop gas grill. Having two burners provides more flexibility to control the cooking temperatures and hot zones.
The heavy-duty cooking grates on the Giantex propane tabletop gas grill are made of stainless steel, giving it a pretty consistent cooking profile.
The main body is constructed of durable 430 stainless steel, making it more durable and long-lasting.
If you're looking for a model with all the features of a large grill, the Giantex propane tabletop gas grill is the right choice for you.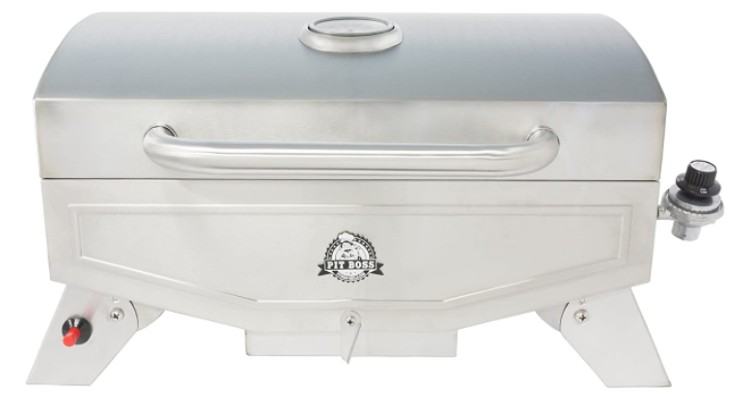 The Pit Boss Grills PB100P1 Pit Stop Single-Burner Portable Tabletop Grill is a great choice if you're looking for a large tabletop grill but don't have the cash to drop on a Weber model.
Pit Boss is no stranger to the grill category known for its high-end pellet-style grills.
It's very stylish with its stainless-steel construction. Even the cooking grates are made of durable stainless steel.
It has electronic push-button ignition and includes pull-out grease trays for easy cleaning.
You can never go wrong with a Pit Boss, and this tabletop model is no exception.
On Sale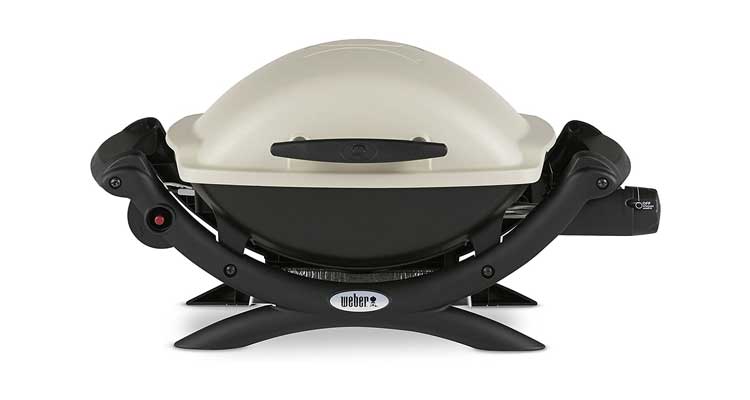 Weber is known in the barbecue industry as a maker of premium gas grills, and the Weber Q1000 Liquid Propane Grill definitely lives up to its brand's reputation.
As one of the few grills available that comes fully assembled, it can be ready to go in minutes. Just take it out of the box, hook it up to a propane cylinder, and you can start cooking immediately.
With a single 8,500 BTU burner and 189 square inches of grilling area, the Weber Q1000 is a bit on the smaller size. But don't let this small gas grill fool you; this table top gas grill has most of the features you might expect in a larger grill.
It has premium cast-iron grates which take a little longer to heat up, but they retain a lot of heat and help provide excellent grill marks on your food. It even has push-button ignition and infinite control burner valves.
What I like best about this liquid propane grill model is the design – it's beautiful! You may not be intentionally looking to impress your fellow grill heads, but with the Weber Q1000, you'll certainly turn some heads. It's one of my favorite tabletop grills.
On Sale
Weber Q1000 Liquid Propane Grill, Titanium
One stainless steel burner produces 8500 BTU-per-hour to heat 189 square-inch total cooking area
Porcelain-enameled cast-iron cooking grates and cast aluminum lid and body
Fully assembled out of box. Dimensions - lid closed (inches): 14.5H x 27W x 16.5D inches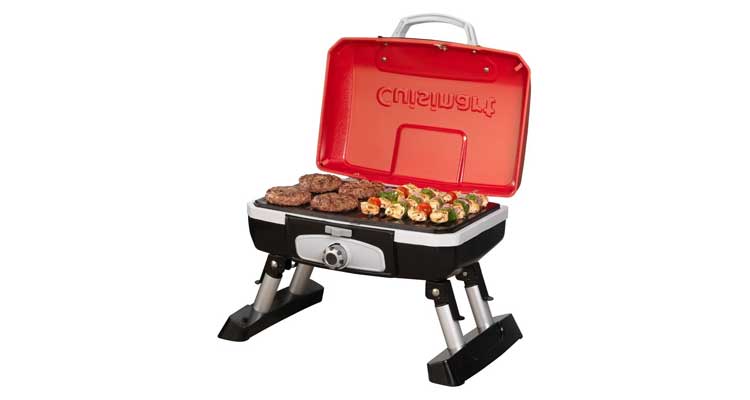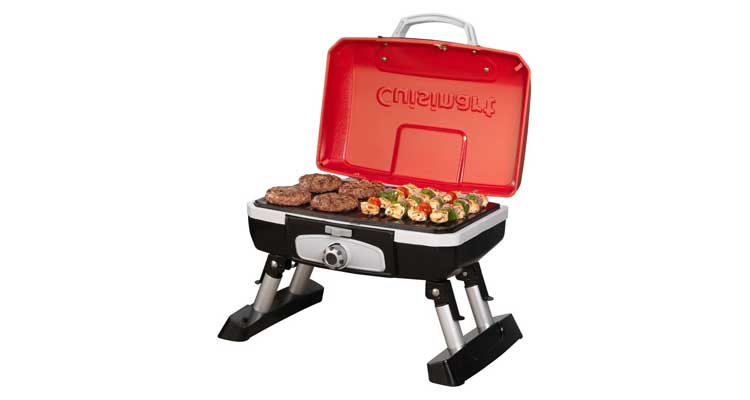 If you're like me, you love to grill on the go. You need a grill that's ultra-portable and doesn't take up a lot of storage space. This is where the Cuisinart Petit Gourmet Gas Grill really shines.
Weighing in at a mere 13 ½ pounds with lid locks and a large carrying handle, this attractive tabletop BBQ grill can be carried easily to any location and set up quickly.
One main burner provides 5,500 BTUs of heat across a 145 square inch porcelain-enameled cooking grate. It can cook about 8 hamburgers, 8 steaks, 6-10 chicken breasts, or 4 lbs of fish at one time.
Although it doesn't have a tremendous amount of heat power, this grill gets hot quickly and easily. That's important when you're trying to enjoy your time with friends and family, not waiting around for your grill to reach cooking temperatures.
What I like best about this portable tabletop grill is it can be easily transported wherever you go, thanks to its small size. It may not be the most impressive table top BBQ, but it gets the job done quickly and well.
On Sale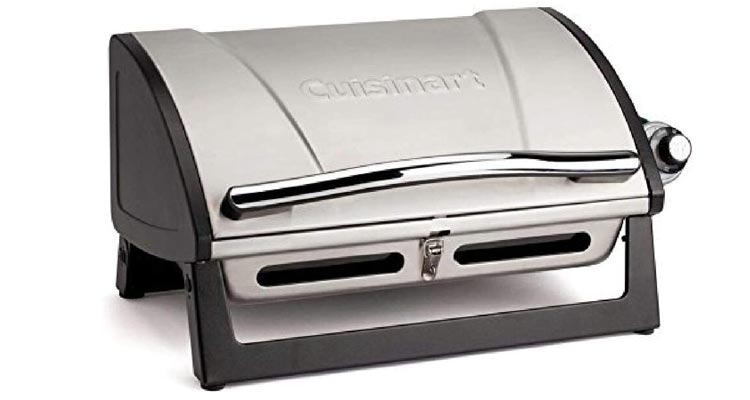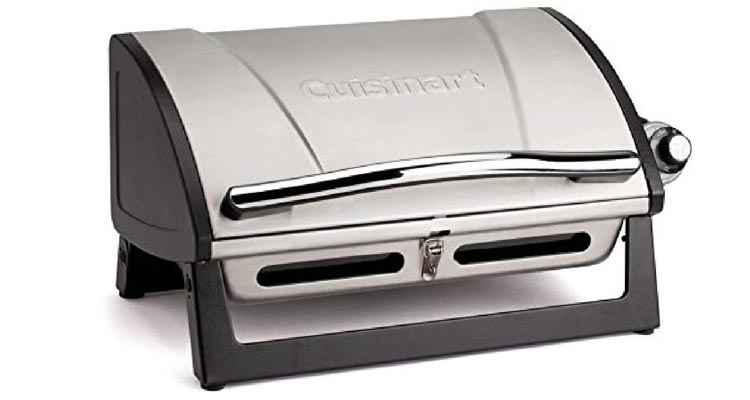 The Cuisinart Grillster is a fantastic little portable tabletop grill that only weighs about 10 pounds and collapses down nicely into an easy-to-carry unit.
It's got a single burner that produces 8,000 BTUs of heat, which is about all you'll ever need on a unit this size to grill and sear meat. It can get as hot at 600 degrees!
With 146 square inches of grilling area, it's not a huge unit. But, if all you need is a small portable tabletop grill to take on the go to picnics or tailgating, it's a fantastic option.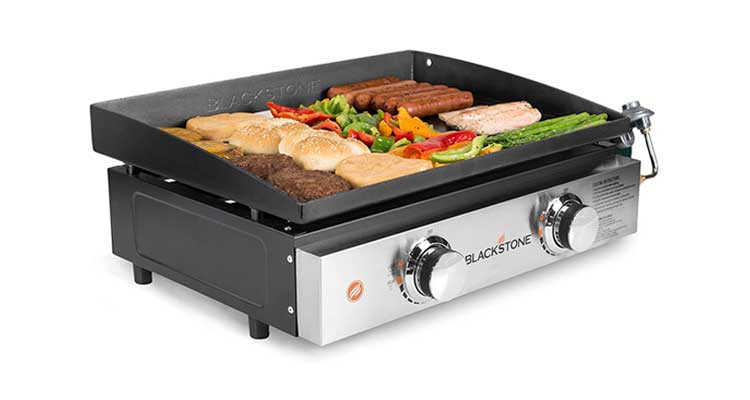 The Blackstone 22-Inch Tabletop Griddle is a fantastic tabletop cooking tool that lets you grill things you can't normally cook on a traditional barbecue, like eggs, pancakes, grilled vegetables, fish, and lots more. It comes in two sizes, a 17 inch and 22-inch model.
If you're not familiar with flat top grills, you should check them out. Also known as a gas griddle, hibachi, or teppanyaki, these devices have large flat cooking surfaces and are excellent for camping, tailgating, outdoor parties, and more.
The Blackstone 22-Inch Tabletop Griddle has 330 inches of cast iron cooking surface, which is enough to cook a full meal for a family of four.
This tabletop gas grill uses two independently-controlled H-style burners to produce 24,000 BTUs of heat, powered by a standard disposable propane gas canister. It can be connected to a 20-pound propane tank using an optional adapter.
What I like best about this table top griddle is how easy it is to clean up. The built-in grease channel and catch helps move grease and fat away from your food and into a cup at the back. Wipe or scrape the grill surface to clean.
Pro tip: Season this griddle before first use! Heat it to maximum temperature and apply an even layer of cooking oil. Let it "burn in" for a few minutes, then scrape off the excess and repeat. The griddle will turn slightly dark.
On Sale
Blackstone Tabletop Griddle, 1666, Heavy Duty Flat Top Griddle Grill Station for Camping, Camp, Outdoor, Tailgating, Tabletop – Stainless Steel Griddle with Knobs & Ignition, Black, 22 inch
Make your outdoor adventures a delicious affair with Blackstone 22" tabletop griddle. This portable griddle has everything...
Portable convenience: Whether you are cooking in your backyard or out in nature, make sure to take this lightweight,...
Cook for one, cook for all: 339 Sq. Inch cooking surface and 24,000 BTUs of heat mean all your cooking challenges will be...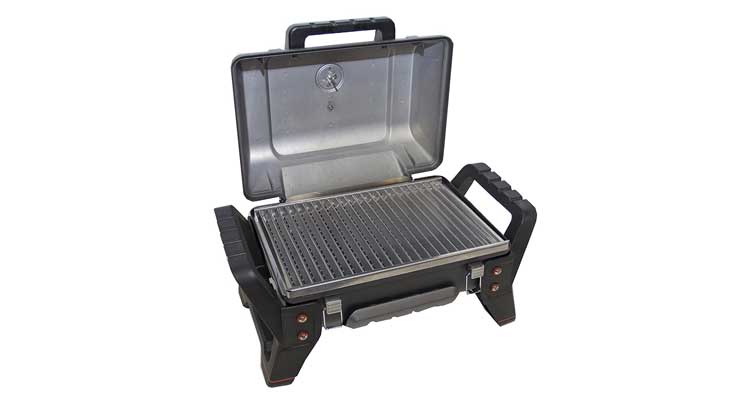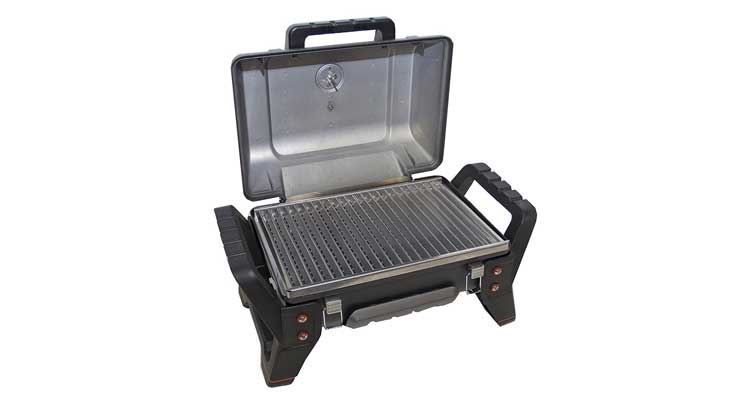 For a truly great cooking experience on the go, consider the Char-Broil Grill2Go X200 Portable TRU-Infrared Gas Grill. This sturdy little grill is perhaps the best tabletop infrared grill available.
If you've never tried an infrared grill before, you should check it out. In contrast to traditional gas grills, which heat food through convection (hot air), infrared grills cook food through radiant heat.
Some kind of solid surface, like a ceramic plate, is heated by the burners, which then radiates the heat upward to the grates. This design creates a separation between the burners and the food, which keeps it from flaring up or smoking and producing juicier food.
This tabletop gas grill has 200 square inches of cooking surface with a single 9,500 BTU burner and stainless steel cooking grates.
The Char-Broil TRU Infrared Grill2Go X200 Portable is also very rugged. It's built like a military hardware piece, with a die-cast aluminum locking lid and sturdy side handles. It can take a beating and is one of the best tabletop grill models available.
On Sale
Char-Broil Grill2Go X200 Portable TRU-Infrared Liquid Propane Gas Grill
GAS GRILL: Powered by liquid propane gas, this grill runs on a 1-pound propane gas tank, not included. It reaches cooking...
COOKING TECHNOLOGY: The Amplifire cooking system grills juicier food, eliminates guesswork and prevents flare-ups. Our...
COOKING AREA: Grill up to 8 burgers, 4 chicken breasts or 12 brats on the 200-square-inch grate.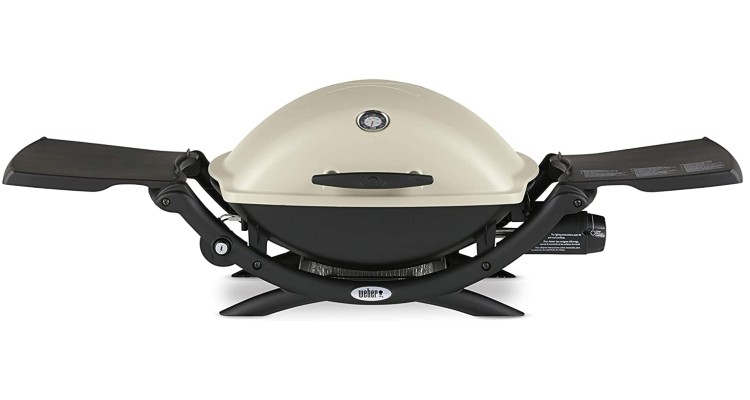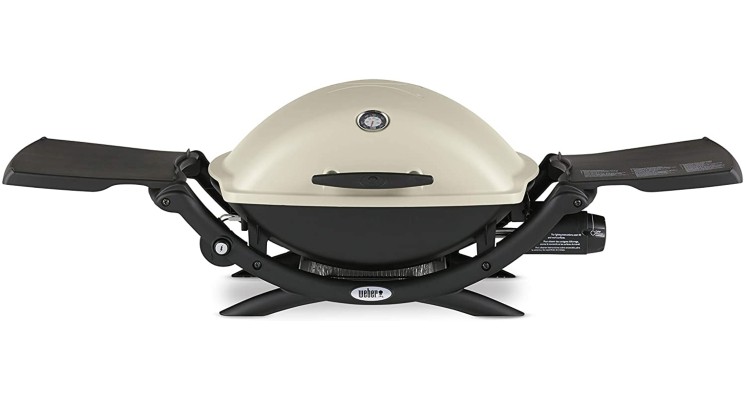 A Weber grill is always a good choice when it comes to barbecues. They make some of the best in the world, and the Weber 54060001 Q2200 Liquid Propane Grill is their entry in the tabletop category.
Although Weber's tend to cost a little more in general, you can pretty much be assured their products will last for a very long time.
The Q2200 has a stainless-steel burner that produces 12,000 BTUs of heat, which is on the higher end for a grill this small. It has 280 square inches of primary cooking area and porcelain-coated cast-iron grates for consistent heating.
The body of this liquid propane grill is made of cast aluminum, making it fairly lightweight at around 42 pounds.
It includes two folding side tables to hold your prep items. There's even an optional griddle top you can purchase to turn it into a flat top grill. That's a neat feature to have, especially if you're camping.
If you're looking for a very reliable table top grill, the Weber Q2200 is the way to go. It's one of my favorite tabletop grills on this list.
On Sale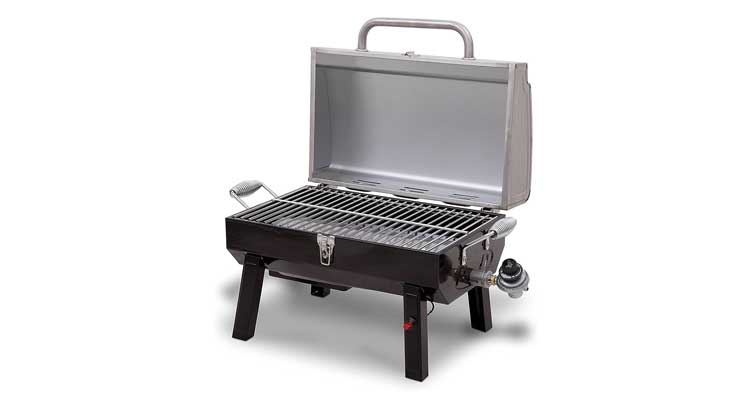 If you're looking for a no-frills tabletop grill for camping, the Char-Broil Gas 200 Portable Gas Grill may be just what you're looking for.
This propane tabletop gas grill is constructed of durable stainless steel, ensuring it will last for a long time and resist rusting.
A single burner produces 10,000 BTUs of heat across 200 square inches of cooking surface. That amount of heat across such a small area helps it heat up hot and quickly.
What I like best about the Char-Broil Gas 200 Portable Gas Grill is the price – it's on the cheaper side (around $100). At that price, you're getting a great model that will help make all your camping adventures memorable.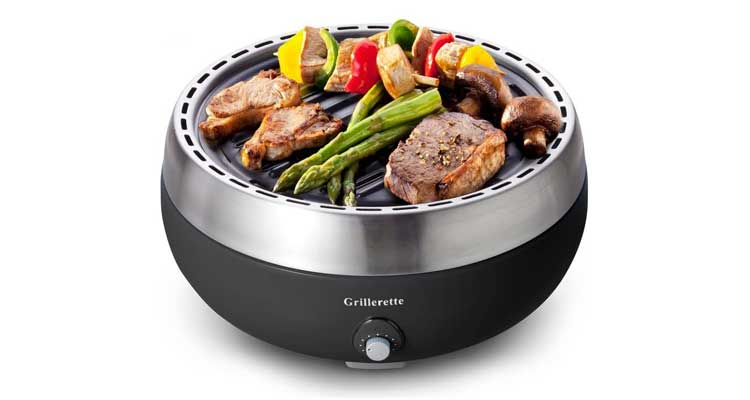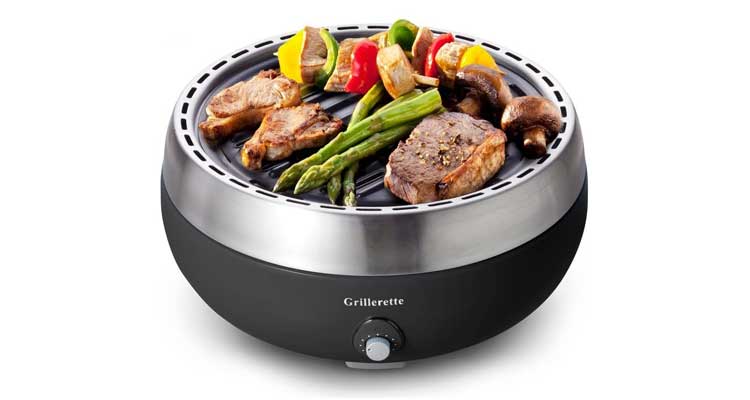 The Grillerette Pro Take Anywhere BBQ Grill is one of my FAVORITE tabletop outdoor grills. It has a unique design that makes tabletop cooking really fun!
This is not a gas grill; it's a tabletop charcoal grill meant for tabletop grilling. The main benefit of using charcoal is it gives the meat a lovely smoky flavor. Who doesn't enjoy the delicious smell of a charcoal barbecue?
The way this grill works is you first fill a small canister in the center with charcoal or wood pieces and burning gel. You light the gel on fire and set the charcoal canister on top of that. The flames from the gel burn the charcoal. A battery-powered fan pulls air downward to keep the coals burning hot.
A large grill plate fits down over the hot charcoal, providing about 200 inches of cooking surface, which is about perfect for a small family or couple.
What I like best about this round tabletop grill is how similar it is to a traditional Korean barbecue-style grill. Koreans have a long history of preparing food on a tabletop charcoal grill, and it's a lot of fun. Get this grill and invite your friends over for a Korean Barbecue party!
This grill takes longer to set up and gets hot because it's a charcoal tabletop grill. But if you enjoy the ceremony of a tabletop barbecue and don't like to rush, the Grillerette Pro Take Anywhere BBQ Grill is the best tabletop grill for you.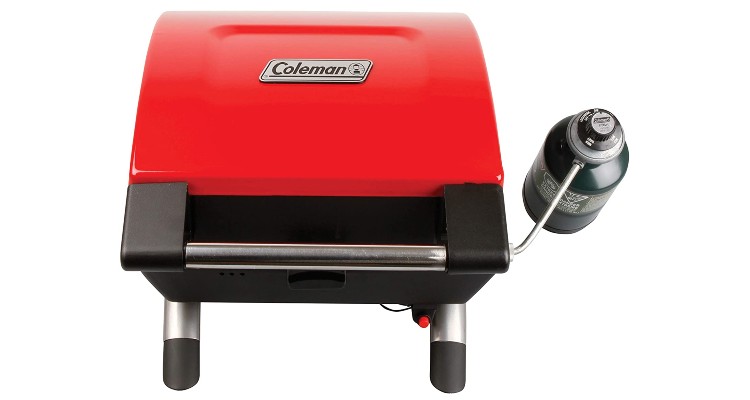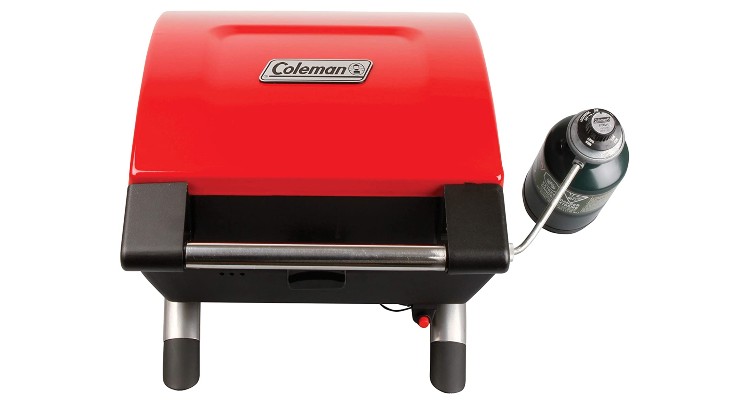 The Coleman NXT Lite Tabletop Propane Grill is a great option for camping or day trips. It's very portable and is made by the company known for its camping gear.
With 168 square inches of cooking area, it's one of the smaller models on this list. It has a single burner that produces 8,500 BTUs of heat.
This model's neat feature is Coleman's "even-temp" burner design, which distributes heat evenly across the cooking surface.
Another reason why this propane tabletop gas grill makes a good camping grill is the ability to swap out the grates for a griddle surface—a great feature for using for just about every meal while you're camping.
It's made of steel construction, has push-button ignition, and is one of my favorite tabletop grills available in 2023.
Coleman NXT 50 Propane Grill Tabletop
Portable propane grill ideal for tailgating, picnicking, and camping
Delivers 8,500 BTUs of heat across 168 sq. in. of grilling surface
Even-Temp burners radiate heat evenly across the grill for consistent performance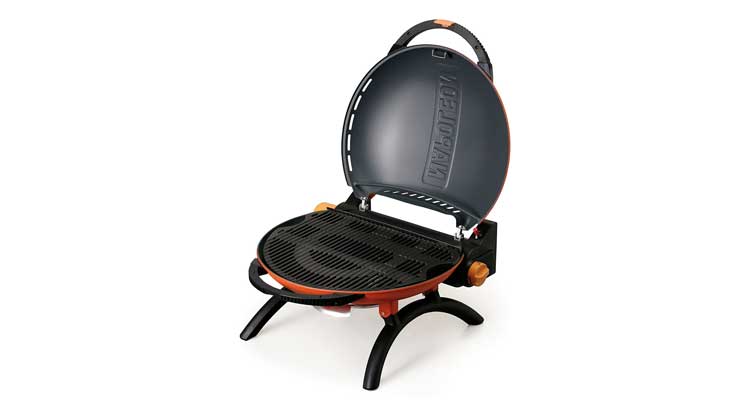 If you're looking for the best small tabletop propane grill on the market, the Napoleon Travel Q Portable Grill may be the right choice for you.
Not only does it look really cool (like a colorful UFO, in my opinion), but its fold-able design is effortless to transport or place into small storage spaces. According to the manufacturer, it can be set up in under 10 seconds.
It provides 10,500 BTUs of heat across 225 square inches of cooking surface. Despite being a very compact portable grill, this Napoleon Grill provides enough cooking area for at least a family of four.
The Napoleon Travel Q has an optional table stand available, which gives it a sturdy surface to set up in any location like a park, outdoor concert, campsite, or beach.
What I like best about this grill is its durability. There are many reviews of the Travel Q on Amazon talking about how long this small tabletop gas grill lasts, even when exposed to the elements. People love it, and you probably will, too.
Napoleon TravelQ TQ2225PO Portable Gas Grill, 225 sq. in, Orange
FEED A CROWD: The TravelQ has a single stainless steel circular tube burner, 10,500 BTU's, and 225 square inches of total...
CAST IRON COOKING GRATES: Napoleon's iconic cast iron cooking grids provide even heat, prevent food from falling through,...
GREAT FOR ADVENTURES: Perfect for camping, tailgating, parties, and small outdoor living spaces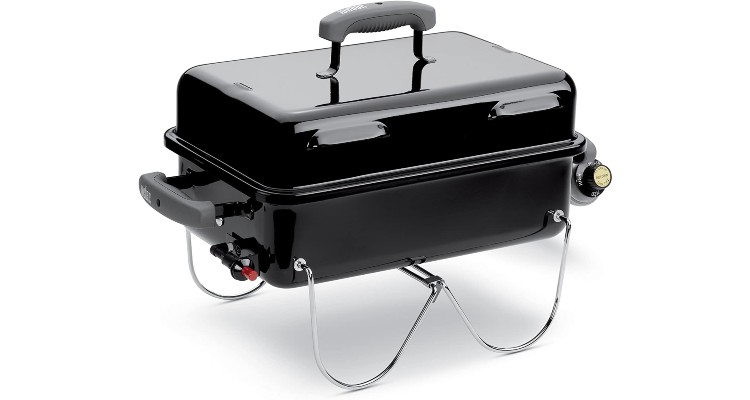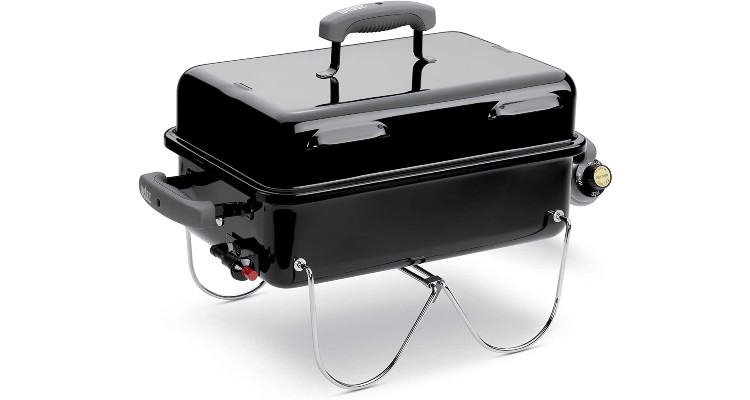 If you're on a budget and need a basic grill, then the Weber 1141001 Go-Anywhere Gas Grill is a good choice.
It's a very classic model that doesn't have many frills, but it gets the job done.
It has one stainless-steel burner that produces 6,500 BTUs of heat. That may not be a lot, but it's enough to do most things you need.
Everything on this grill is porcelain-enameled, including the cooking grates. That may not be the most durable option compared to the more expensive models on this list, but again, you get what you pay for.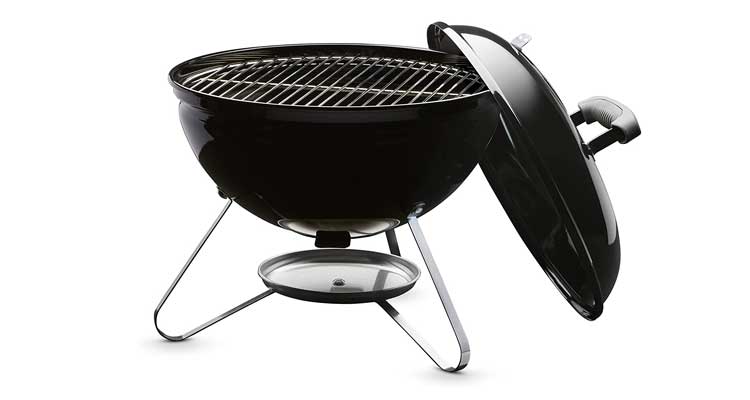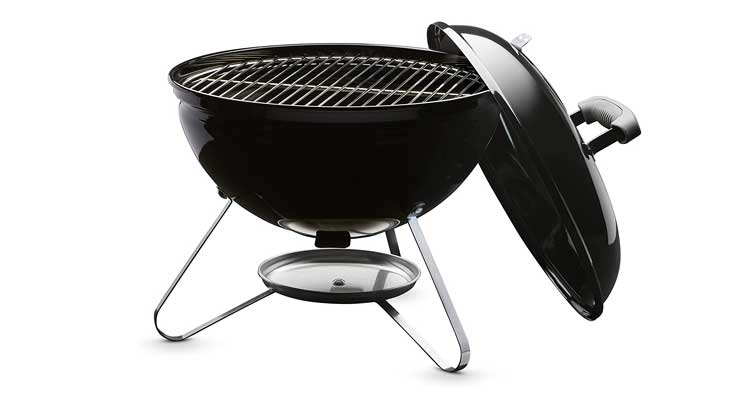 The Smokey Joe is a popular kettle-style charcoal tabletop grill. It's lightweight and easy to transport, making it a perfect portable charcoal grill option. It's built by Weber, a company known for its quality outdoor grills.
The plated steel cooking grates hold onto heat pretty well and provide you with enough cooking for around 6 burgers or 3 steaks.
It's large enough to allow for different temperature zones around the grill.
It has a porcelain-enameled lid and bowl that help retain heat and provide rust and peeling resistance.
Smokey Joe is a pretty basic model without any fancy bells and whistles, but it does its job well. If you're looking for a good charcoal tabletop grill that's also inexpensive, give ole' Smokey Joe a try.
Weber Smokey Joe 14-Inch Portable Grill, Black
Load up the car and hit the road with your Smokey Joe portable charcoal grill. Its durable, lightweight, compact design is...
Holds up to five burgers made with a Weber burger press
Compact and lightweight for grilling on the go
What To Look For in a Good Tabletop Grill
When you're thinking about buying a tabletop grill, you should consider several important things to get the most value for your money. Here are some important areas you should think carefully about to make the best choice.
Portability
One of the major reasons people prefer tabletop grills is their portability. This isn't that important if the grill will be permanently stationed in your backyard or balcony. But if you're the type that likes to barbecue on the go, you'll want a unit that weighs less than 50 pounds. It should also have detachable or foldable legs so you can set it up anywhere, with or without a table, and be able to put it back into your vehicle easily.
Grilling Surface Area
A tabletop grill isn't intended for huge gatherings, and you'll probably never host a party for 20 people using a tabletop grill. However, there are still plenty of grill sizes available in the tabletop grill category. What's important to consider is how many people you intend to feed at one time.
Generally, you want a grill with at least 150 square inches of cooking area (or close to it) to make enough food for a family of four. This allows you to cook about 8 burgers or 6 to 10 chicken breasts.
You also want to consider if the grill has a warming rack, which provides a separate area to keep food hot while you're finishing other items that take longer to cook.
Number of Burners
The number of burners is important because they provide control over the heat. If you have multiple burners, you're able to have separate heat zones to cook food at different rates. This is a nice feature if you want to cook different foods simultaneously, such as searing a steak while cooking chicken breasts. A single burner grill only allows for one heat zone.
Ease of Use
One significant factor to consider in a tabletop grill is how easy it is to use.
Most tabletop grill models have electronic ignition, which allows you to light the grill with the push of a button. This is extremely convenient if you don't want to try to light your grill in outdoor conditions like wind or rain.
The ease of cleaning is also another important factor to consider. Because of their smaller size, tabletop grills need to be cleaned regularly. Easy to get to drip trays, grease catch systems, and durable grates with stain-resistant protection help make cleaning the grill easier.
Durability
You want your new tabletop grill to last a very long time, so look for one that's made of rugged materials and can take a beating. Look for ones with stainless steel or die-cast aluminum materials.
Warranty
Finally, look for models that include the longest warranty available.
Some models only include a 90-day warranty. But some models, such as the Cuisinart Chef's Style Stainless Tabletop Grill have a 3-year warranty. The Napoleon Travel Q Portable Grill has a lifetime warranty on most of its components!
Although you may never need to use the warranties on these, it'll be nice to have if you do need them years from now.
What are the best tabletop propane grills?
With so many great models available, picking the best tabletop barbecue grill for you may be a bit of a challenge. Hopefully, this list provided you with some good options to choose from.
If you're still undecided, I'd recommend the Cuisinart Petit Gourmet Gas Grill as a good, well-rounded choice. It's affordable, has great features, is very portable, looks fantastic, and has Cuisinart quality built in.
And as long as we're talking about tabletop grills, if you need a table for a table top grill, check out our list of best outdoor grill prep tables.
Whichever portable tabletop propane grill you pick from this list, you'll probably be thrilled with, so have fun and buy that grill you've always wanted.
Related content you might like:
Chris Johns
Chris Johns is the founder of Rock's Barbecue® and has been an avid barbecue fan for over 20 years. His mission is to make grilling and smoking the best food possible easy for everyone. And each year, he continues to help more people with grilling, smoking, and barbecue recipe recommendations.