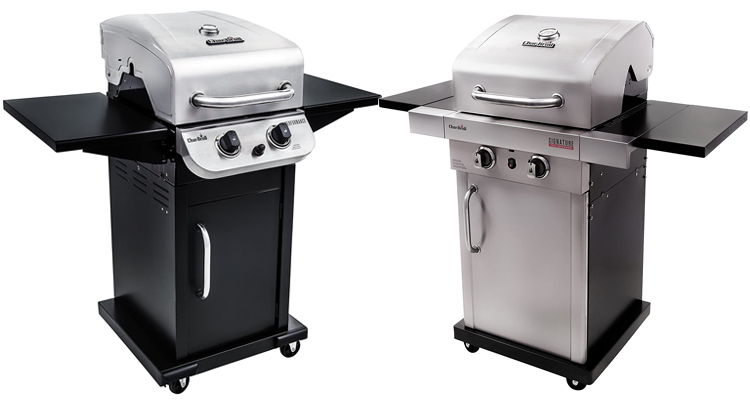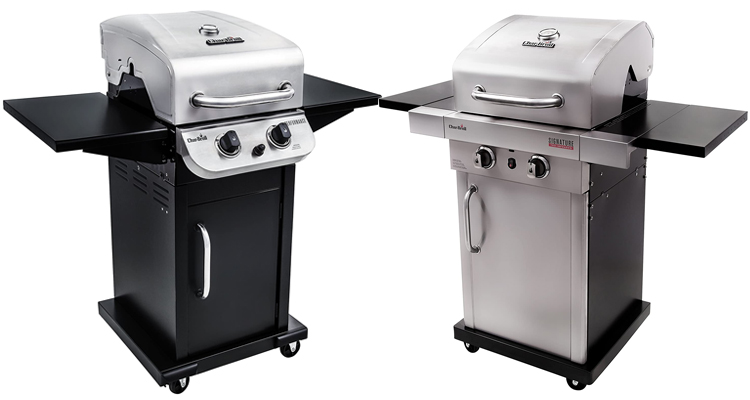 Two burner gas grills are compact, cost-effective, and easy to use. That's exactly why I love them!
In my opinion, there's usually no reason to splurge on expensive grills if you don't have to. The top-rated 2 burner gas grills are perfect if you're a casual griller – or someone who rarely entertains large groups.
Maybe you're cooking for yourself or a small family. Perhaps you're a little short on cash and square footage.
Or maybe you're a utilitarian griller, someone who values consistency rather than flashy extras. If that sounds like you, read on.
In this guide, you'll find concise yet detailed reviews of the best two burner grills on the market. I'll give an overview of each and list the pros and cons of each unit.
The Best 2-Burner Gas Grills for 2023
Here is my list of the 15 best 2-burner gas grill options in the U.S., Canada, Australia, and the U.K in 2023. I'll start with the 3 best overall choices, then go into reviews for the best options for different needs.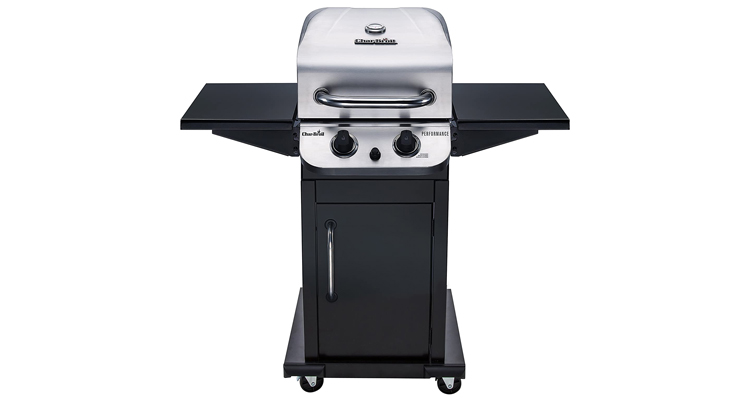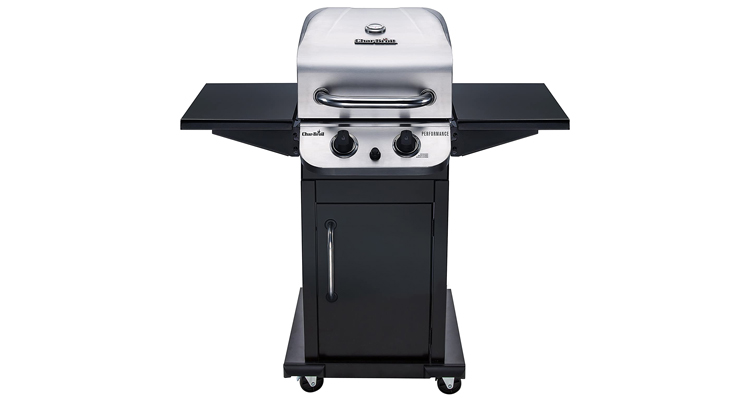 The Char-Broil Performance 300 2-Burner Gas Grill delivers 24,000 BTUs of heat across 300 square inches of cooking surface, enough space for about 6 burgers. The grates are made from porcelain-coated cast iron, which eases cleanup and sticking, and virtually eliminates rust.
That attention to durability extends to everything below the grill, including the burner tubes and shields made of stainless steel.
Char-Broil skipped a simple modification to the storage area, which would have allowed a more convenient placement of the propane tank. Even so, the built-in two-door storage cabinet hides your tank and gives you ample storage space.
The Char-Broil 300 Performance Series Grill also features two collapsible metal side tables, stainless steel burners, and a stainless steel lid. This unit is sturdy, economical, and consistent in its heat output and distribution.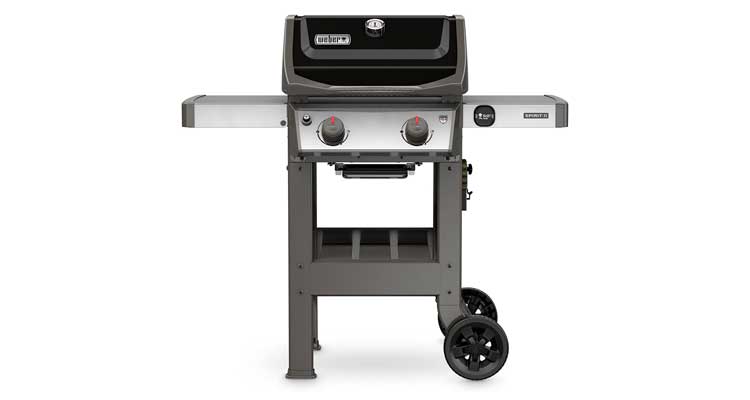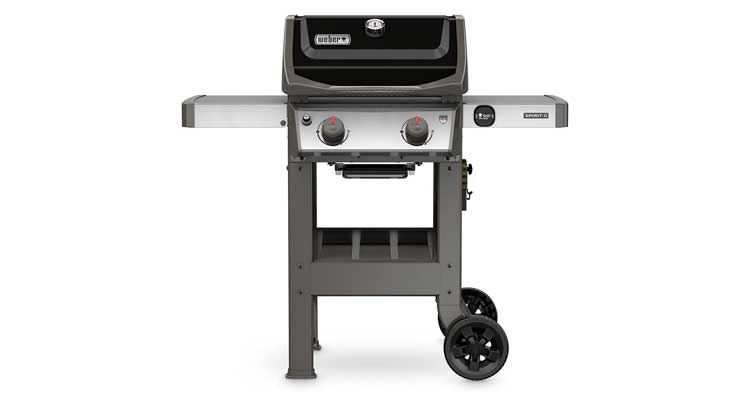 While the Weber Spirit II E-210 shares most of the extras featured in the pricier Genesis 200-300 Weber models, it costs far less.
It features 26,500 BTUs of cooking power, 450 square inches of cooking surface and is backed by a 10-year warranty. Extra features include iGrill 3 compatibility, an easy-to-read fuel gauge, and an efficient tank mounting system that makes refilling your propane quick and simple.
If you like a little pop of color, Weber gives you four choices: red, cream, black, and deep evergreen.
You can expect Weber's signature infinity ignition system, which lights consistently. The Flavorizer bar technology is also a nice addition. It eases cleanup and ensures that your drippings are captured, vaporized, and redistributed, giving food that classic smoky flavor.
If you don't like an open design, you may want to pass on this unit because there isn't a place to hide your tank or keep plates, cookware, and spices out of view.
The Weber Spirit II E-210 also comes with two wheels and two skids, so if you need to move it around, simply lift and roll.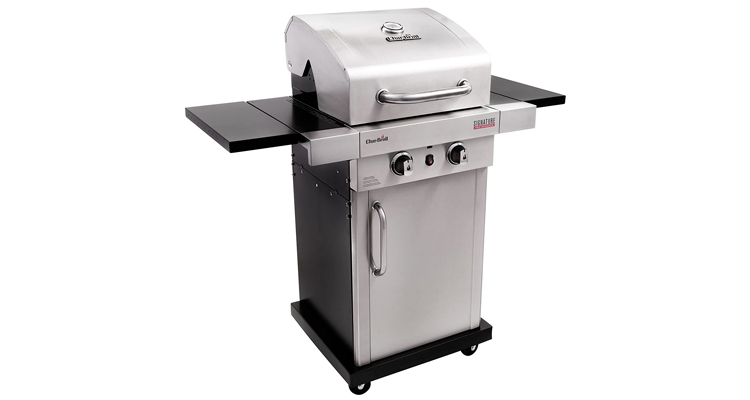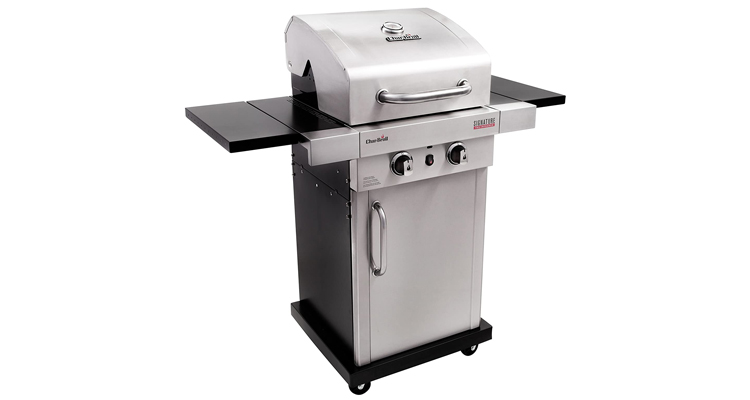 The Char-Broil Signature TRU-Infrared grill may be the best dollar-to-value two-burner grill that I've come across.
True to its name, the TRU-Infrared utilizes a radiant heat source, which means that it's ideal for cold-climate grillers who are on the run.
While the cabinet, emitters, and burners are all made of stainless steel, they are not of marine quality. Considering that, burners, emitters, and lid may discolor over time.
This stainless steel BBQ grill heats up evenly—and does so quickly, achieving a piping hot 750 degrees in under 10 minutes. This is ideal for steakhouse searing but requires some practice with fish and other foods that require low, delicate cooking.
This small gas grill ignites with the push of a button and features 325 square inches of cooking surface, not including the 120 extra square inches you get with the warming rack. Because the grate is porcelain coated, it's rust-resistant and easier to clean.
Char-Broil offers a quick conversion kit, allowing you to use either propane or natural gas if you want to change your fuel source. The cart rests on four casters, and inside you'll find ample storage space to hide your tank and store cooking tools.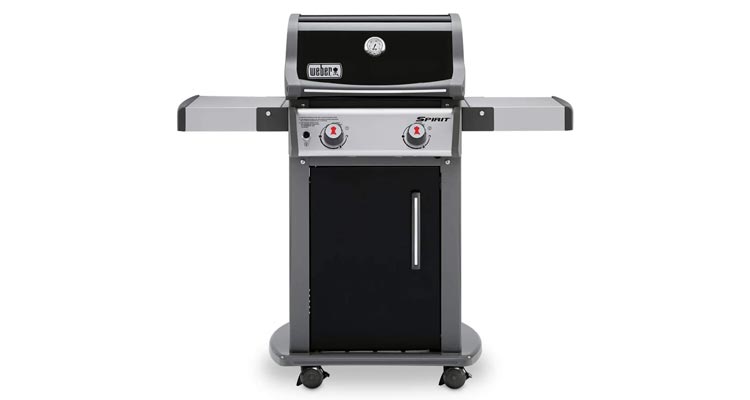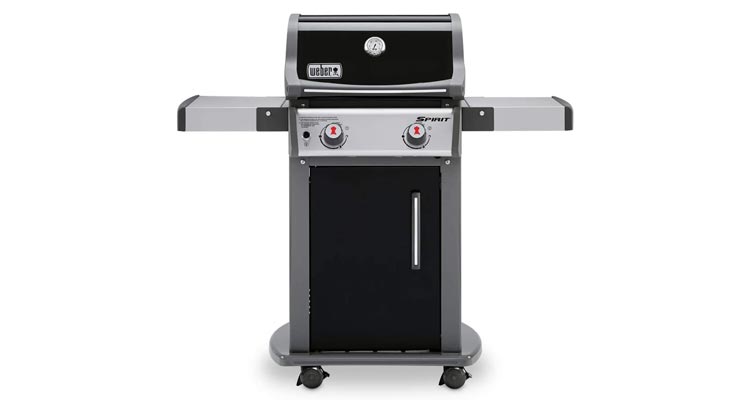 If you have limited grilling space or live in an apartment and don't want your balcony dominated by a grill, the Weber Spirit E-210 may be ideal for you. This compact unit puts out 26,500 BTUs of heat over its 360-square-inch cooking surface.
Additional features include porcelain-enameled cast-iron cooking grates, an electronic crossover ignition system, along with the standardized Flavorizer bar system that vaporizes grease and eases cleanup.
You also get a closed-cart design with this unit, a porcelain-enameled lid with a built-in thermometer, and stainless steel fold-down side tables that give you ample workspace. I also like having access to six tool hooks, which frees up my workspace.
The Weber Spirit E-210 heats up quickly and distributes flame evenly. I set a timer and watched the thermometer rise to 500 degrees in under ten minutes. As with all of Weber's products, finding replacement parts is also easy and can be done through the manufacturer's website.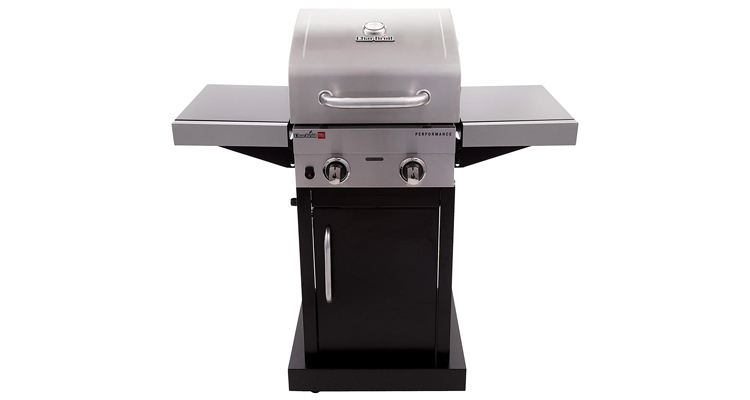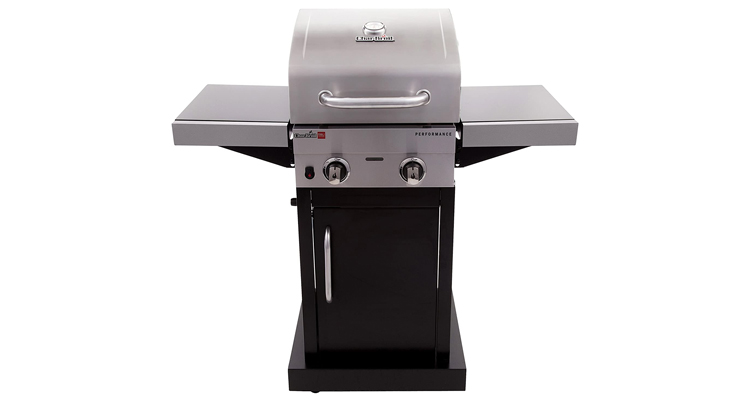 If you're keen on an infrared technology that comes at a consumer-friendly price, the Char-Broil 2-Burner TRU-Infrared  Stainless Steel Gas Grill may be your best choice. It features 325 square inches of cooking surface, porcelain-coated cast-iron grates, and many extras.
These include a lid-mounted temperature gauge, folding side shelves, and integrated LEG lights that illuminate your dials. Also handy are the built-in emitter plates, which help with heat distribution while also creating a barrier between food and flame. As a result, flare-ups are virtually eliminated, and food is juicer.
This unit is equipped with an integrated tank gauge, which allows me to keep tabs on my propane from start to finish. A bonus is that Char-Broil sells a conversion kit so that you can use this unit with either propane or natural gas.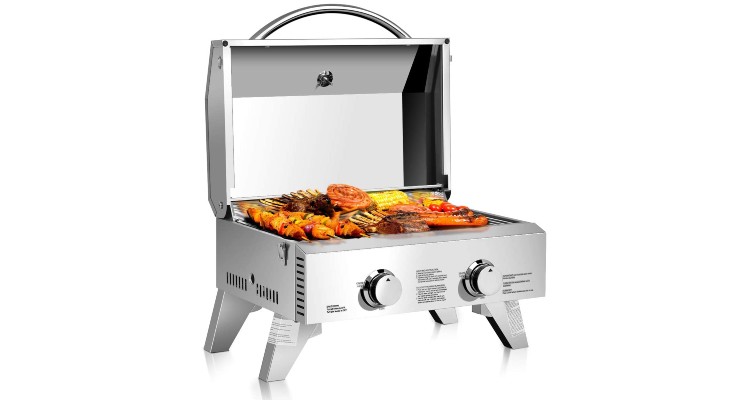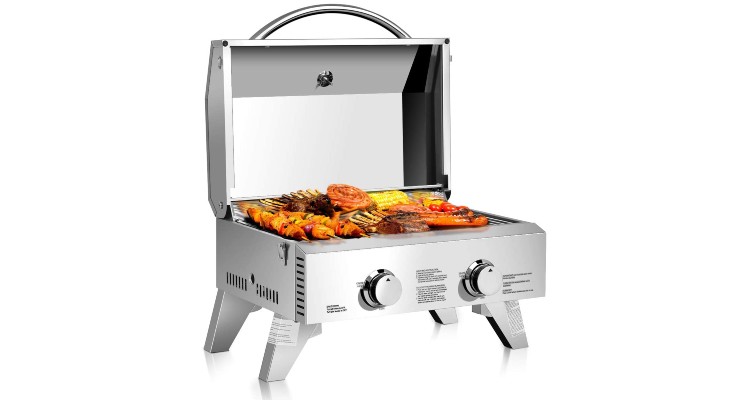 This Giantex two-burner grill is robust but lightweight, making it ideal for travelers. It features 430 stainless steel construction, 20,000 BTUs of flame power, a 266.5-square-inch cooking surface, and weighs only 26 pounds.
The two push-and-turn ignitors light efficiently, allowing you to adjust each burner's heat independently. The foldable legs and locking lid ensure it's easy to stow and go.
Giantex includes all the hardware with the package, so assembly is simple and doesn't require additional tools.
This stainless steel tabletop grill heats up quickly, distributes heat evenly, and cooks well at lower temperatures. You can expect to be grilling at 400-450 degrees Fahrenheit in under five minutes.
I also like how fuel-efficient the Giantex Two-Burner Tabletop Grill is. It uses 1-pound propane tanks, and even while cooking on high for approximately ten minutes, this unit only uses about two ounces of fuel. That means you should get about eight grilling sessions out of one bottle.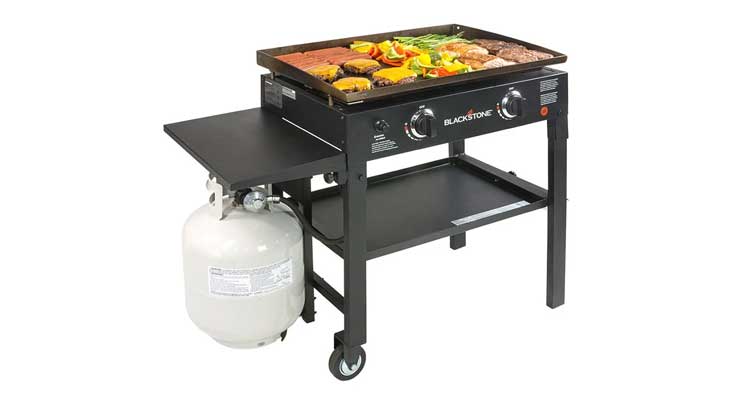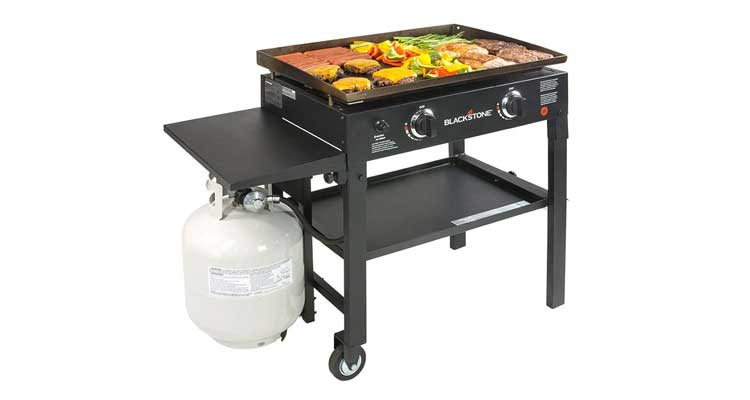 I like the experience and taste that comes with cooking over an open flame, but I've never been a grilling purist. I've made excellent burgers on a griddle, and, truth be told, there have been times when I would have welcomed the versatility of a flat top grill over a traditional flame grill.
If you're feeding large groups and want to expand your menu, the Blackstone 28 inch Outdoor Flat Top Gas Grill Griddle Station may be a wise investment. This unit gives you a flat surface with even heat distribution, making this ideal for cooking a wide variety of foods, including pancakes, bacon, toasted sandwiches, quesadillas, and burgers.
This heavy-duty unit runs on propane, has a heat output of 30,000 BTUs, and provides a whopping 720 square inches of cook area. Four adjustable heat zones make this a versatile unit, so you'll have no trouble cooking different foods and warming others, all on one surface.
The cooktop is made of durable carbon steel, a definite advantage. Just remember to season the cooking surface, just as you would cast iron cookware, to ensure a long life!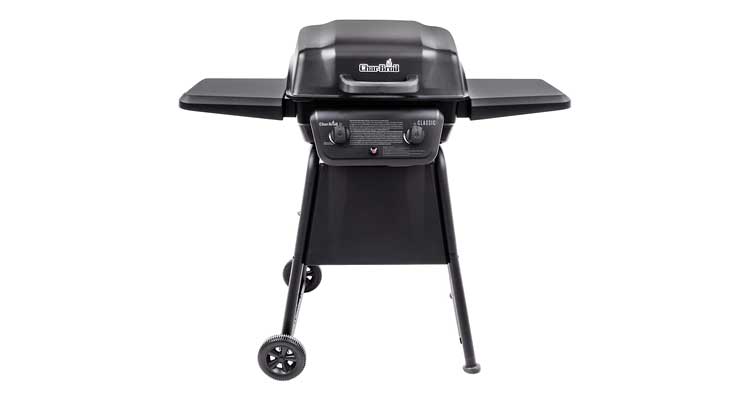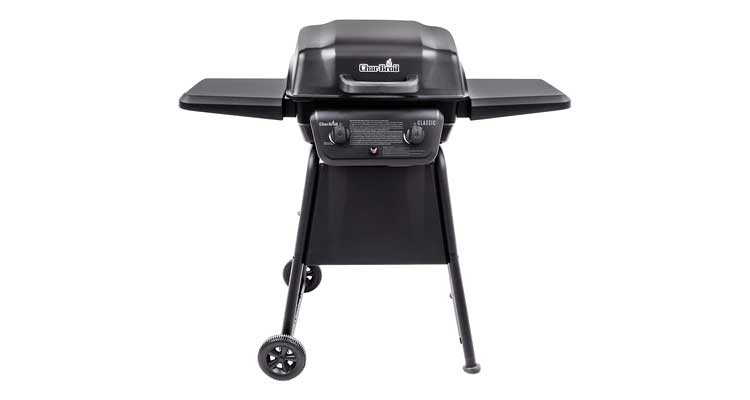 Char-Broil's Classic 280 propane grill delivers 20,000 BTUs of heat across 290 square inches of cooking surface. It also includes an 8,000 BTU side burner, perfect for preparing sides and sauces.
Extras include porcelain-coated grates, two stainless steel in-line burners, a Piezo ignition system, and a side shelf. This grill cooks evenly and drains grease efficiently into a pan.
However, my biggest complaint has nothing to do with the grill's performance. Once assembled, this unit is sturdy and cooks well. However, assembling the grill is a bit tedious and is best suited for four arms, so wrangle a willing and hungry friend!
The Char-Broil Classic 280 isn't going to win any beauty contests, but it is still a solid grill, especially at its price point. I wish that the side burner had a flip lid and was sturdier. I also prefer a closed-cart design or an open design with some sleek design elements. The Classic 280 has neither.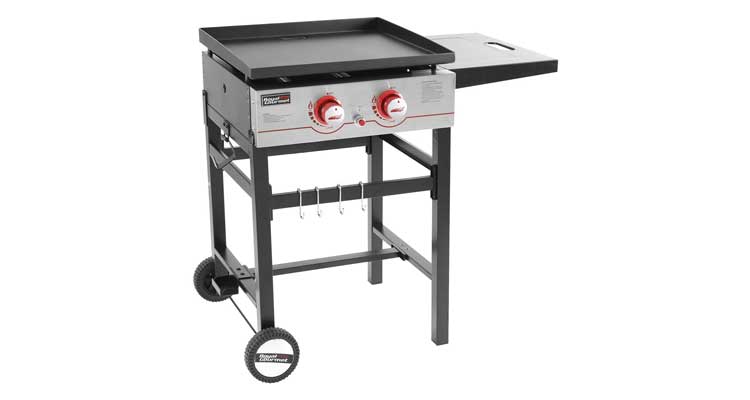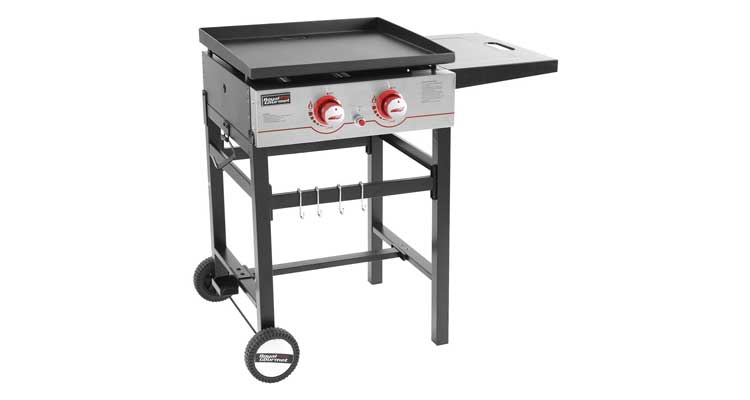 If you're interested in dabbling in the world of propane griddles, the Royal Gourmet GB2000 is a good unit to start with. This 26,000 BTU grill features 486 square inches of cooking space and a flat griddle top constructed of ceramic-coated steel, minimizing maintenance and preventing oxidation.
This is another open-design unit, so it's not going to wow your guests or take center stage as a showpiece. With that said, it is affordable and versatile, giving you the option of cooking everything from breakfast foods to stir-fries and steaks, all in one place.
The Royal Gourmet GB2000 features two independent control burners with an electronic ignition system. The large, detachable grease trap works efficiently and cleans up nicely. The addition of a side table means that you have extra space when it comes time to plate your food. I also like having hooks for my grilling tools, which frees up even more workspace.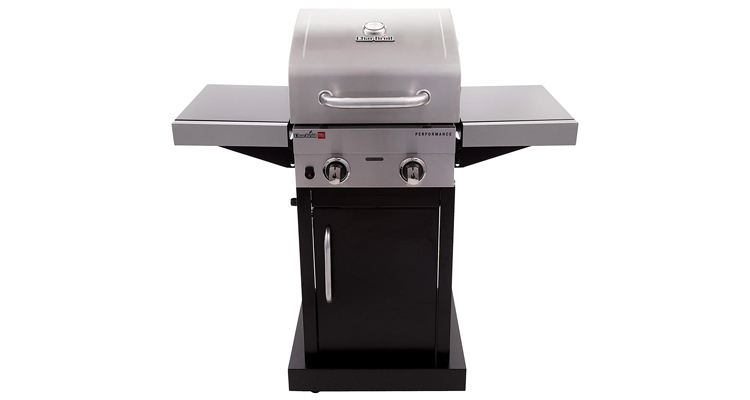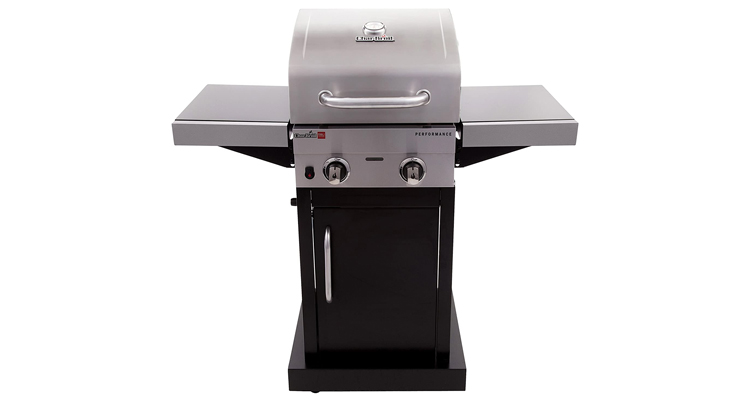 The Char-Broil Infrared 2-Burner Gas Grill is a compact high-heat machine that virtually eliminates flare-ups across its 420-square-inch cooking surface. Because it utilizes infrared technology, it heats up quickly and distributes flame evenly from its durable stainless steel burners.
This unit boasts 24,000 BTUs of heat output and a 10,000 BTU side burner for sautéing or preparing sauces. The unit is slim and sleek. I also like that the two side tables are collapsible for easy stowing.
Now for the downside. Cleaning this unit requires you to remove the grates every two or three uses because the plates end up clogging with grease and sauce. This is an infrared grill, so unlike traditional grills, drippings have nowhere to go but onto the gas plates. Another con is that you cannot actually see the flames, so you won't know it immediately if a burner goes out.
I like that this unit puts out a lot of heat, distributes it evenly, and cooks well at lower temperatures. The closed-cart design is also sleek. With that said, maintenance is high with this unit, so plan on cleaning the plates frequently.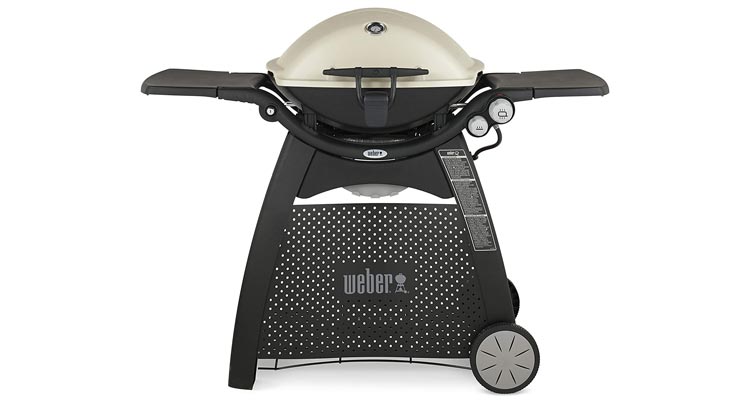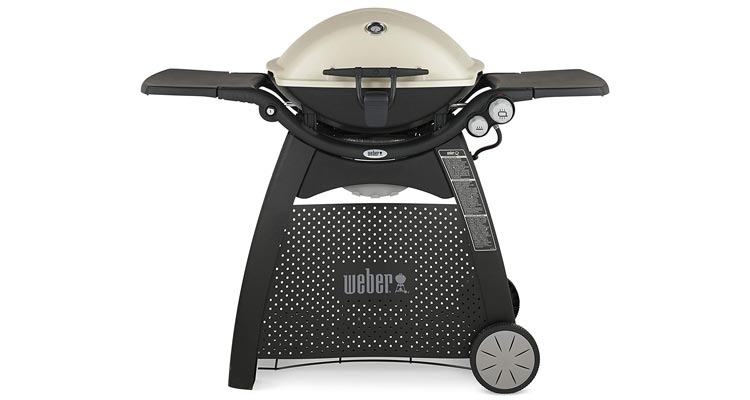 The Weber Q3200 is a mid-priced propane grill that is sleek, sturdy, and compact. With this unit, you get 462 square inches of cooking surface, 21,700 BTUs of heat, a warming rack, and a few extras.
Weber restyled this model in 2014, adding a larger grip handle and control knobs, plus ergonomic side handles. The collapsible slide tables and the front and rear cradles have been reinforced to increase strength. Additionally, the split-grate design allows you to choose your cooking surface and switch between grate and griddle.
The list of shortcomings on the Q3200 is pretty short. I like the overhead handle light, but even with minimal use, battery life is short. The bottom of the grill is constructed out of "thermoplastic," so be diligent about turning your grill off after each use.
This is an obvious safety measure, of course. I only bring it up because the thermoplastic cannot withstand excessive heat for prolonged periods of time.
Extras include a built-in thermometer and a grill handle light, perfect for evening grilling. Also included are three tool hooks and a porcelain-enameled cast-iron cooking surface. This is technically an open-cart design, but the stylish, perforated screen looks modern and obscures the propane tank.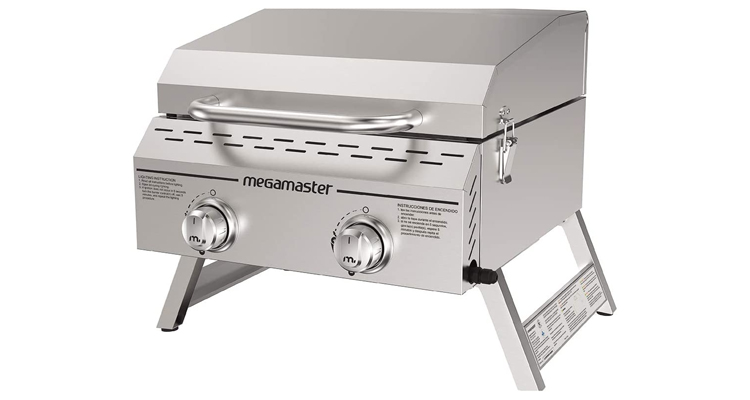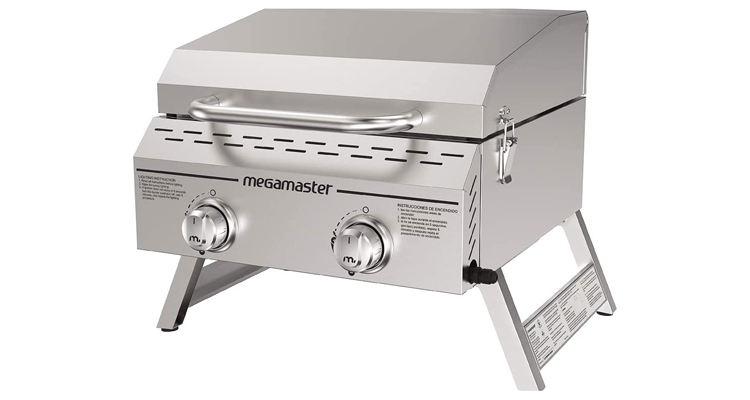 This portable two-burner grill is built for adventure. It's compact, robust, weighs only 18.9 pounds, and features top-to-bottom stainless steel construction. With it, you get 16,000 BTUs of heat that evenly distributes over 199 square inches of grate surface.
Megamaster designed this grill to travel where and when you want. All you have to do is lock the lid, fold up the legs, stow, and go. I'm also impressed that I can set this up on virtually any level surface (even plastic folding tables) without ever having to worry about damage. Even after sustained use on a plastic surface, the grill doesn't leave marks or residual hot spots.
I'm struggling to come up with a list of complaints, but here is one. This is a portable unit, so I was surprised that I needed to purchase an adaptor to use it with 1-pound propane bottles.
The standard adaptor is intended for 20-pound propane tanks, which I don't travel with.
When you consider the price (this is one of the lowest-priced units on the list) and the fact that it's made of stainless steel, I had no issue with spending a little extra cash on the adaptor.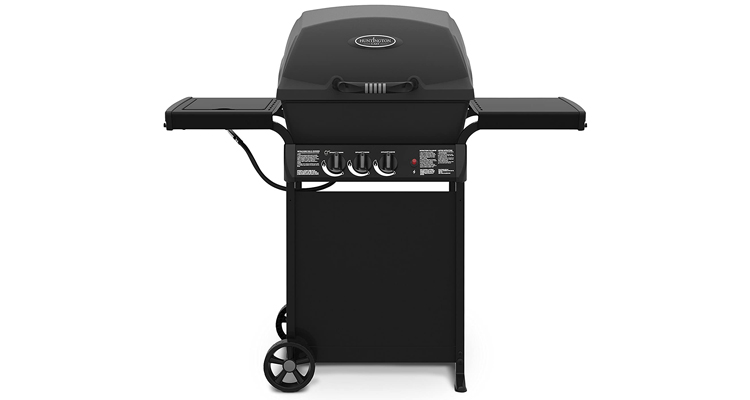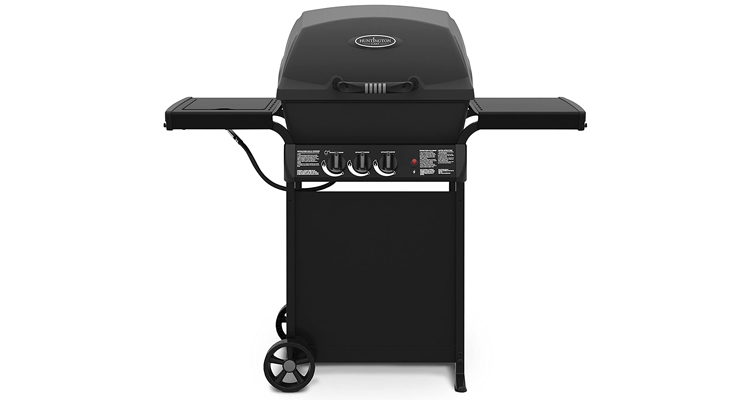 The Huntington 2-Burner Gas Grill will never be a showpiece, but it is a solid, American-made grilling machine that does what it was intended to do.
Absent are the bells and whistles, but this grill box does have 420 square inches of cooking surface, a robust 40,000 BTU stainless steel burner system, and a porcelain-coated cooking grid.
This is technically a closed-cart system. However, instead of cabinet doors and extra shelving, Huntington kept to its utilitarian design so while the propane tank is out of sight thanks to the aluminum screen, absent art cabinet doors, and extra storage space.
If you're a no-frills griller and want American-made hardware that's backed by a five-year warranty, Huntington's grill may be an ideal choice for you.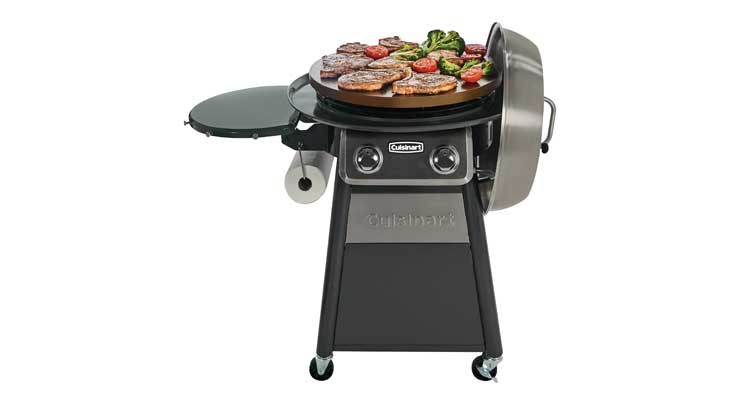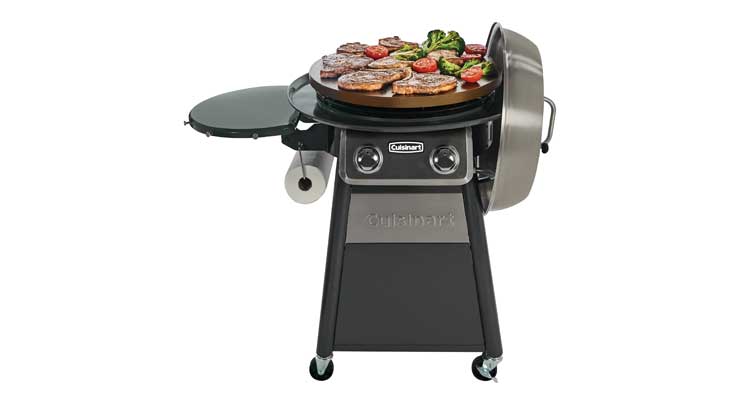 The Cuisinart's CGG-888 is a sixty-pound, 360-degree griddle-and-grill-combo piece. I like its retro-futuristic design and circular cooking radius, which means I can access food from any angle without being restricted by a hinged lid.
This is a versatile griddle-grill unit, so if you like cooking a variety of foods but don't want to give up the open flame, this grill is an ideal choice—especially at this price point. The CGG-888 puts out 30,000 BTUs across its 22-inch radius. Because each burner is controlled independently, you can easily create cooking zones that range from 200 to 500 degrees.
Additional features include a grease pan—which surrounds the grill's perimeter—and a no-fuss grease cup.
The side table is small, but I like that it folds away and includes an integrated paper towel holder.
The vented cover, too, is a nice addition to this grill. Thanks to this system, you can fry, steam, roast, or simply keep your food warm.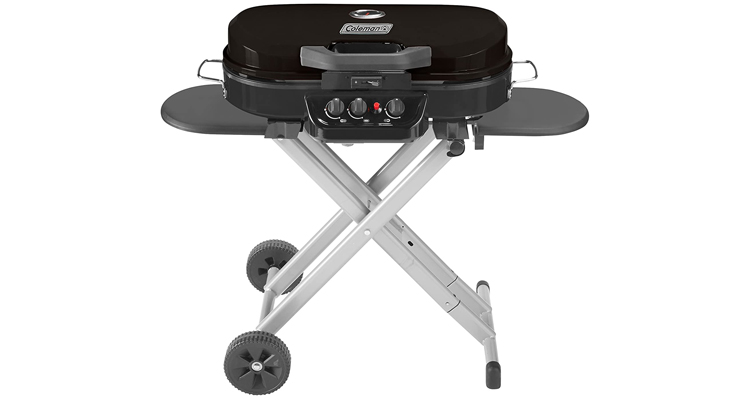 If you're a griller on the go and looking for a rugged, portable unit but don't want to sacrifice on size or heat output, the Coleman RoadTrip 285 may be your best bet.
This grill weighs in at under 50 pounds and transports effortlessly thanks to the quick-fold leg system that transforms your cooking rig into a rolling piece of luggage.
The RoadTrip 285 features 20,000 BTUs of cooking power and 285 square inches of grilling space, which is generous considering that this is a travel rig. Leave your matches at home because this grill features push-button lighting. Also worth mentioning is that the Roadtrip 285 comes in five colors: red, blue, green, orange, and black.
Coleman also designed this grill with creative cooking in mind. To that end, they've included an integrated thermometer and cast iron grates that interchange with griddle and stove grates. This means that you can cook breakfast, lunch, and dinner foods all in one place.
Coleman backs this grill with a three-year limited warranty.
What is the best 2 burner gas grill?
So what is the best 2 burner gas grill? That really depends on your budget and needs. Taking those two things into consideration, here's my verdict:
If you like grilling at home as much as you do when you're on the road, I'd recommend the Coleman RoadTrip 285. It's sturdy, lightweight, easy to move, and collapsible. I like that this grill folds up into a rolling piece of luggage and doesn't break my back—or my wallet for that matter!
With 285 square inches of cooking surface and solid heat output, I find that I'm not making any significant sacrifices, especially because I can use this grill at home or when I'm on the road.
For those who appreciate design and versatility, I recommend the Cuisinart CGG-888. I like its unique 360-degree design, which separates it from the pack. Having the option to griddle or grill also makes this unit appealing. The CGG-888 is also lightweight, easy to clean, and has nice even heat output.
Happy grilling!
Related content you might like: