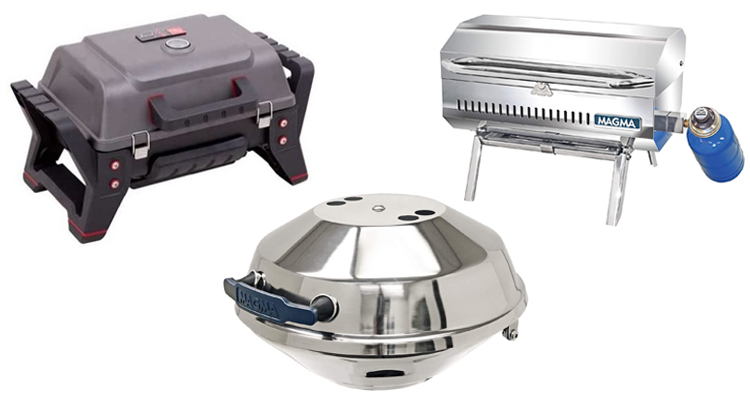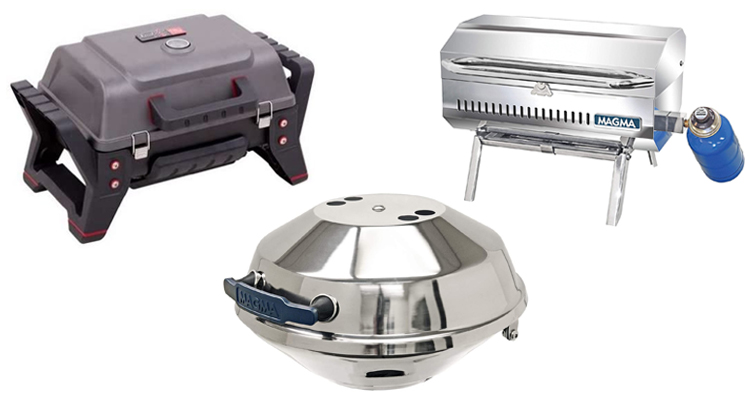 Pontoon boat grills are a great feature to have that combines two of my favorite activities: boating and barbecuing.
Like many of you, I've transported home grills to the dock and tried various camping and RV grills over the years. But I wanted a convenient, permanent solution designed just for boating.
Luckily, grill manufacturers continue to upgrade their designs and manufacture grill options specifically for maritime use.
There are many options on the market, but I'm going to help you narrow down your choices by highlighting 11 of the best pontoon boat grills out there.
In this guide, I cover a variety of grill styles, break down each unit's specs, and discuss the pros and cons of each one.
The Top 11 Best Pontoon Boat Grills for 2023
Here is my list of the 11 best pontoon boat BBQ grill options available in the U.S., Canada, Australia, and the U.K in 2023. I'll start with the 3 best overall choices, then go into the best options for different needs.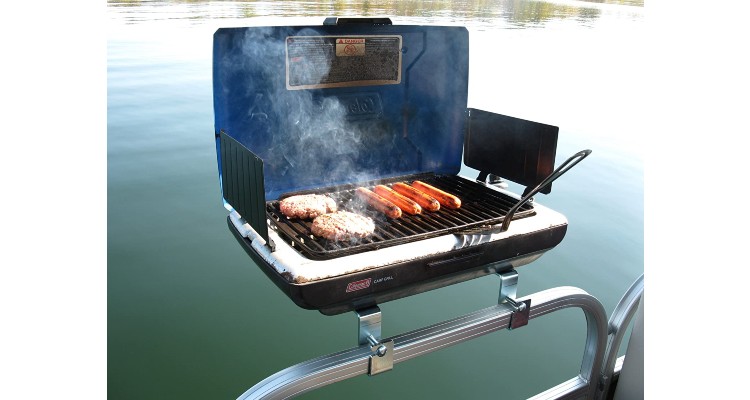 If you already own a flat bottomed grill (or are thinking about purchasing one) and are tired of moving it around your deck because it doesn't have a designated home, Arnall's Pontoon Grill Bracket Set is a great solution.
Before you buy, take note that this bracket set was designed for open fence railings and is, from the research I've done, compatible with the following flat bottomed grills:
Once you've checked for grill compatibility, take a quick measurement of your railing system. If it is open, square, and no more than 1.25" inches, Arnall's bracket set will work for you.
Now on to specifics. This bracket set simplifies the setup and stowing process. Just line up your brackets on the railing, tighten down the bolts, and you've got a fantastic pontoon BBQ grill setup. The takedown is just as easy.
This bracket set is built to last. Arnall constructed this set out of zinc electro-plated steel, which resists salt, sun, rust, and corrosion, so no matter where your pontoon boat goes, this bracket set is going to last.
The set comes with all the fittings and fixtures you need to mount the unit to your grill. The brackets were cut and drilled with most flat bottomed grills in mind, but a little drilling is required if yours doesn't fit.
This is a small project that shouldn't intimidate you. Line up the brackets, mark your holes, drill, and you're done.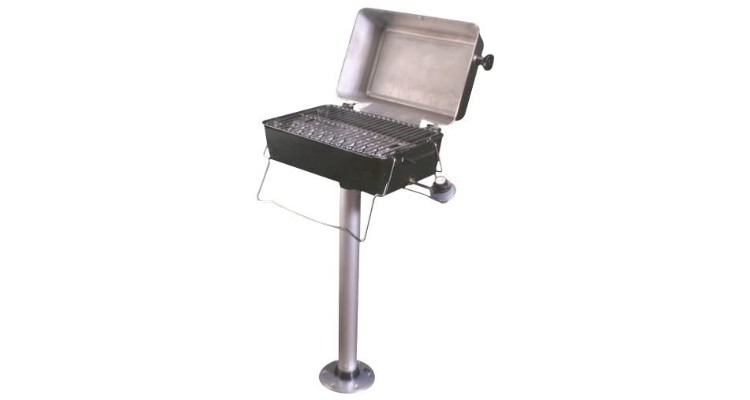 The Springfield Marine Gas Grill is compact but powerful enough to help you feed a crowd.
With this unit, you get 189 square inches of cooking surface and an output of 12,000 BTUs. Not bad, especially when you consider its price and versatility.
If you want a permanent home for this grill, mount it to the wobble-free thread-lock post that Springfield includes with the grill.
Want to grill on land? This is not a problem. This grill easily detaches from the stand and is equipped with legs that allow you to transport and cook on any flat surface. Worth mentioning, too, the legs fold up into a convenient carrying handle, which makes traveling with this 12-pound grill light and easy.
A bonus is that the top of this gas grill for pontoon boats works as a solid 130-square-inch griddle.
I like this grill, but it would only be fair to point out its shortcomings. In my experience, the heat distribution on this unit can be uneven. You'll get plenty of heat in certain areas of the grill, but it doesn't always spread across the entire grid surface.
Another shortcoming is that this unit takes time to heat up and isn't entirely wind resistant, which is not ideal for open-water situations. The heat shield is a bit thin, and you'll have to bring along a lighter or matches because this grill doesn't have an ignitor.
With that said, if you manage your expectations and take into account the cost, weight, portability of this unit, plus the fact that you don't have to spend extra money on a stand or mounting brackets, this unit is a worthy choice.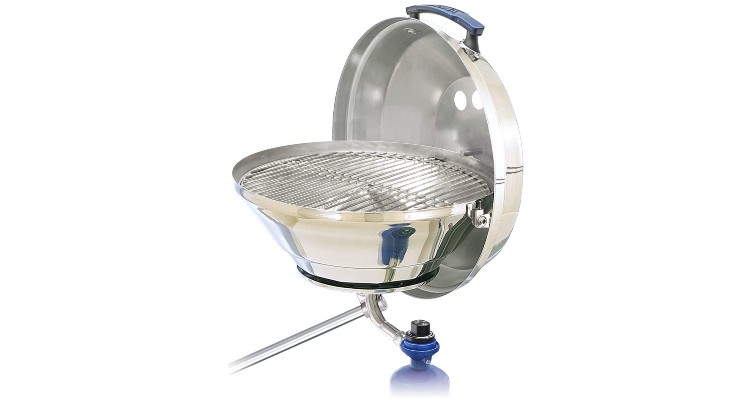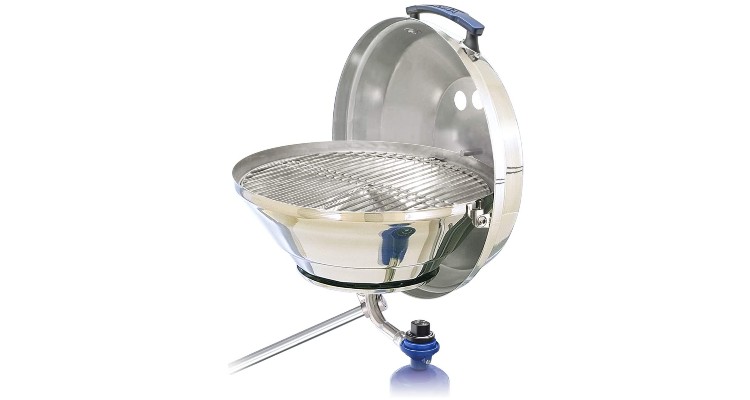 I discussed the virtues of stainless steel propane grills here. I'll discuss them again here because the Magma Marine Kettle Gas Grill comprises 100 percent 18-9 mirror polished stainless steel.
When you buy stainless steel, you not only get a handsome piece of hardware, you're also investing in a grill that is built to withstand sand, salt, rain, snow, sun, and continuous use.
This unit is constructed from stainless steel, has 189 square inches of cooking space, and an output of 12,000 BTUs.
The built-in grease-catch pan makes it easy to clean—and if you're on open water, the baffle helps reduce wind and increases heat retention. Since this is a marine grill, Springfield designed a hinged lid that won't slam. I also like the "stay cool" handle, air-cooled supports, and other extras. These include a swiveling, windproof turbo venturi and control valve that nearly eliminates blowouts on windy days.
Unlike other grills for pontoon boats, this one has the versatility in cooking at a lower heat, which prevents overcooking and dry dishes. The side handle also eliminates the need for hot pads when you want to check on your food or remove the lid altogether.
I also like that the bowl and lid are rotatable, transforming them into a built-in windscreen ideal for gusty afternoons.
On Sale
MAGMA Products, Party Size Marine Kettle Gas Grill, A10-215
Made of 100% 18-9 mirror polished stainless steel with a combination "easy to clean" grease catch pan / wind baffle
Hinged lid won't slam shut and has a "stay cool" handle with air cooled supports
Swiveling, windproof turbo venturi & control valve virtually eliminate blowouts, places the fuel valve where it's safe and...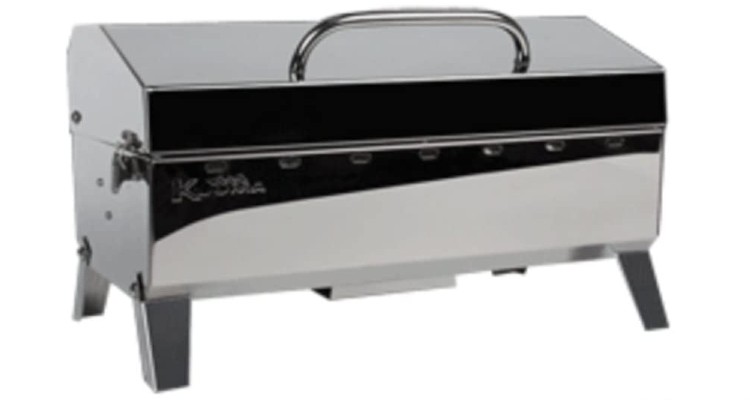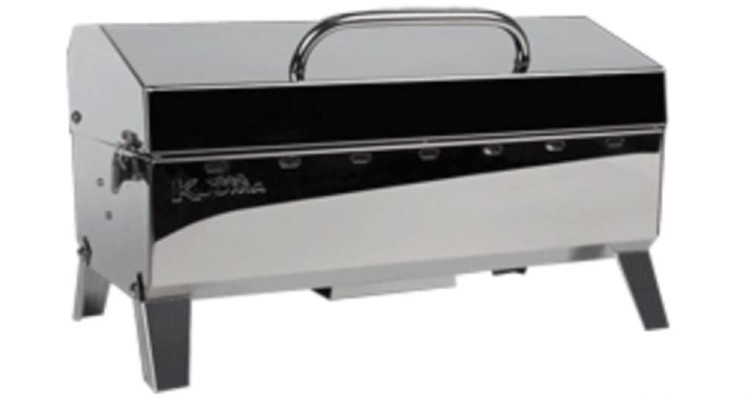 True to its name, the Kuuma Stow N Go 160 Marine Grill is an ideal package for boaters on the go. At only 16 pounds, this stainless steel grill has 160 square inches of cooking surface and 16,000 BTUs of heat output.
I like the versatility of this unit. The collapsible legs make storing this unit easy—plus, I always have the option of transporting the grill so I can cook on any flat surface. If you want to clear space on the deck, Kuuma makes it easy. All you need is a Jumma rail, rod, or pedestal mount, all of which can be purchased separately.
This grill is designed for use with disposable one-pound propane canisters, but if you swing by your local hardware store for an adaptor, you can use a larger refillable tank. Since I use this in tight spaces, I continue to use small canisters.
I'll give the Stow N' Go a hat tip for its even heat distribution, sturdy construction, and portability. However, the one downside is that even on its lowest heat setting, cooking requires consistent monitoring, which is not ideal when I'm captaining a pontoon boat.
Because of this, I found myself having to turn the grill on and off during cooking to keep my burgers from burning. This may be particular to my unit, but I have read about others having similar issues.
With that said, at this price point, there's little to criticize, especially when you consider that this grill is built to last.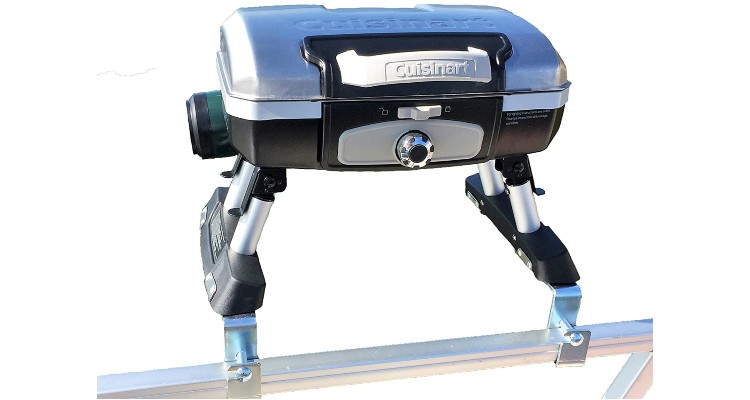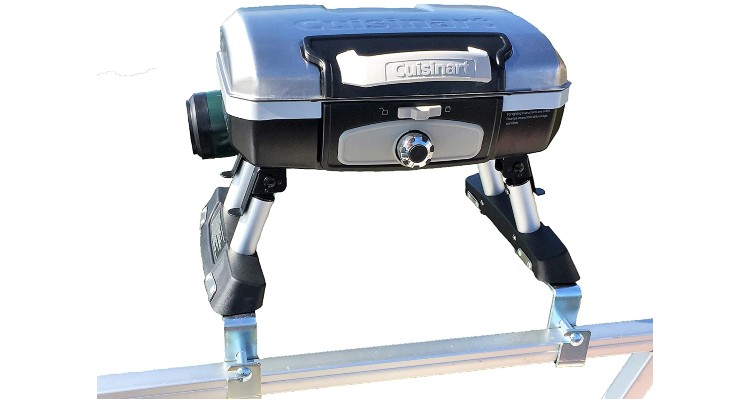 If you choose Cuisinart's grill, you'll be happy to know that it has been modified for and also includes Arnall's Pontoon Grill Bracket Set. That means no drilling or mounting rails to your grill. Just unbox, grab your fuel, and hit the lake.
Cuisinart's grill weighs in at 18 pounds, mounts to 1.25" rails, and has a 145-square-inch cooking surface. Here are a few things I like about this grill. The unit itself is sturdy, and unlike many portable marine grills, this one has a solid propane tank mount instead of a delicate wand.
Having the flexibility that comes with being able to mount this grill over the side of my boat is another of its virtues. This means that I free up deck space while also ensuring that I keep my boat clean. This grill doesn't drip excessively, but since I mount it over the side of my boat, any excess grease runs off directly into the water.
I also give this grill an extra nod because it comes pre-assembled and has an ignition switch that works on the first try. This grill is great for taking this grill on the road, and the sturdy legs give you that option. You shouldn't have any trouble with this grill, but Cuisinart provides a three-year warranty if you do.
I haven't had trouble with dripping grease, but, to be fair, I tend to use this grill most when it is mounted to a railing. I've found that the grease tray works sufficiently, but if you don't plan on mounting this over the side of your boat, this grill may not be ideal for you.
On Sale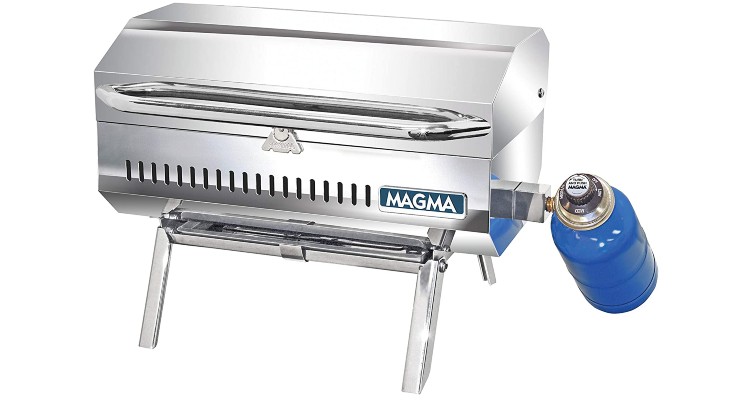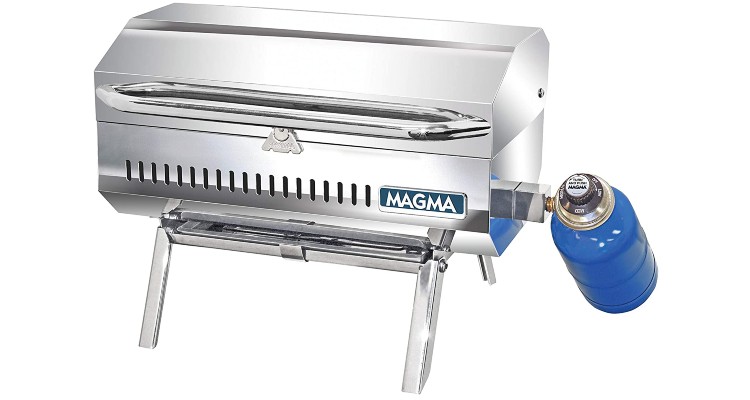 The Magma A10-803 is made from 100 percent 18-8 mirror polished stainless steel, giving you a sturdy setup that includes 162 square inches of cooking surface and 11,200 BTUs of heat.
True to its name, Magma's grill heats up fast, cooks evenly, stows, sets up, and cleans easily. Magma has put this design through wind tests, so I wasn't shocked that cooking in 7-10 mph wind didn't keep me from cooking fantastic food.
Because of its stainless steel construction, I've been able to use this in all kinds of weather. It has seen plenty of salt, sun, and rain, yet there is still no sign of rust.
Additional perks include fold-away legs and an oversized (yet balanced) lid that locks. The inner safety shell routes grease into a tray, easy to remove and clean. This grill is also built with a convenient snap-out radiate plate, which helps with heat distribution and minimizes cleanup. Another bonus is the swiveling valve, which makes storing and swapping out propane bottles quick and easy.
The likelihood of flare-ups is significantly reduced because of the lined safety shell. I also like the locking lid, which eases transportation and ensures that the lid never slams shut.
This grill is mountable, but you'll have to purchase Magma's rail system if you want to free up deck space and eliminate all grease spills. That brings me to one of the downsides of this grill.
If you flip over the grill, you'll notice that Magma uses a high-temperature silicone to seal the bottom seams. Over extended use, this seal may wear out. If you want to avoid any chance of spillage, I recommend splurging on the mounting system.
On Sale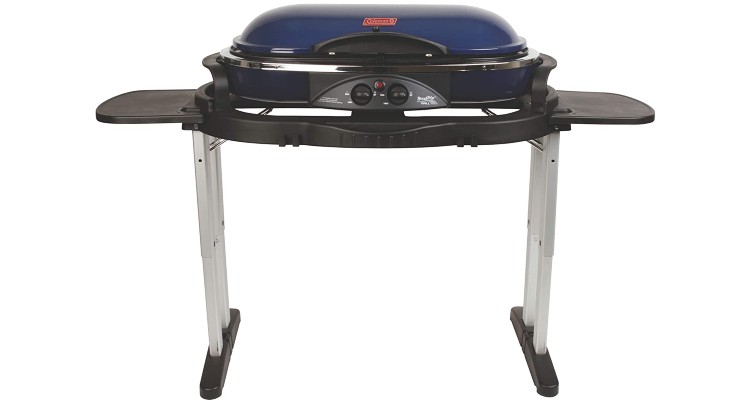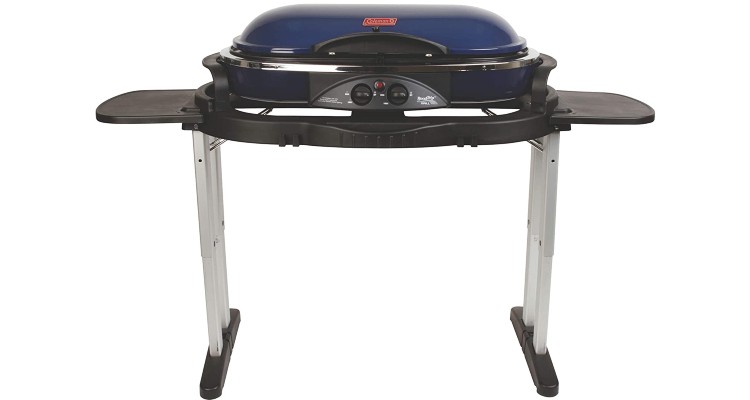 Weighing in at 50 pounds and built with a 285-square-inch cooktop, the Coleman RoadTrip XL lives up to its name. This is really designed for camping and road trips. However, it's a versatile unit and works on land just as well as it does on water.
This two-burner grill puts out 20,000 BTUs of heat and utilizes Coleman's Swaptop design, allowing you to interchange the grill and stove grates with a griddle top. You'll have to purchase these separately, but I like having the choice of three unique options in one space.
Leave your lighter at home because this unit comes with a push-button ignitor. Because of its PerfectFlow technology, this grill works well in various conditions, even cold weather. I also like that each burner dials in independently.
Unlike other models, this one was designed for serious grillers.
In its design, Coleman included ample side table space and tool hooks. One of my favorite features is the collapsible stand, which doubles as a tabletop and can be used independently of the grill.
Propane life is solid, and the drip pan makes cleanup simple. The included aluminum grates aren't indestructible, but they cut down on the weight of a unit that already clocks in at 50 pounds and doesn't rest on a wheeled cart.
This grill is intended for use with small propane tanks, as you'll notice from the angled adaptor. This isn't an issue for me, but you might have to make adjustments if you intend to use a larger propane tank.
Coleman RoadTrip LX Collapsible Propane Grill with 2 Adjustable Burners, Side Tables, & Push-Button Ignition, 20,000 BTUs of Power for Camping, Tailgating, Grilling, & More
Portable propane grill ideal for tailgating, picnicking, and camping
Delivers 20,000 btus of heat with 2 independently adjustable burners
Swaptop interchangeable cooktops allow you to switch out grill grates for griddles or stove grates (sold separately)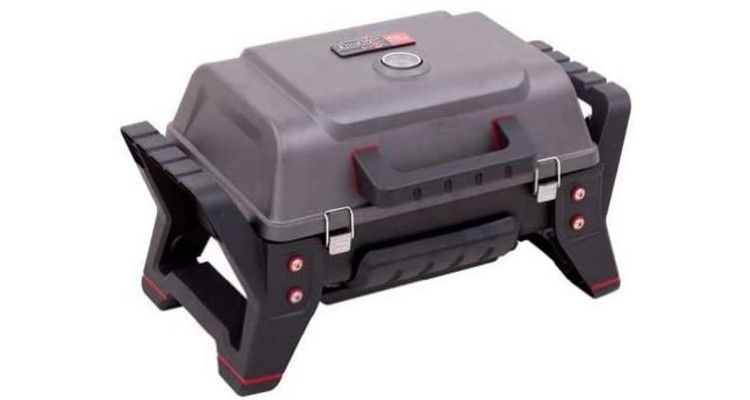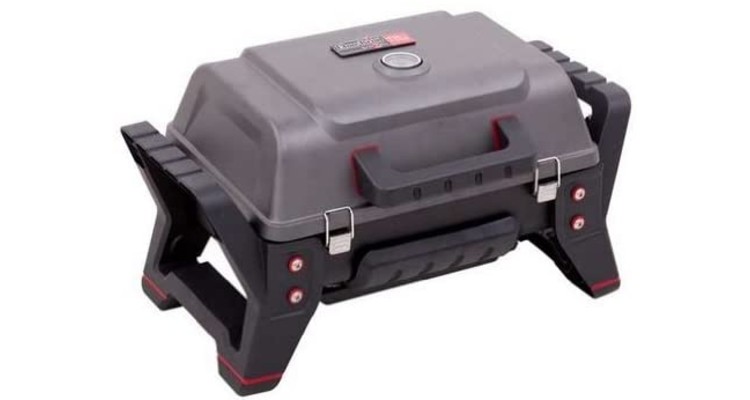 The Char-Broil X200 Portable Gas Grill isn't going to win any beauty contests, but what it lacks in looks it makes up for by its sturdiness and extra features.
This road warrior comes housed in a cast-aluminum firebox. The lid securely latches and houses a built-in temperature gauge.
The unit rests on a high-impact frame with legs, has carry handles, and weighs in at only 20 pounds. In my experience, the grill's 200-square-inch cooking surface accommodates about eight burgers, making this a good option if you like to entertain groups.
The grates are constructed out of stainless steel to avoid flare-ups thanks to Char-Broil's TRU-Infrared design, which spreads heat evenly and creates a barrier between your food and flame.
Now for the downside: I like that this grill puts out a lot of heat, but it doesn't like to cook at lower temperatures. I tend to sear my meat quickly, but this may be a problem if you cook low and slow.
There is an easy solution to this, but it will require a hardware store trip for a new control valve and brass adaptors. In total this shouldn't cost more than $20. Once you make this simple adjustment, you'll be able to dial in your flame exactly how you want it.
Another drawback is that you need to be diligent about cleaning, seasoning, and drying the grates. Treat this like a cast-iron skillet. Otherwise, it'll rust on you.
On Sale
Char-Broil Grill2Go X200 Portable TRU-Infrared Liquid Propane Gas Grill
GAS GRILL: Powered by liquid propane gas, this grill runs on a 1-pound propane gas tank, not included. It reaches cooking...
COOKING TECHNOLOGY: The Amplifire cooking system grills juicier food, eliminates guesswork and prevents flare-ups. Our...
COOKING AREA: Grill up to 8 burgers, 4 chicken breasts or 12 brats on the 200-square-inch grate.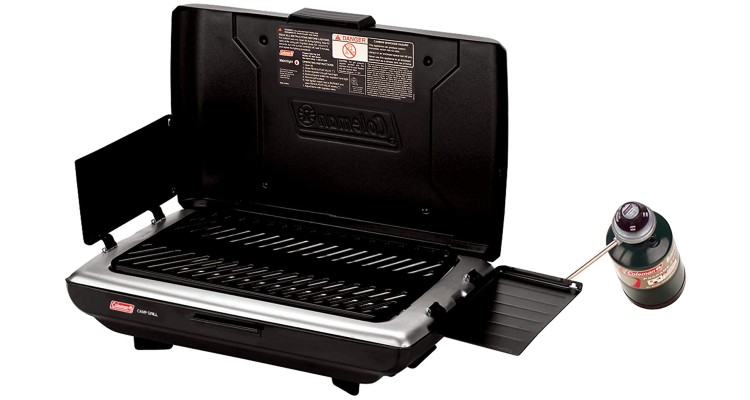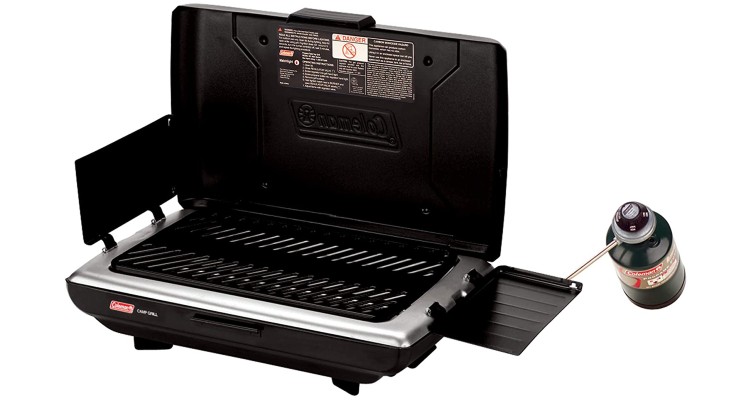 The Coleman Camp Propane Boat Grill puts out 11,000 BTUs of heat across its 180-square-inch cooking surface, giving you plenty of room to cook, even in windy weather. That's because Coleman's lid can be locked in place by two wind panels.
This grill only weighs three pounds, so let that tell you how sturdy (or unsturdy) this little unit is. If you're looking for a lightweight and economical piece of equipment, this may be a practical purchase. However, if you are looking for long life and plan on using this grill frequently, you may want to look elsewhere. Here's why:
While the chassis quality and overall size and weight of this grill are similar to other portable Coleman stoves, the lid is particularly thin. It tends to buckle when opening and closing. That's not a deal-breaker for me, but my list of cons doesn't end here.
Even after a single use, the grate warped and wouldn't sit evenly on the grill top. After it cooled, the grate did recalibrate itself and now sits flat, allowing me to close the lid. Another thing to consider is that you cannot close the lid while cooking. The wind guards help, but you'll always end up losing a lot of heat because of this.
On Sale
Coleman Propane Camping Grill, Portable Camp Grill with Wind Guards, Pressure Control, Adjustable Power, & Drip Tray; 11,000 BTUs of Cooking Power for Camping, Tailgating, Grilling, & More
Versatile outdoor grill ideal for camping, hunting, and tailgating
Delivers 11,000 btus of heat across 180 sqaure inch of grilling surface
Wind block panels shield burners from wind and fold down for use as side tables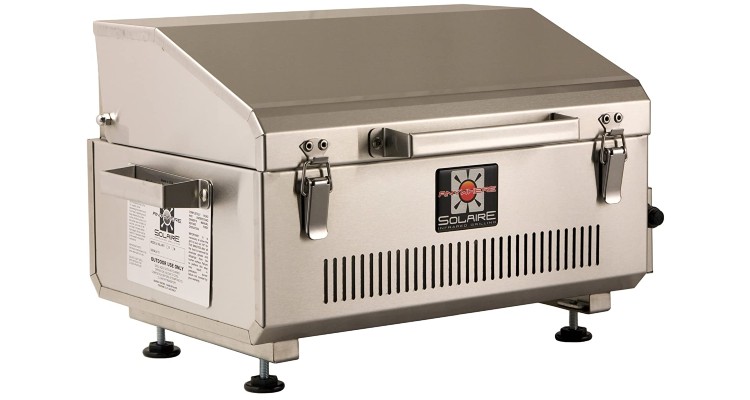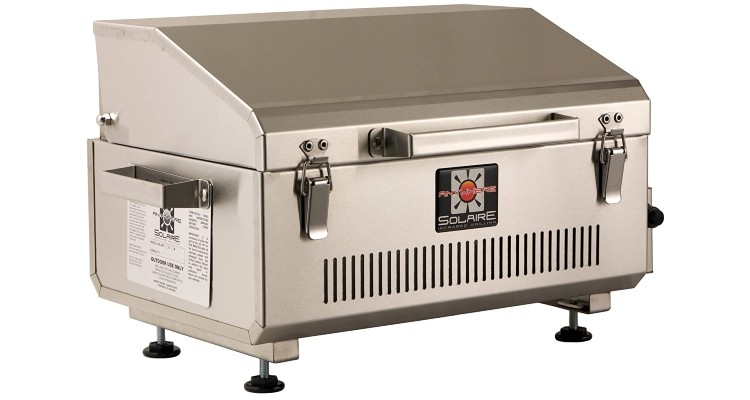 The Solaire Anywhere Infrared Propane Gas Grill falls into what I consider the "boutique" category of marine-grade grills. It's the highest-priced unit on my list, but in terms of cost, it's still within reach for the average person. This is definitely one of my favorite grills on the market.
This grill is made from stainless steel, making it as sleek as it is sturdy. With it comes 155 square inches of cooking space and 14,000 BTUs of heat. Plus, there's an infrared burner, giving you the ultra-high heat professional chefs need to lock in juices and quickly sear meat.
Since this grill is made from marine grade 316 stainless steel, it won't rust in extreme weather situations or deteriorate if you're boating in saltwater.
This grill weighs only 20 pounds inside the included carrying bag, making it easy to stow and transport. I like the locking lid and the V-shape stainless steel grids that help reduce flare-ups and even heat distribution.
If there is a downside, you cannot close the lid while you cook. However, the saving grace is that this grill cooks like a champ on low, medium, and high settings.
If you want to mount your grill, Solaire sells the hardware kit, plus additional conversion kits that allow you to use natural gas. This unit is made in the USA and comes with a one-year warranty.
Solaire Anywhere Portable Infrared Propane Gas Grill, Marine Grade Stainless Steel
Portable infrared grill with electronic push-button ignition; uses 1 pound propane cylnders (larger tank with optional...
155 square inches of grilling space (fits eight 4-inch hamburgers); 14,000 BTU/hour; 61.1 Infrared Intensity Index
Stainless steel (marine grade) welded construction; bottom rails accept a variety of Solaire accessory mounts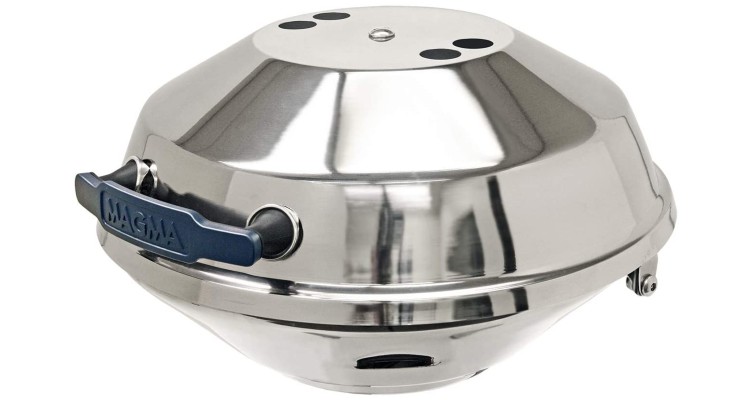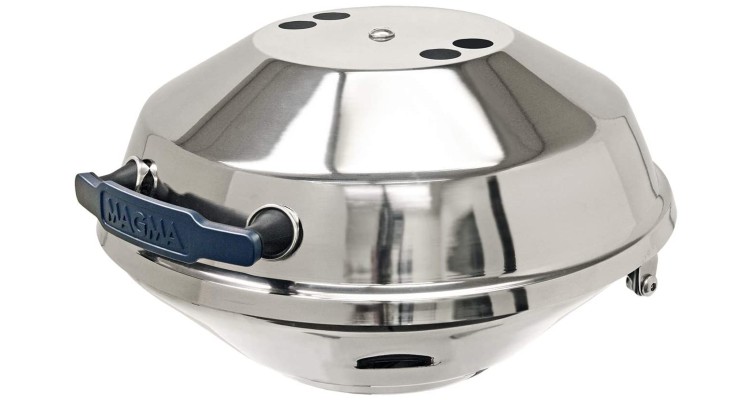 If you're a charcoal champion and like stainless steel and a sleek retro-futuristic design, Magma's Marine Kettle Charcoal Grill may be the one you've been looking for.
The box is constructed out of 100 percent 18-9 mirror polished stainless steel. So that you never have to reach for a hot pad, Magma added a "stay cool" plastic handle with air-cooled supports.
This grill scores points for its durability and looks. Plus, it has 177 square inches of cooking space and a hinged lid that won't slam shut. With that said, this unit is reasonably priced—but for a few dollars more, I'd be more likely to upgrade to a propane grill.
What is the best grill for a pontoon boat?
So what is the best pontoon boat grill for you? Ultimately, that depends on your budget, needs, and preference.
If money were no object, I'd spring for the Solaire Anywhere Infrared Propane Gas Grill. While it's pricier than the other grills on my list, it is still affordable.
Because it's made from marine-grade stainless steel, making it rust-resistant, it will withstand tough weather without deteriorating.
Plus, it has an infrared burner that produces ultra-high heat quickly. Not only that, it is lightweight, comes with a travel bag, cooks well on low-high settings, and can be mounted. You may never need it, but don't forget that the Solaire also comes with a one-year warranty.
For those who want a robust system that can be used on land or water, I suggest the Coleman RoadTrip XL. It's only 1/3 the Solaire price, has a 285-square-inch cooktop and puts out 20,000 BTUs of heat.
I also like this unit's versatility, allowing you to interchange grill and stove grates with a griddle top. Plus, there's a collapsible stand, which doubles as a tabletop and can be used independently of the grill.
Happy grilling!
Related content you might like:
Chris Johns
Chris Johns is the founder of Rock's Barbecue® and has been an avid barbecue fan for over 20 years. His mission is to make grilling and smoking the best food possible easy for everyone. And each year, he continues to help more people with grilling, smoking, and barbecue recipe recommendations.