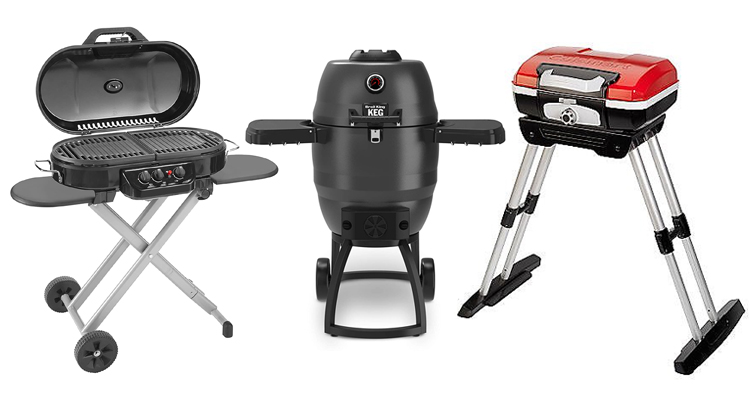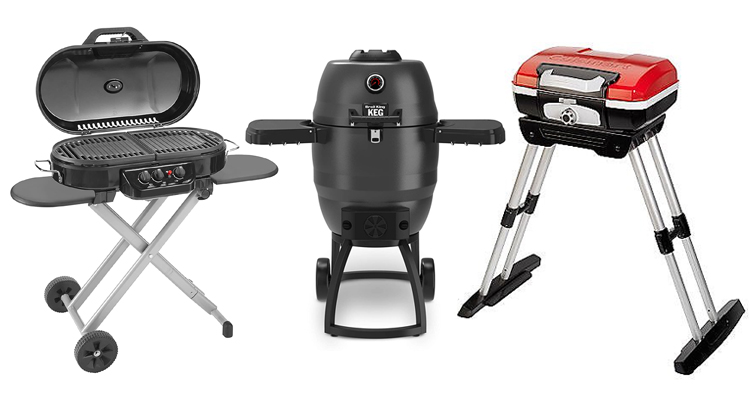 A tailgate grill can transform your entire game-day experience. A tailgate party helps unite family and friends, allows them to catch up, reminisce, share their love of a favorite team, and enjoy some delicious tailgating food.
Over the years, I've used many portable grills for tailgating, and I can say with confidence that not all of them are created equally.
Whether you choose to grill with charcoal or propane or even prefer the searing power of an infrared grill, this review of the best tailgating grills will help you choose the model that's right for you.
In this guide, I "tackle" a variety of portable gas grills for tailgating, breaking down the pros and cons of each unit to ensure that you have the best game-day grilling experience possible!
The 10 Best Tailgate Grills for 2023
Here is my list of the 10 best tailgating grills in the U.S., Canada, Australia, and the U.K in 2023. I'll start with the top 5 overall choices, then go into the reviews and best options for different needs.
Throwing a memorable tailgating party requires planning—and even more heavy lifting. While the Coleman RoadTrip 285 can't help you plan your menu (or remember to bring that one item you knew you'd forget!), Coleman did design a grill that will save your back.
Weighing in just shy of 50 pounds and built with 285 square inches of cooking surface, the Coleman RoadTrip 285 is a fold-up and roll grill that's perfect for tailgating.
This grill has 20,000 BTUs of cooking power, a push-button ignitor, and all of the signature cooking technology that comes with the Coleman RoadTrip XL, but with a couple of significant upgrades.
The RoadTrip 285 is not only lighter than the RoadTrip XL, but it also has an extra burner. In addition to that, Coleman designed the RoadTrip 285 with quick-fold legs and wheels, making setup, stowing, and transporting the grill quick and simple.
While the lid does lock for roll-away transport, the mechanism will wear out over time. As a quick remedy, I use a bungee strap to secure the lid when moving it from one location to another.
Coleman's Swaptop design allows you to interchange grill and baking grates with a griddle top. This gives you the flexibility to cook various foods that will feed your tailgating guests from kickoff to conclusion.
I also like that this unit comes in five color choices: black, blue, red, orange, green.
The RoadTrip 285 is equipped with two side tables, three independent burner controls, and porcelain-coated iron grates that are sturdy and easy to clean.
Ultimately, this grill is intended for use with small propane cylinders, as you'll notice from the angled adaptor. However, if you travel with a larger tank, you can purchase an affordable adaptor here.
The RoadTrip 285 is an admirable piece of cooking machinery for a few reasons. First, it has a large cooking surface and heat output that rivals home grills—but with a bonus: this grill collapses and easily rolls between your patio and the stadium. The griddle-combination also means greater cooking flexibility. Additionally, the built-in side tables give you the kind of prep space that you're not going to get with other tailgating grills.
On Sale
If the Weber Q2200 looks vaguely familiar, that's because it retains the shell and specs of the Q220 but has a few upgrades that simplify transporting your grill to and from the stadium.
Upgrades include a larger grip handle and control knobs, extra side handles, sturdier front and rear cradles, and larger fold-out side tables that have been reinforced.
Tailgating is often an all-day affair that begins before the game and carries on long after it ends.
Because of that, I like having the ability to diversify my cooking options.
Since the Q2200 doubles as a grill and griddle, the options are endless. Simply swap out your easy-to-set grates with one of Weber's compatible griddles and give your tailgate guests a choice of breakfast foods, grilled sandwiches, or burgers.
The improved lid design allows enough space to accommodate small roasts and birds, which is ideal for Thanksgiving game day!
This 50-pound grill puts out 12,000 BTUs of flame across 280 square inches of cooking area, making it ideal for at-home use and grilling on the go. Leave your matches and lighters at home; this unit comes with electric ignition.
Also, if you prefer to use a 20-pound propane tank instead of smaller, disposable cans, Weber offers an affordable LP adapter hose option. This grill comes with a stainless steel burner and cast-aluminum lid and body, ensuring it is as lightweight as rugged.
Extras include a glass-reinforced nylon frame, a removable grease catch pan, and an infinite-control burner valve. Assembly only requires a Phillips screwdriver and five minutes of your time.
This grill heats quickly and distributes it evenly. In my test, it reached 450 degrees Fahrenheit in six minutes. After opening the lid, quickly flipping my food, and then closing it, the grill resumed its previous temperature in less than 30 seconds.
The Q2200 is ideal for grillers who need a large cooking surface and like to prepare various foods on game day. Remember, this unit doubles as a griddle and grill, plus it has an extra-large lid. As a result, you'll be able to cook everything from breakfast foods and burgers to roasts and large birds.
On Sale
The Cuisinart CGG-180T may be petite but still packs plenty of cooking power beneath its stainless steel hood.
With 5,500 BTUs of firepower and a 145-square-inch cooktop, you can still cook for a small family or small group. I estimate that this grill accommodates up to eight steaks or 10 chicken breasts at once.
This tabletop gas grill is affordable, efficient, and great for on-the-go grilling, but it's not perfect. I've used this unit with great success, but I suggest monitoring the plastic lock handle, especially if you are cooking with the lid closed at high temperatures. The lock is plastic, so it may melt. I suggest leaving the lid open when cooking on high.
When I'm tailgating, I like to keep my load as light as possible. This grill clocks in at 17 pounds. Another selling point (literally!) is that this unit costs ¼ the higher-end units' price.
This grill will never be a showpiece, but it distributes heat evenly, sets up quickly, and is easy to clean. I like that I can remove the grate—and the fact that it is dishwasher safe.
Set up can be done in three steps: simply unfold the legs, remove the grill latch, attach your one-pound propane tank, and twist your burner knob to ignite. When you're done, repeat the process in reverse, grab your grill by the handle, and go.
If you like your grill to have a little pop of color, you'll be happy to know that the Cuisinart CGG-180T is available in black, red, and silver. Another virtue is that this grill goes easy on propane and has a spill-resistant drip tray that's quick to clean.
For those who are tailgating on a budget and looking for a unit that is lightweight, efficient, and sturdy enough for casual grilling, the Cuisinart CGG-180TB is a good option.
On Sale
If you are a grilling traditionalist or just miss the aroma and classic smoky flavor you only get when you cook with charcoal, the Weber Jumbo Joe is a fantastic portable option.
This is a no-frills piece of grilling hardware, but it does have one convenient extra that most portable charcoal grills don't: the tuck-and-carry lid lock. This modification serves two purposes.
Not only does it keep your porcelain-enameled bowl and lid together when you're traveling to the game, but it also positions your hot lid off to the side during cooking. This frees up space and guarantees that your lid never touches the cement in that stadium parking lot.
The inner heat shield is also a nice touch. It ensures that the grill retains heat while keeping the outside lift handle from becoming a burn-risk.
The Jumbo Joe is rugged, just as I'd expect from Weber, and comes with plated steel cooking grates, an aluminum ash catcher, and 18 inches of cooking space. The grill is only 18 pounds, making it easy to transport.
The dampers are also a handy feature that ensures easy temperature control inside the grill.
Charcoal may take longer to heat up than propane grills, but you can drastically reduce prep time by purchasing one of Weber's RapidFire chimney starters.
Simply place your chimney on your grill grates, add newspaper, then charcoal, light, and sit back. Within 15 minutes, you'll have piping hot coals and a heck of a lot of flavor potential.
The Jumbo Joe is an ideal choice for charcoal-grill lovers looking for a compact, affordable, and lightweight grilling solution built to last.
On Sale
Weber Jumbo Joe Charcoal Grill 18 Inch Black
Travel with taste, or grill up a quick meal on your patio with the Jumbo Joe portable charcoal grill. The compact size with...
Holds up to eight burgers made with a Weber burger press
Compact and lightweight for grilling on the go
The Solaire SOL-IR17BWR is a lightweight yet heavy-duty infrared grill that boasts 14,000 BTUs of cooking power and a 140-square-inch cooking area.
If you're new to infrared grills, you're in for a treat. Unlike traditional grills, infrared units use a radiant heat source. This ensures that the grill reaches its maximum heat level quickly (in under three minutes) and will not go out in gusty weather—which I've experienced plenty of when I'm tailgating.
If you like the intensity and searing power you get with charcoal but want to have more control, less mess, and virtually zero risks of flare-ups, this grill may be an ideal choice.
This unit is built with Solaire's signature V-Grate technology. This design ensures that extra grease and sauces are caught, vaporized, and infused back into your food. Spills, drippage, and flare-ups are nearly eliminated—and as a result, food is juicier, and cleanup is virtually nonexistent.
This grill is made from 304 stainless steel and includes an integrated warming rack and a carrying bag with three pockets for storing one-pound portable propane bottles.
The Solaire SOL is nearly ready to use right out of the box. Simply attach the handles and adjustable feet with six bolts (included), grab your propane, and hit the electric ignitor. In three minutes, your grill top will be ready for steakhouse searing.
This 20-pound grill is made in the USA and features ceramic and stainless steel burners. If you like a little flexibility, you'll like that you can switch between one- and 20-pound propane tanks by picking up Solaire's adaptor. If you prefer cooking with natural gas, Solaire makes a conversion kit for that too!
If you're looking for a sleek, durable grill that heats up fast and stays lit (regardless of the weather conditions), the Solaire SOL is a fantastic option. Worth mentioning, too, this grill is manufactured in the USA and is backed by a one-year warranty.
As you may have guessed, Weber's Go-Anywhere gas grill is a heck of a lot like the company's Go-Anywhere charcoal unit—but with one obvious upgrade: propane.
You get the same compact design, identical manufacturing materials, and the same porcelain-enameled grill grate for only a handful of dollars more.
Because of the extra hardware and modifications made to accommodate propane, this unit weighs five pounds more than Weber's Go-Anywhere charcoal grill. Other than that, you're looking at identical grills.
Choosing between charcoal and propane isn't as much a matter of economics as it is taste, literally. I like the convenience of cooking with propane—but I can't deny the flavor that charcoal gives my food.
If you are tailgating on a budget and appreciate the convenience of cooking with propane, the Weber Go-Anywhere propane grill is an obvious choice.
The Weber Q1000 is an 8,500 BTU grill that offers 189 square inches of cooking surface housed in a solid cast aluminum body. This unit is ideal for camping and tailgating, but it's also a fantastic solution for apartment dwellers and grillers with limited space.
This tailgate propane grill has an automatic electric start and includes a two-piece, porcelain-enameled cast-iron cooking grate and a stainless steel burner. With the help of its cast aluminum lid and infinite burner valve, this grill evenly distributes cooking power.
If you are an impatient griller, be warned: it takes 15 minutes for the Q1000 to reach its peak heat level, which is about 500 degrees Fahrenheit.
The frame and handles are built from glass-reinforced nylon. Also included is a removable grease catch pan that makes cleanup simple. Those who prefer to grill than assemble will appreciate that the Q1000 is ready to use straight out of the box.
This camping BBQ grill is designed for use with one-pound propane tanks, but as is the case with all of Weber's propane grills, an adaptor allows you to switch to a 20-pound tank easily.
The Q1000 is lightweight, easy to clean, and a good choice for casual grillers who want a compact grill that they can use at home or the game.
On Sale
Weber Q1000 Liquid Propane Grill, Titanium
One stainless steel burner produces 8500 BTU-per-hour to heat 189 square-inch total cooking area
Porcelain-enameled cast-iron cooking grates and cast aluminum lid and body
Fully assembled out of box. Dimensions - lid closed (inches): 14.5H x 27W x 16.5D inches
The Broil King Keg 5000 is built to last and packed with extras – and the price tag reflects it! This charcoal grill features an insulated double-walled steel body that retains heat and ensures even distribution across its 280-square-inch cooking area.
Additional features include an insulated steel design, cast iron top damper, aluminum lower damper, all packed in a coal-saving design. This grill uses half the coal that other grills its size do. Cleanup is made simple thanks to a removable steel ash catcher.
This grill weighs 126 pounds, which may initially scare tailgaters away. But keep in mind that this grill has two wheels, making it easy to move. It was also designed with a handy, load-lightening hitch adaptor that feeds directly into the back of the grill. This means that you'll never have to lift your grill into the truck bed!
Other extras include a chrome swing-away secondary rack for toasting and warming, detachable side tables, and a removable steel ash collector. This grill is built to last—and it shows, from top to bottom. It has a cast-iron damper, an aluminum lower damper, and a reinforced gasket.
Whether you want to cook low and slow or use high heat to sear and bake, the Broil King allows you to do so. Worth mentioning, too, the grill top and cooking space are ample enough to accommodate large, whole chickens and turkeys.
There is a slight learning curve with this grill, but once you figure out how to dial your top and bottom venting system in, temperature control is a breeze.
A 10-year warranty backs the grill body. The rest of the unit, including paint, is covered by Broil King's two-year warranty.
The Broil King Keg 5000 is ideal for serious charcoal grillers looking to make a long-term investment. It is the most expensive grill on the list, but its robust design, large cooking area, transportability, and 10-year warranty make the price tag entirely justifiable.
Broil King 911470 Keg 5000 Kamado Grill, 18.5-IN Diameter, Metallic Charcoal
DESIGNED FOR DURABILITY AND PERFORMANCE - the Keg features an insulated double-walled steel grill body that retains heat and...
COOK MORE, USE LESS CHARCOAL - with its insulated steel design, cast iron top damper, aluminum lower damper, and heavy duty...
QUICK & EASY CLEAN UP - a removable steel ash catcher makes it quick and easy to clean out excess ash from your grill; unlike...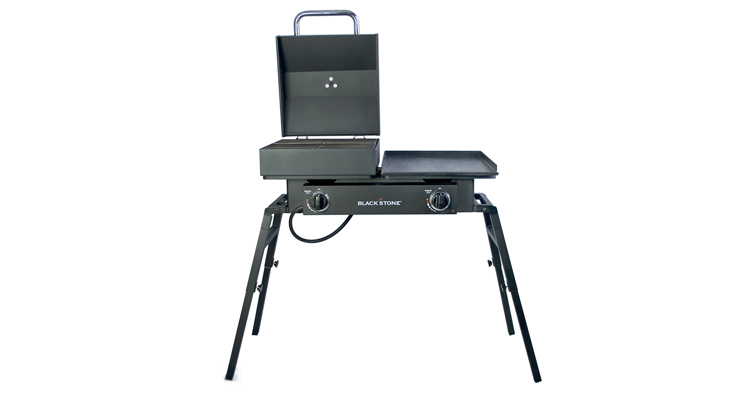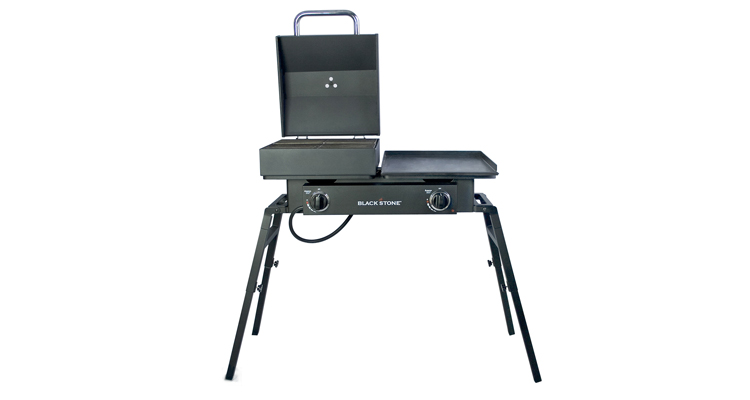 The Blackstone Tailgater is a grill-griddle combo unit that uses two independent burners and puts out 35,000 BTUs of combined power across its 512-square-inch cooking surface.
As the name suggests, this propane gas grill was made to travel and cook on the go—and Blackstone's efficient design proves it.
Stadium parking lots come in all conditions: I've grilled in muddy lots, grass fields, and cracked and uneven parking lots, making finding a level piece of ground tricky. The Blackstone was designed to remedy these situations. Because the legs on this grill are independently adjustable, you can adjust to uneven terrain and grill whenever and wherever the game takes you.
This may be a portable grill, but it doesn't behave like one—or feel like it either. This is both good and bad. When I'm standing behind the Blackstone, I feel like I'm cooking on a far more expensive unit than I am.
It's well-designed, versatile, and heavy-duty (emphasizing the heavy). With that said, this unit weighs 75 pounds and, because there isn't a roll-away feature, you can feel every bit of that when you are moving it around.
This grill uses two different burner styles. The combination of H-tube and cast-iron burners means that you can cook unique food styles simultaneously. Use the grill box for cooking up to 500 degrees while simultaneously using the griddle. Or remove both and open up space for pots and pans.
The Blackstone Tailgater is as versatile as it is durable. The grill grates are constructed from cast iron, and the griddle top is made from cold-rolled steel to withstand harsh weather.
If you need high heat, an extra-large cooking area, and a desire to cook more than just brats and burgers, the Blackstone Tailgater is a solid choice. The adjustable legs also make this unit ideal for the unpredictable terrain tailgaters often encounter.
The Weber Go-Anywhere is a budget-friendly, no-nonsense charcoal grill ideal for small tailgating parties. This is the most affordable grill on my list, but it bears the Weber name, so I was confident that it would live up to the company's reputation. It does, as long as you manage your expectations.
If you're a tailgater looking for a small gas grill that still gives ample cooking space (160 square inches, to be exact), this may be the unit for you. This Weber tailgating grill is lightweight yet rugged, thanks to its plated steel legs & grate and steel-plated lid and base.
It's also worth mentioning that both the inside and outside of the lid and base are coated with black porcelain enamel. This coating is baked onto the steel so that you won't experience flaking or deterioration over extended use.
The lid locks—and at only 8.8 pounds, this grill is feather-light and designed for easy stowing. This grill also features two heat-resistant handles and two dampers, which allow you to dial in adequate airflow and ensure even heat distribution.
The Go-Anywhere is perfect for casual grillers who love the flavor of charcoal cooking, have a limited budget, and want a unit that is extra lightweight yet durable.
On Sale
Weber Go-Anywhere Charcoal Grill, Black
Holds up to six burgers made with a Weber burger press
Compact and lightweight for grilling on the go
Porcelain-enameled lid and base retain heat, and won't rust or peel
What is the best portable grill for tailgating?
So what is the best portable gas grill for tailgating? Ultimately, that depends on your budget, needs, and preference.
For those who like a good steakhouse sear, virtually instant heat, and a wind-proof grilling experience, I recommend the Solaire SOL-IR17BWR infrared grill. It's the priciest grill on the list, but as I see it, this small tailgate grill can also be used at home.
It's made from stainless steel, comes with a travel bag, and only weighs 20 pounds, making it a true tailgate warrior. This grill also looks as good as it performs, so I wouldn't hesitate to use it as my primary home grill.
The Solaire infrared is built for use with disposable propane bottles, making it ideal for tailgating. A bonus is that Solaire offers a choice of two conversion kits, giving you even greater flexibility by allowing you to cook with larger propane tanks or natural gas.
At half the Solaire infrared price, the Coleman RoadTrip 285 is my runner-up choice. This grill weighs 50 pounds, has twice as much cooking surface as the Solaire, and was built specifically for the road.
Setup is easy, and if you're cooking on uneven surfaces, you'll appreciate being able to adjust the legs to compensate. I also like that this unit collapses into a stow-and-roll-away package that transports like a smooth piece of luggage.
A bonus is that the Coleman RoadTrip 285 doubles as a griddle and grill, giving me greater flexibility when I'm at the game. Because tailgating usually turns into an all-day affair, I like to start by cooking breakfast foods and switch to burgers and brats in the afternoon. The RoadTrip 285 allows me to do this.
I recommend the Weber Go-Anywhere propane grill for part-time grillers on a budget. It bears the trusted Weber name and, for the price, it doesn't disappoint. This grill has 160 square inches of cooking space, weighs only 13 pounds, and is made out of steel from top to bottom.
If you like the taste and slow-burn experience that happens when you use a tailgate charcoal grill, I recommend Weber's Go-Anywhere charcoal unit. It has identical specs as its propane counterpart with a couple of exceptions: it uses charcoal (obviously!), weighs a little less, and is cheaper than any other grill on my list.
Happy grilling!
Related content you might like:
Chris Johns
Chris Johns is the founder of Rock's Barbecue® and has been an avid barbecue fan for over 20 years. His mission is to make grilling and smoking the best food possible easy for everyone. And each year, he continues to help more people with grilling, smoking, and barbecue recipe recommendations.