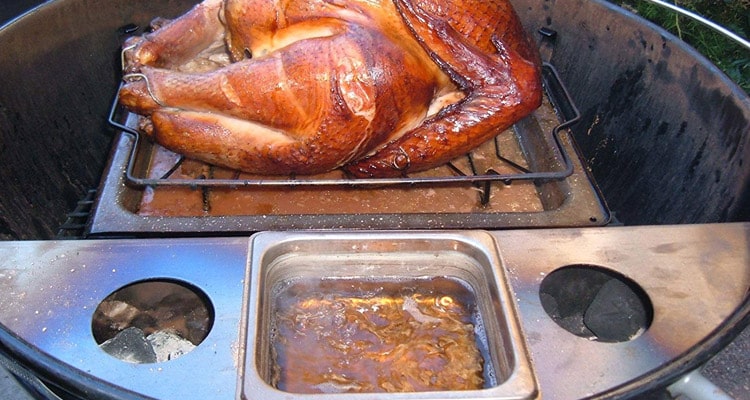 I recently heard about a new grilling gadget that turns your 22″ Weber Kettle, arguably the most popular charcoal grill around, into an extra-large water smoker. The Smokenator 1000 mounts inside the grill, providing a pan for water and a heat shield that provides the indirect heat for smoking.
A water smoker is an ideal cooker for slow-cooking lean meats like chicken and turkey. Indirect heat lowers the temperature, extending the cooking time, while a water pan provides a nice moist cooking environment. That means no basting is necessary. But not everyone is serious enough to have multiple grills and pits and smokers laying around, especially since most people tend to grill more frequently than barbecue. That's where this gadget comes in.
The difference between a water smoker and a charcoal grill comes down to two things: heat and moisture. The Smokenator 1000 is a cleverly designed stainless steel insert that snaps into your existing grill, effectively providing you with a setup that looks like it will work well for smoking.
The coals are placed under the water pan, behind the heat shield. (See the instructions on their website for a diagram). The food then rests on the grill's lower grate.
The manufacturer claims that beyond the convenience of combining a grill and a smoker's functions in a single piece of equipment, there are also several other advantages, including higher humidity, steadier cooking temperature, and easier cleanup.
If you've ever wanted to try your hand at smoking a turkey, a couple of chickens, or maybe a brisket but don't need a second grill hanging around, this contraption is worth a look.
Smokenator 1000 – Transform Your 22" Weber Kettle
Innovative kettle accessory that converts your kettle grill into water smoker
Versatile, expands the use of your 22" Weber kettle. Does Not work with Weber Jumbo Joe
Perfect for holidays - smoke a 25 pound turkey
Related content you might like:
Chris Johns
Chris Johns is the founder of Rock's Barbecue® and has been an avid barbecue fan for over 20 years. His mission is to make grilling and smoking the best food possible easy for everyone. And each year, he continues to help more people with grilling, smoking, and barbecue recipe recommendations.