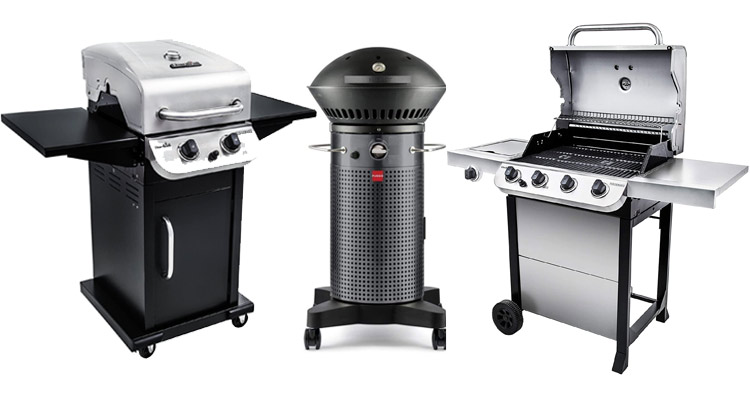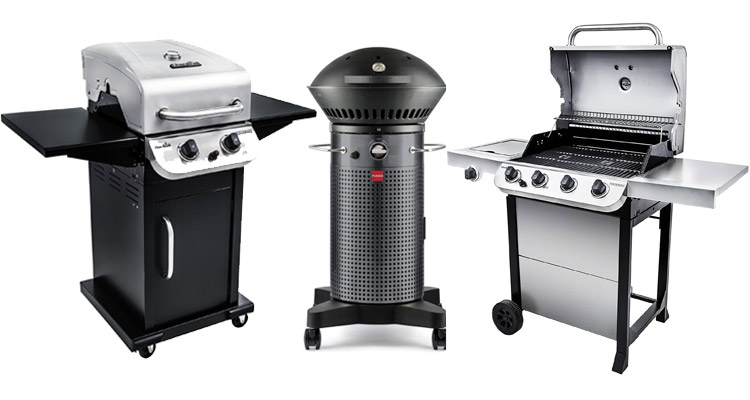 If you're like me, you love grilling. But if you're also like me, you don't have tons of cash to buy an expensive gas grill.
For you, I've assembled the 21 best gas grills under $500 that will fulfill your grilling goals without breaking the bank.
Buying a grill for under 500 dollars can be a daunting experience, particularly if you don't know what you should be looking for. There are so many options and so many different models to choose from, how do you know what to look for?
This guide will show you how to find the best propane grill under $500 available.
Comparison Table of the Best Gas Grills Under $500
Below is a list of the top 10 best gas grill under $500 options available in the U.S., Canada, Australia, and the U.K in 2023. Click on the grill name to read reviews and check prices.
Best Gas Grill Under $500 Reviews
Now that you know the must-haves in a gas grill under $500 and the things you should look for, here are the best ones on the market:
The Char-Broil Performance 4-burner gas grill is one of my favorite small gas grills. It comes with beautiful stainless steel features you might not expect in a budget gas grill and looks really, really nice.
In addition to its beautiful design, this grill is packed with features including 4 burners which produce a nice 36,000 BTUs of heat, a 10,000 BTU side burner unit, and two stainless steel side shelves.
It has 425 square inches of cooking space and two side shelves, providing plenty of prepping area.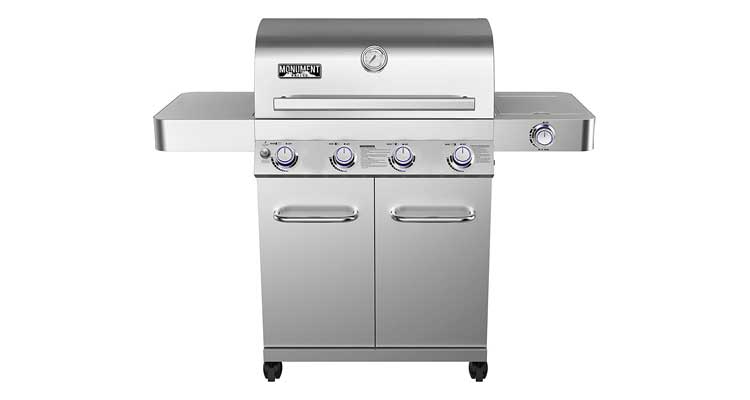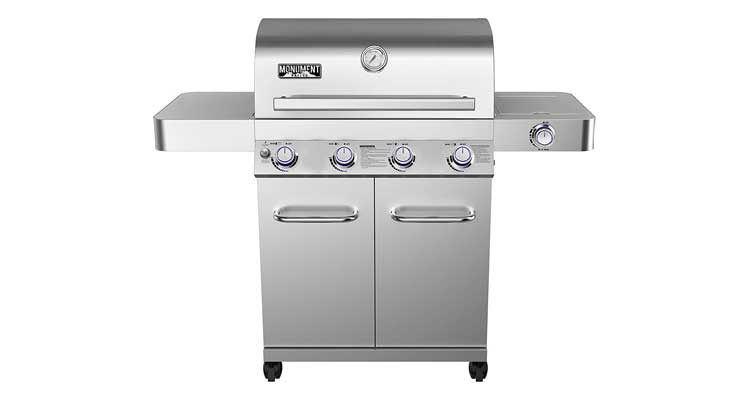 If you're looking for a gas grill under $500 with nearly every feature you can imagine, the Monument is the grill for you.
Not only does it look rugged and beautiful with its stainless steel design, but it comes with 4 burners (producing a blazing hot cooking surface quickly), a warming rack, porcelain-coated cast-iron grills, LED-backlit control knobs (a very convenient feature for nighttime cooking), flame tamers, and a side grill.
I recommend this model for the griller that wants to take their grilling game to the next level without spending a fortune.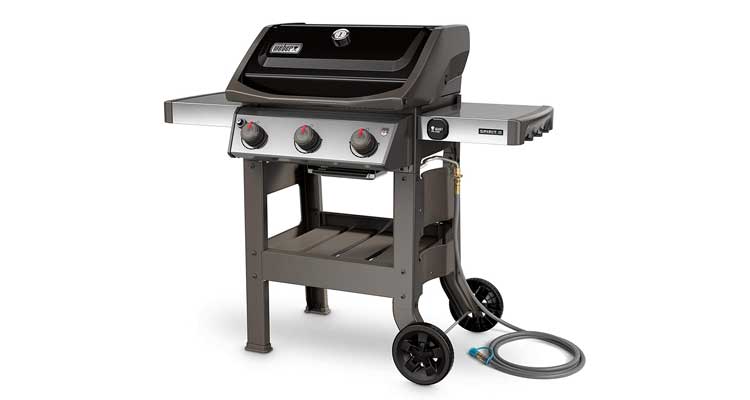 If you're one of the fortunate grillers with access to a natural gas source (and who doesn't have to deal with the hassle of driving to a propane bottle exchange, lucky you), the Weber Spirit II E-310 is a great option as a natural gas grill under 500 dollars.
It packs a whopping 529 square inches of cooking space across 3 burners and comes with other nice grill features like electronic ignition, flavorizer bars, and a grease management system.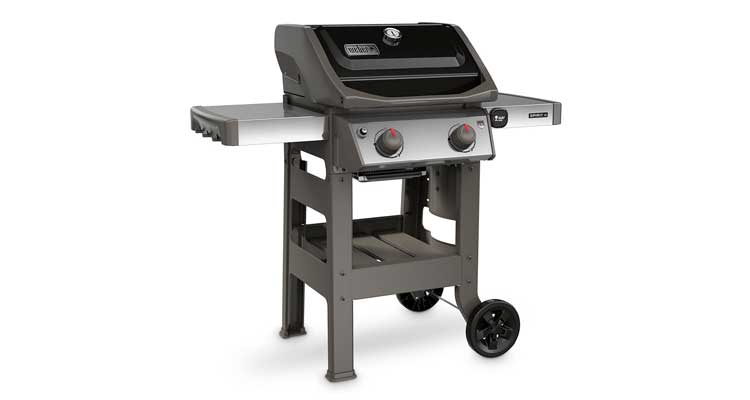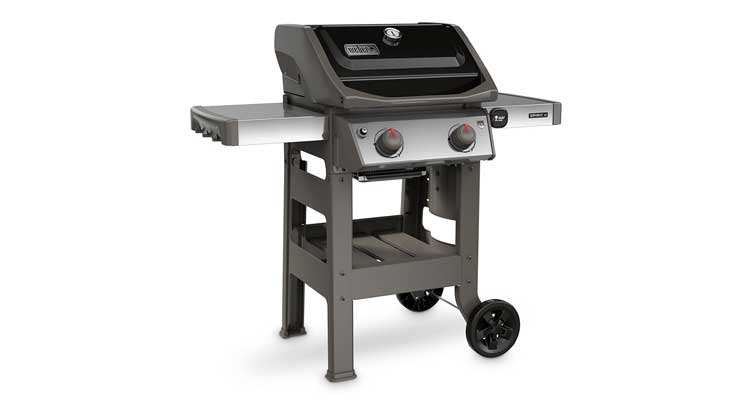 Weber Grills are generally known for two things, being expensive and being really durable. The Weber Spirit II E-210 gives you the durability and quality of a Weber grill (with a 10-year warranty) with an affordable price tag of under 500 dollars.
It comes with Weber's GS4 Grilling System, which is a combination of these four features:
Upgraded E2i Ignitors
High-performance burners
Weber's unique flavorizer bars
Convenient grease management system
These GS4 features ensure that you have an amazing cooking experience, with minimal flare-ups, extra smoke-infused flavor (from the flavorizer bars), and easy clean-up.
With its open cart design and two large wheels, the E-210 is very easy to move around and position anywhere on your patio. The side tables fold down for easy storage, and it comes with plenty of side hooks for hanging your cooking utensils.
All in all, this is a fantastic unit that costs a little more than the other units, but with its long-term durability and top-shelf features, is definitely worth the investment.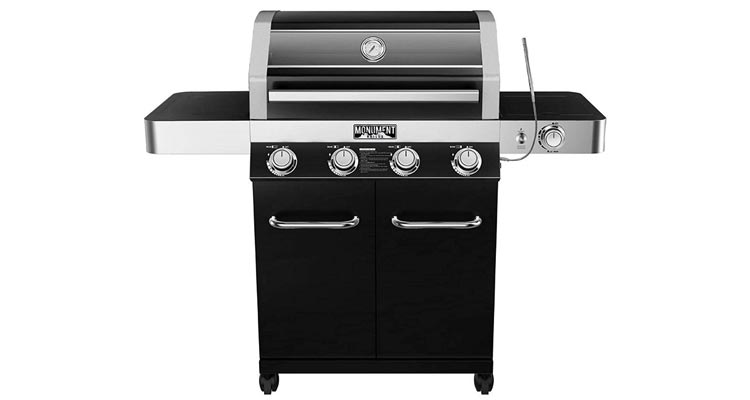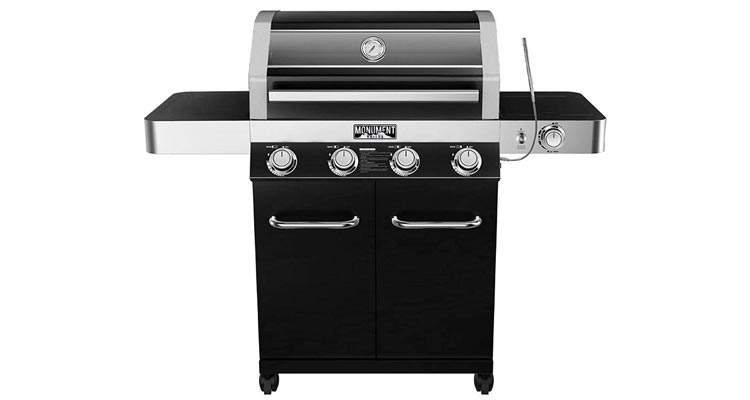 The Monument Grills 4-Burner Propane Gas Grill is a well-made 4-burner option for a reasonable price. It gets an amazing 4.4 out of 5 review stars on Amazon and is a fan favorite.
It provides 60,000 BTUs of power, 513 square inches of primary cooking area, a 210-inch warming rack, porcelain-coated cast-iron cooking grates, and a lidded side burner.
It has a built-in thermometer and a pilotless one-button ignition system for easy start-ups.
Stainless steel flame tamers help maintain even heat consistency across the entire cooking surface.
This Monument Grill even includes two stainless-steel side shelves for plenty of prep space.
I recommend this grill as a quality, and more affordable, alternative to the more expensive Weber grills.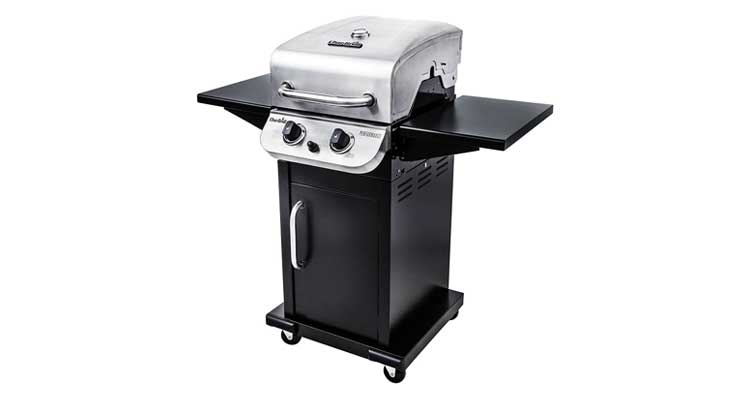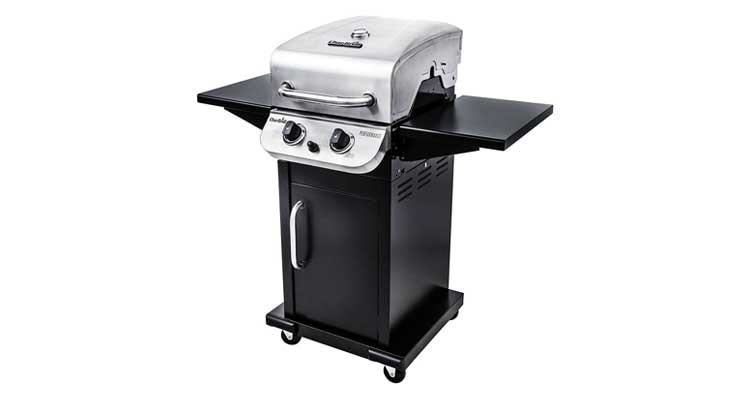 The Char-Broil Performance 300 2 Burner Gas Grill is my favorite value choice. It provides a lot of great features of a larger model, but at a really good price.
It's not the largest of the grills in this review, with 300 inches of cooking surface, but if you don't need much more than that you'll appreciate this grill.
This 2-burner grill also comes with built-in side tables and a storage cabinet, making it an ideal small gas grill for balconies or tighter cooking spaces.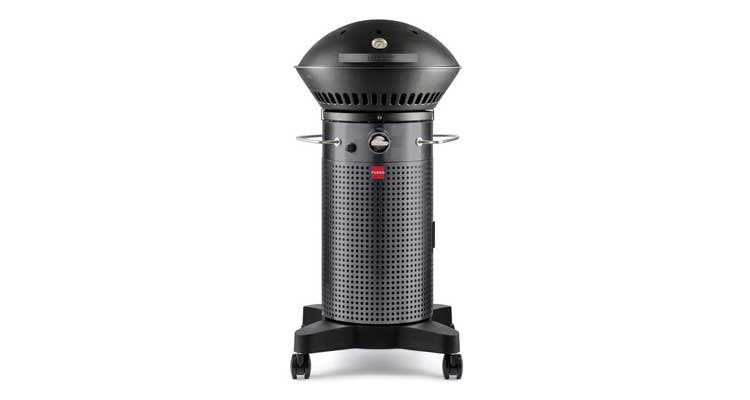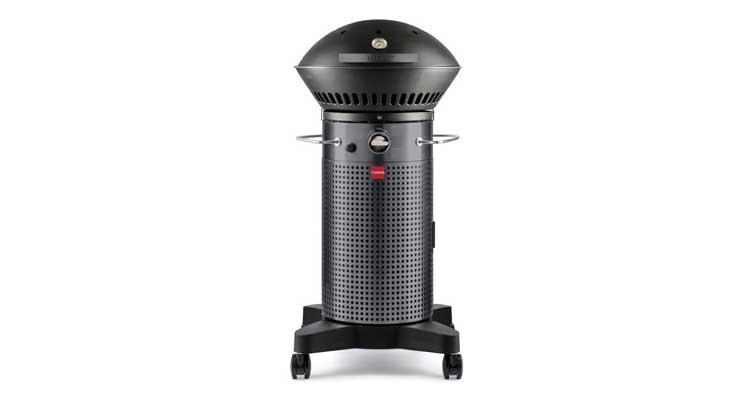 When you're looking for a gas grill under $500 that takes up the least amount of space, the Fuego Element is the model for you.
This unique round design of this barbeque takes up an incredibly small 21 in. x 21 in. space, making it ideal for a small balcony or patio.
It also features inner and outer heat rings which, combined with the domed shape of the lid, provides plenty of convection heat without using very much gas.
There have been some reports that this model tends to rust if left out in the elements uncovered, so be sure to purchase a Fuego Grill Cover. For an extra $40, it's worth the investment.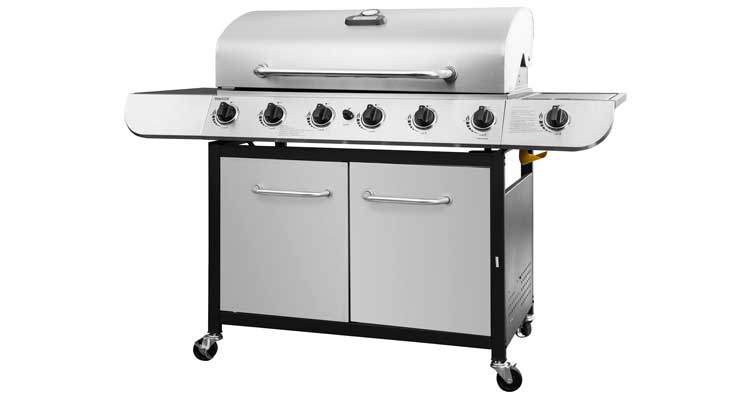 The Royal Gourmet Classic Stainless Steel 6-Burner is an enormous grill, and one of the biggest models available on our list.
It has 6 stainless steel burners and an additional side burner for sauce prep. In total, it boasts an impressive 71,000 BTUs of heat with pretty good distribution qualities. Including the 199 square inch warming rack, it provides a whopping 802 square inches of total cooking space.
It even includes porcelain-coated cast-iron cooking grates, which I love.
It has a hood-mounted thermometer, a removable grease tray, good-sized side shelves, a lower storage cabinet, and an automatic ignition system.
For the price, this monster grill is a terrific value.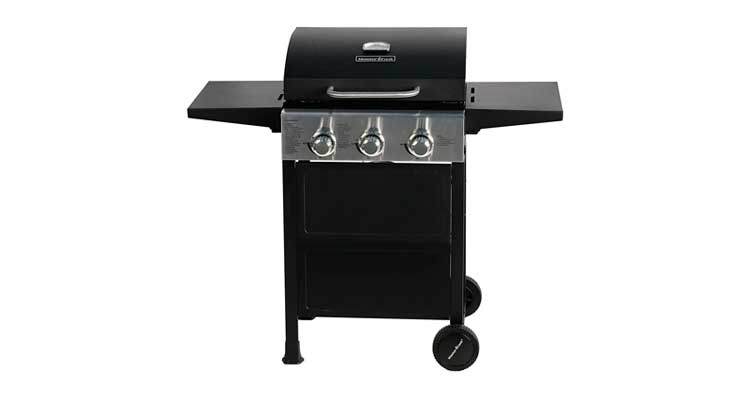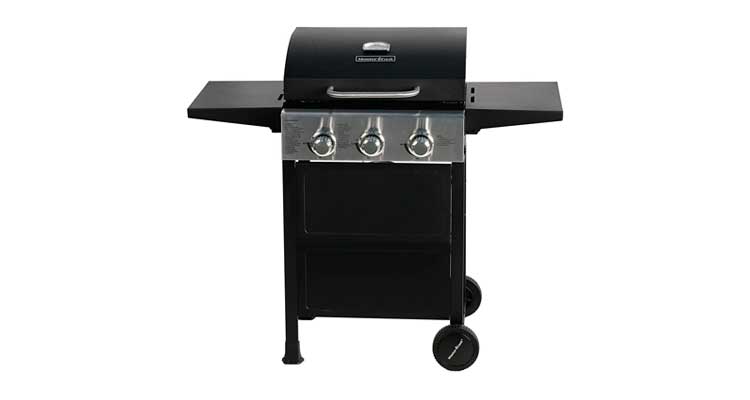 If you're looking to spend as little money for the best value possible, the Master Cook 3 Burner Propane Gas Grill is the model for you.
It's a pretty standard gas grill design, with 3 burners producing 30,000 BTUs of heat and two folding side tables. It has 339 inches of cooking space and even includes a warming rack.
It's easy to assemble and at a price point under $200, possibly one of the best BBQ values available.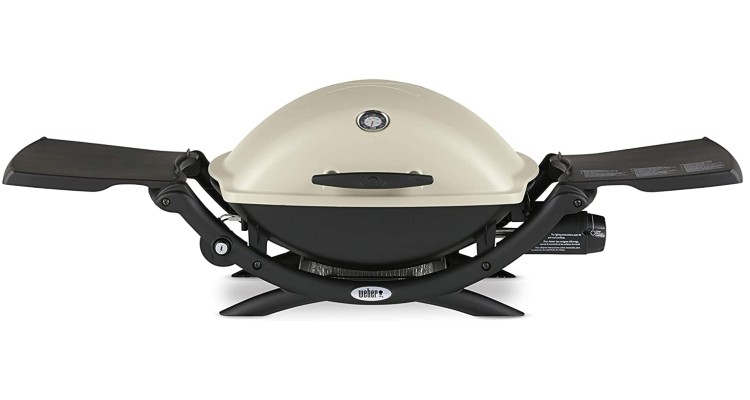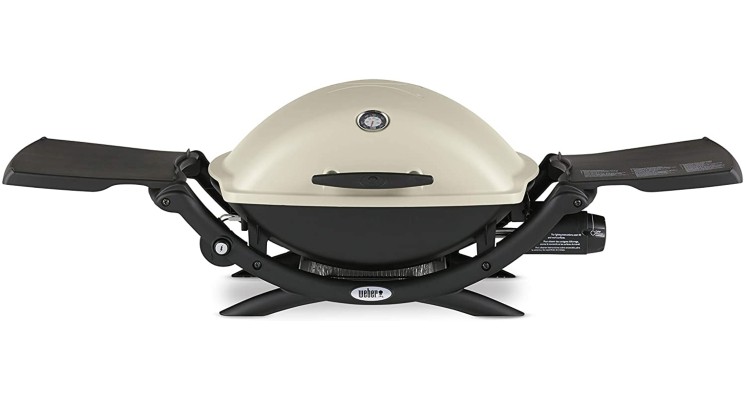 The Weber Q2200 is small (280 square inches of cooking space), compared to the other gas grills on this list, but it packs a POWERFUL set of features that more than makes up for its small size.
Some of the Q2200's best features include:
Porcelain-enameled, cast-iron cooking grates
Cast aluminum lid and body
Built-in lid thermometer
Glass-reinforced nylon frame
Folding side tables
Removable catch pan
Infinite control burner valve
Electronic ignition
It weighs only 40 pounds, making it easy enough to carry back and forth to your outdoor kitchen without a cart. The two stainless steel burners put out 12,000 BTUs, which is plenty of intense heat for such a small grill.
This grill can easily accommodate a meal for a family of four.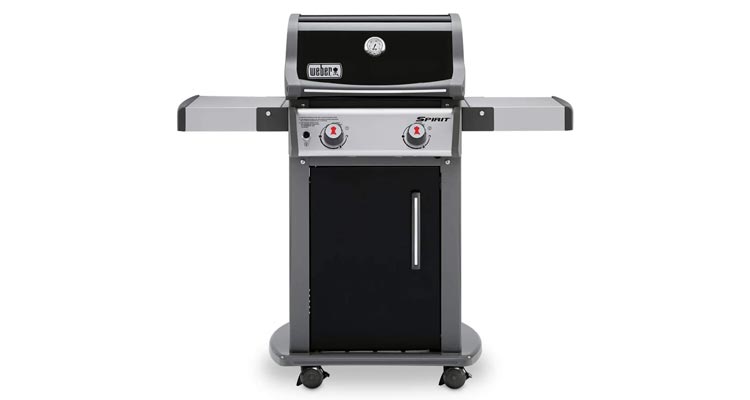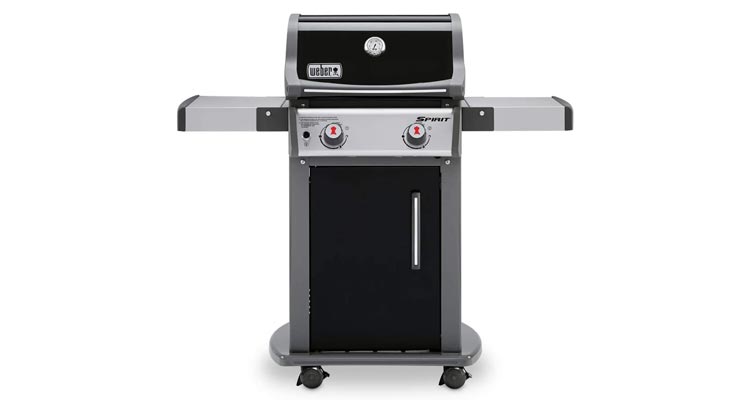 The Weber Spirit E-210 LP Gas Grill is the older version of the Weber Spirit II E-210 model, but it stays on our list for a very good reason: this model comes with the original enclosed cabinet, unlike the cart of the newer model. This is a nice feature to have for storage purposes.
The Spirit E-210 has a respectable 26,500 BTUs of heat, with 450 square inches of cooking area which includes a 90 square inch warming rack.
It's a fairly small gas barbecue model which fits nicely on a balcony or patio, taking up an area of only 45.5″ H x 50″ W x 24″ D with the lid down.
It has high-quality stainless steel burner tubes, which help ensure that they don't rust easily and generally have a longer life span.
With two decent-sized drop-down side tables and 3 convenient hanging hooks on its side, the Spirit E-210 makes a perfect model for tighter areas.
I love this classic model and am very happy it's still available today.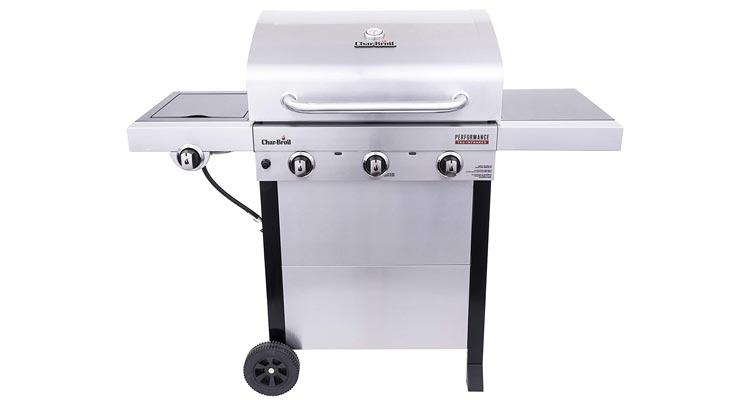 The Char-Broil Performance TRU-Infrared 3-Burner Cart Style Gas Grill is a smaller 3-burner version of the model of the Char-Broil Performance 4-Burner Gas Grill I shared earlier, and a great option if you need something smaller for tighter spaces like a patio or balcony.
It has 450 square inches of primary cooking area, and a 150 square inch warming rack.
Char-Broil offers an optional side burner wit this model, and it comes standard with a lower cabinet for storing the propane tank and other items.
It uses infrared technology, which helps prevent flare-ups and a better cooking experience. If you've never tried an infrared grill before, this is a great starter model.
The three burners provide 44,000 BTUs of heat, and the grates are porcelain-coated cast iron for durability.
It even has an automatic ignition system for extra convenience.
My favorite thing about this model is how it looks. It's built with stainless steel, which gives it a great look that helps ensure it holds up against the elements well.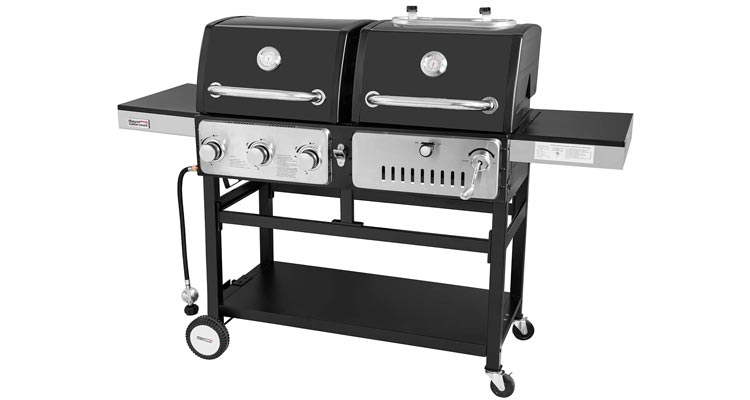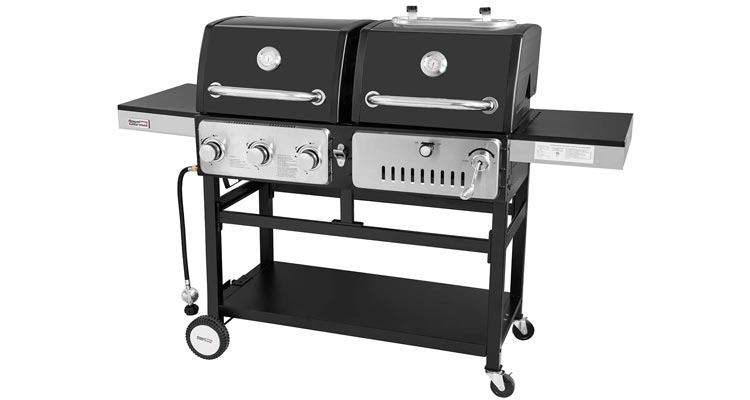 The Royal Gourmet Dual 3-Burner Gas and Charcoal Grill Combo is one of the more unique models on this list. It's actually two distinct grills that can be used separately or in tandem.
It offers an incredible 810 square inches of cooking space on its porcelain-coated cast-iron cooking grates, plenty enough to feed a very large group.
It has a removable grease drip tray on the gas side and a removable ashtray on the charcoal side for easy clean-up.
If you want the best of both worlds, a gas and charcoal grill model, this is the right one for you.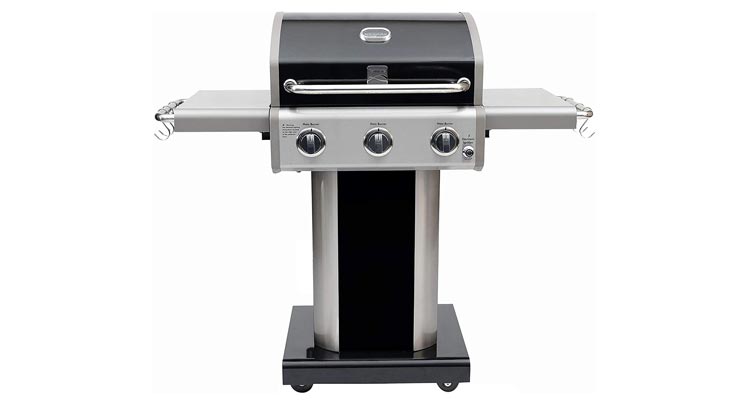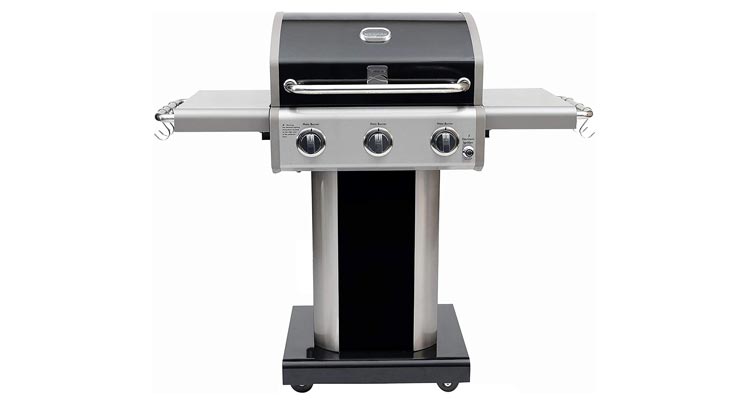 The Kenmore 3 Burner Outdoor Patio Gas BBQ Propane Grill is a great model for tighter places like a patio or balcony, where you want the features of a stand-up grill but don't have a lot of space. Its slim design fits nicely into tight spots.
Its three burners provide 30,000 BTUs of heat, and boasts a respectable 533 square inches of primary cooking area, enough space for burgers for an entire little league team!
The Kenmore has attractive powder-coated shelves, which paired with its stainless steel construction, makes for a very good-looking design with lots of durability.
It has folding side shelves which make it extra slim when folded down. The shelves even include a tool hanger for extra storage convenience.
The lid-mounted thermometer and electronic ignition round out the great features of this slender 3-burner grill.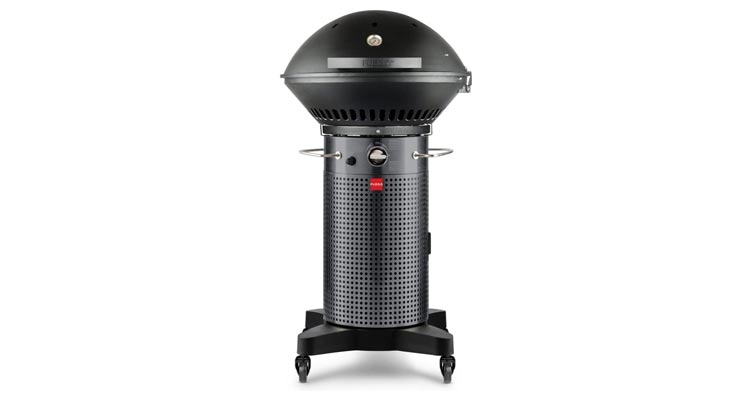 Ground control to Major Tom, the grill's ready!
No, it's not a rocket ship, it's the Fuego Element F24C Carbon Steel Gas Grill. Created by a former designer from Apple, this model definitely stands out from the rest with its futuristic look.
What makes this model really special, besides its unique design, is how hot it gets in a short amount of time. Thanks to its dual-zone heating system, the Fuego (Spanish for "hot"), it can get up to 500 degrees in just 5 minutes.
The dual-zone design gives you the option to cook lower-temp food (low and slow) on its outer heating zone or fire up the inner zone for blazing hot searing of up to 700 degrees.
Its slim design also makes it perfect for use in areas where you may not have a lot of space, like a patio or balcony.
If you really want to impress your friends with a uniquely-designed grill with plenty of cool features, this is the model for you.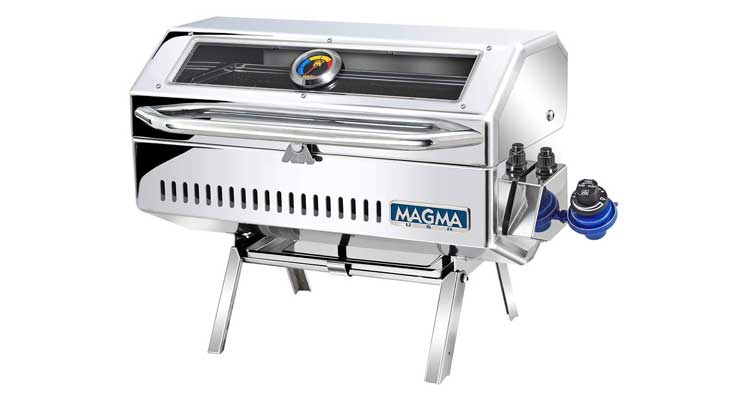 The Newport 2 Infrared Gourmet Gas Grill by Magma seems to be almost purpose-built for use on a boat.
First off, it's American-made, which is great in my book. It looks great and it's built with very high-quality standards. It's constructed of 100% 18-9 marine grade mirror polished stainless steel.
Second, it's very small, weighing around 20 pounds with a grilling surface of 9 in. x 18 in. It also has foldable legs, making it easy to stow away in a storage compartment without taking up too much space.
Another feature that makes it perfect for marine use is a dynamic combustion system that keeps the grill lit in even heavy winds. With the tempered glass viewing window, you can also check on the meat without having to open the lid and lose valuable heat.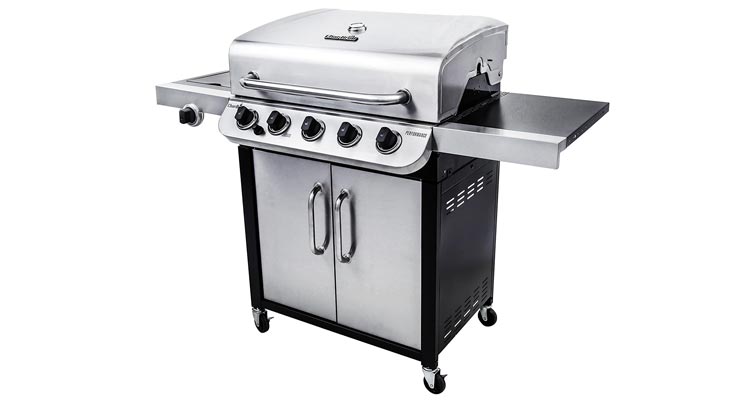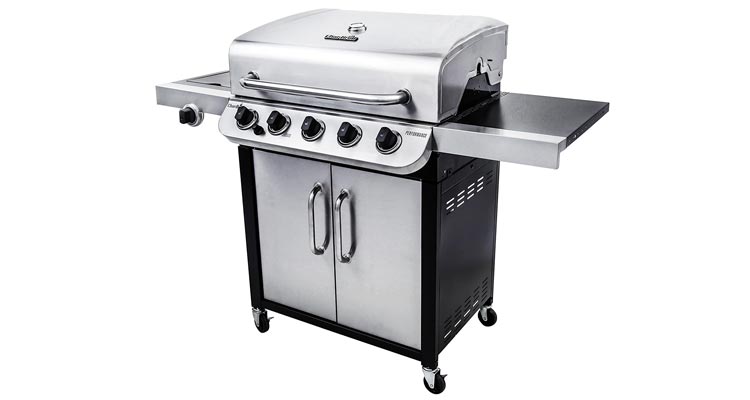 If you're looking for a REALLY BIG GRILL, the Char-Broil Performance 550 5-Burner is the monster for you.
The cooking areas on this thing are enormous, with a 550 square inch primary cooking zone and an additional 205 square inch warming rack.
It has 5 burners that provide 45,000 BTUs of heat in the main cooking area, with 10,000 BTUs in the warming zone.
With large side shelves, easy start-up electronic ignition, and a built-in thermometer, it's got all the features you need.
It even includes a large storage cabinet below for storing the propane tank and other supplies.
This is a great model from Char-Broil that will provide you with all the capacity you need or a large outdoor gathering.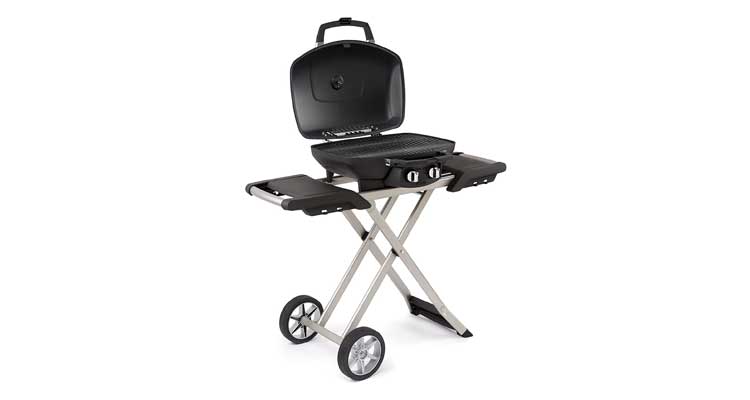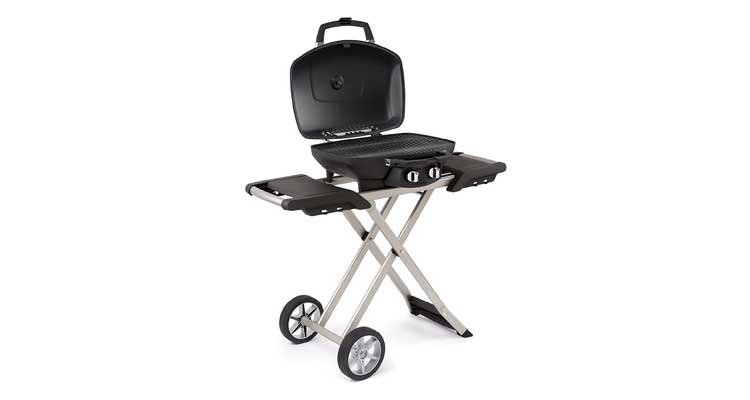 When you want to take your barbecue game to the next level and cook anytime, anywhere, this is the model for you. The Napoleon TravelQ 285 Portable Gas Grill is perfect for tailgating, picnics, camping, and just about any situation where portability is key.
It's what's called a "scissor cart" design, which means that when it's not being used it folds down into a flat cart-like shape, making it easy to pull behind you. When you get to your spot, you just easily pop it open and you're ready to go.
The Napoleon TravelQ 285 runs off of a small propane bottle making it, even more, easier to transport, but you can connect it to a regular size propane tank using an adapter.
This Napoleon Grills unit is a little more on the pricier side, but if you're passionate about taking your barbecue with you wherever you go, this is the model for you.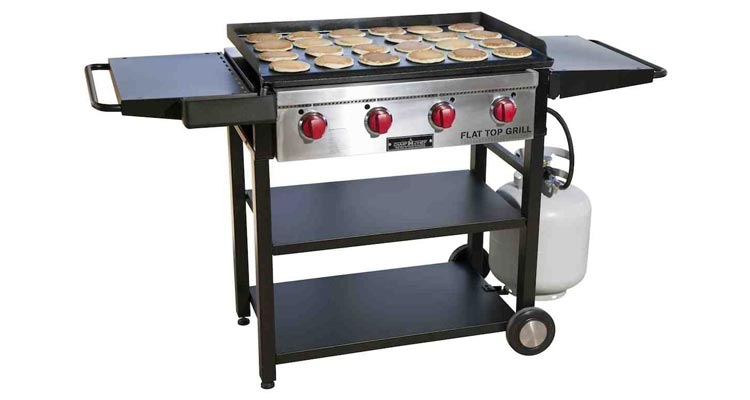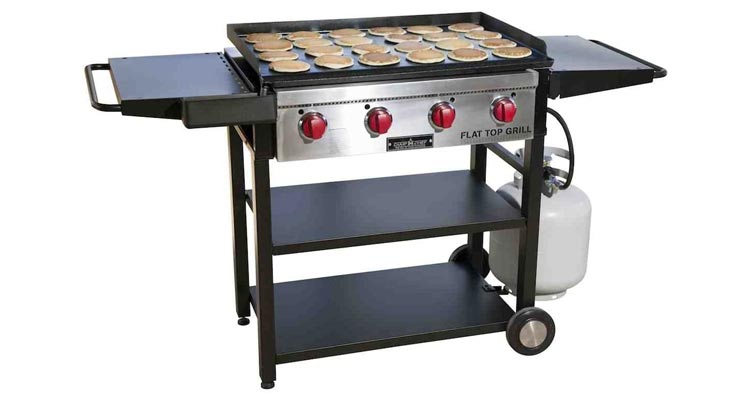 The Camp Chef Flat Top Grill 600 may be a flat top grill, but it definitely belongs on this list, and let me explain why it gets near-perfect star ratings on Amazon.
Flat top grills are one of the most versatile barbecue types to come out in decades. There are a lot of things you can do with a monster like this, such as grill breakfast foods like eggs and pancakes, to sautéed vegetables and hamburgers.
And the great thing about this model is that when you don't need a griddle, you can take out the griddle top and use the traditional grill grates that are permanently placed below the griddle top. There's literally nothing you can't barbecue on this beast of a grill.
Four stainless-steel 12,000 BTU burners produce a combined total of 48,000 BTUs of heat, and the heat distribution on this thing is amazing.
With over 604 square inches of griddle space and 501 square inches of grilling area, you can feed an army of 50-100 people per hour with this thing.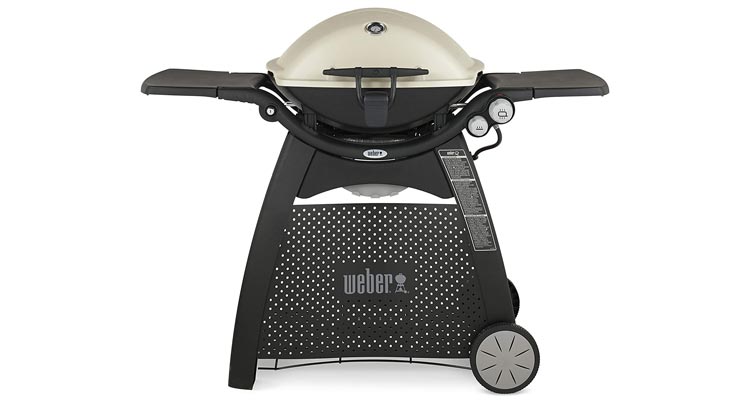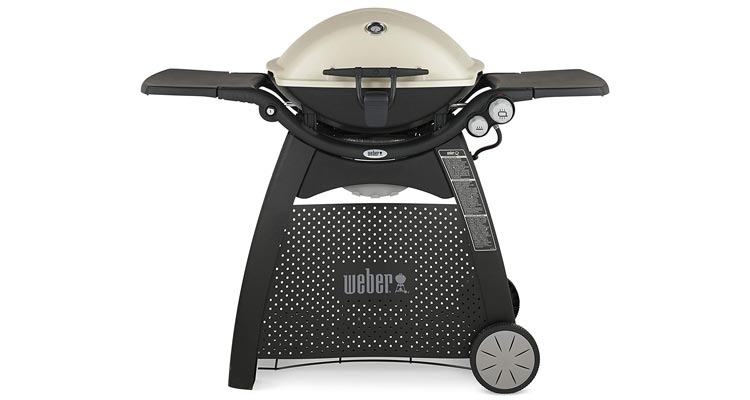 The Weber Q3200 Liquid Propane Grill may be little, but it's packed full of great features typically found in larger models.
It provides an ample 462 square inches of total cooking space, including the warming rack. Two stainless-steel burners provide 21,700 BTUs of power, which works pretty well in such a small grill.
The body and casing are made out of cast aluminum, making this a lighter-weight grill for easier maneuverability around a patio or deck.
The Q3200 has an easy-start electronic ignition system and infinite burner control settings.
Finally, it has folding side shelves and a bottom storage area, making this a perfect small grill with every feature you may need. It's the best of all worlds in a quality Weber product.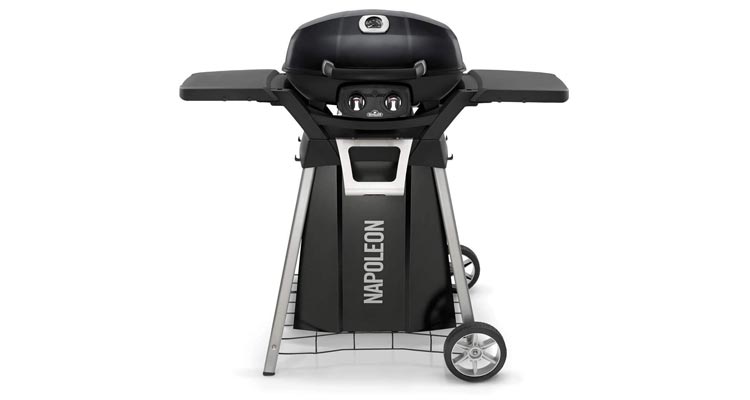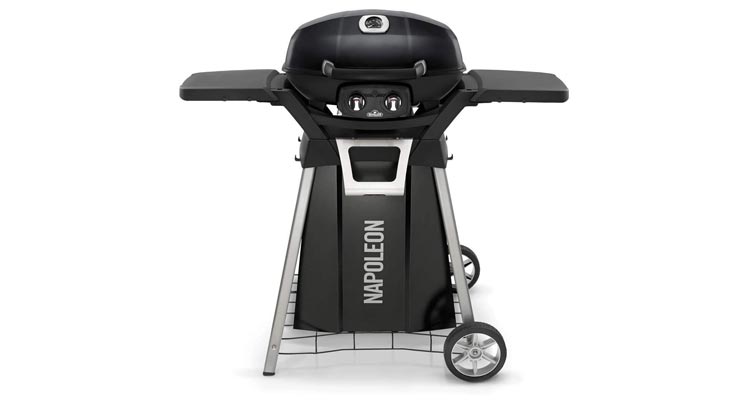 Napoleon makes some of the highest quality grills on the market, and this is their entry into the small gas grills market.
It comes with Napoleon's heavy-duty porcelain-coated "wave" cooking grids providing 285 square inches of primary cooking area.
It includes folding side shelves and a lower rack for extra storage.
While this may not be the largest grill on the list, the top-quality of Napoleon makes it a good choice for high-end grilling enthusiasts.
How to Choose the Best Gas Grill Under $500
With a near endless list of features and accessories available for a gas grill, trying to decide which ones you want can be pretty intimidating.
Here is a short guide to choosing the right BBQ features or accessories:
Grill Size
Probably the most important thing to consider when choosing a gas grill is the grill size. Grills come in many different sizes, from a small tabletop grill to a massive 6 burner. The main thing to consider is how much cooking surface you will generally need.
Are you going to be cooking for just you or your family? A small gas grill may be right for you. Do you plan to cook something big, like a turkey, someday on your grill? If this appeals to you, choose a grill with more square inches of cooking space and a taller hood.
If you can afford a little more for a larger grill, it's better to be safe than sorry.
BTUs
BTUs, or British Thermal Units, are a traditional way of measuring heat output for an appliance like a BBQ. It's a rating that gives you an idea of how much heat the BBQ will put out over the grilling surface.
The BTU rating can be a little deceptive since heat output is dependent on different factors, such as the material the BBQ is made from or whether it's a traditional or infrared grill.
For a standard gas grill, a BTU rating between 20,000 to 30,000 BTUs is ideal.
Grate Materials
There are a few options to choose from when it comes to grill grate materials. Generally, grill gates will be made from one of the following materials:
Stainless Steel. Stainless steel tends to be the most popular and most affordable option for grate material. It is generally thinner and lighter weight, so they heat up quickly, but don't typically retain heat very well.
Cast Iron Cooking Grates. These heavy-duty grill grates have a reputation for retaining heat longer and leave nice grill marks, however, they also require more maintenance and tend to be prone to corrosion.
 Porcelain Coated Grates. Porcelain-coated cast iron or steel grates have an enamel layer that helps prevent food from sticking to the grill. However, coated cast iron grates have a reputation for chipping over time and losing their anti-corrosive and non-stick features.
In general, I recommend cast iron cooking grates if you can afford them, despite their extra upkeep. They cook meat more evenly, and their thick surface tends to hold delicate food like fish better on the grill without losing it through the grill spaces.
Stainless steel is also fine if you don't choose cast iron, but I don't recommend choosing the porcelain enameled cast iron option as the corrosion issue can be a real pain over time.
Popular Gas Grill Accessories
There are a lot of really great accessories available for gas grills. Here is a list of some of the more popular ones:
Electronic Ignition System. This is pretty standard for most gas grills and nice to have. You just push a switch and the grill lights up. It's better than the older rotary or push-button types.
Side Burner. A side burner gives you a stovetop burner to prepare other foods in a pan or pot off to the side, and connect to the same propane tank as the main grill.
Smoker Box. These convenient devices allow you to use wood chips to smoke food with a gas grill, and who doesn't love the taste of BBQ smoke in their food?
Rotisserie Burner. A rotisserie steadily rotates food over the grill using an electric motor and a metal rod, allowing you to slow cook meats and vegetables that are juicy and full of flavor.
Lights. Grill lights enhance your barbecuing experience by allowing you to see better in low-light conditions. How can you tell if that hamburger is done if you can't see it?
Side Table. A grilling side table provides a convenient place for you to set ingredients down and not have to run back and forth to the kitchen or another table.
Storage. Some gas grills come with an extra storage area for keeping your tools and other accessories in a convenient and easy to reach the place.
Barbecue accessories help make your grilling experience better, but they can also add to the price of your grill. When it comes down to it, all you really need is a good grilling surface and plenty of heat. But if you choose to upgrade your grill, these accessories all do nicely.
Benefits of Gas Grills
There are lots of great benefits to using a gas grill vs. charcoal grill. Here are just a few:
Gas grills heat up fast. This is by far the biggest benefit since you don't have to wait on charcoal to heat up.
Gas grills are easy to use. You just come home, turn them on, and they're ready to go.
Gas is generally cheaper than charcoal. If you use your grill a lot, this will be a big benefit.
It's easier to clean up. No ashes to mess with afterwards.
You can often connect them to propane or a natural gas line. Most propane grills can be converted to use natural gas by purchasing adapter kits.
Gas grills have a lot of cool accessories. You can get side grills, smoker boxes, and other cool grilling accessories for a gas grill.
With so many great benefits, it's no wonder gas grills are the most popular type of gas grills for backyard grillers. They also tend to be a little more expensive than charcoal grills, but you get what you pay for in the long run.
A good gas grill will last for many years and give you and your family lots of happy memories, so spend as much as you can afford and enjoy one that will last the longest.
What's the best gas grill for under 500?
All of these gas grills under 500 dollars are fantastic, but the one that really stood out is the Char-Broil Performance Stainless Steel 4-Burner Cart Style Gas Grill. With a very reasonable price point of around $300, you get a beautifully designed barbecue with most of the features of a higher-end barbecue.
Whichever one you choose, you can't go wrong. Happy grilling!
Related content you might like: